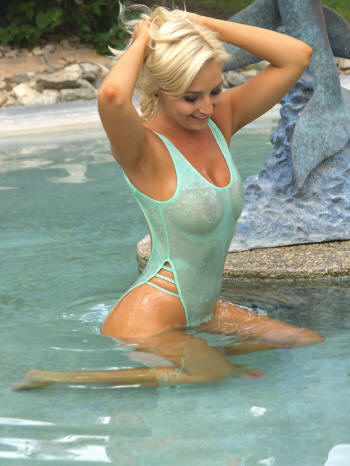 The heavenly Mint Julep above is proactively sheer when wet, below, dry, just exquisitely sexy!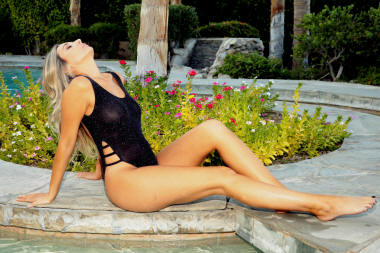 Above & Below the Starry Night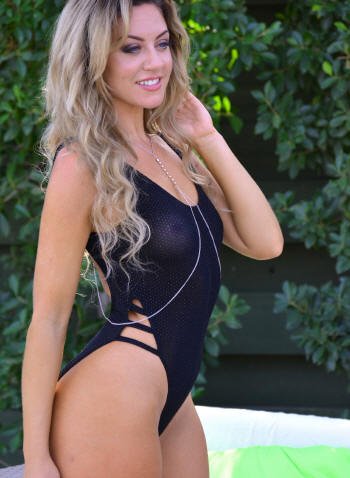 Tantalizingly sheer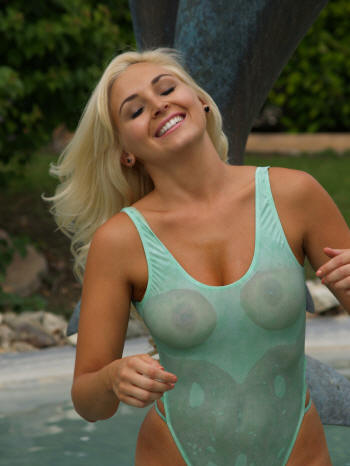 And sheer only when wet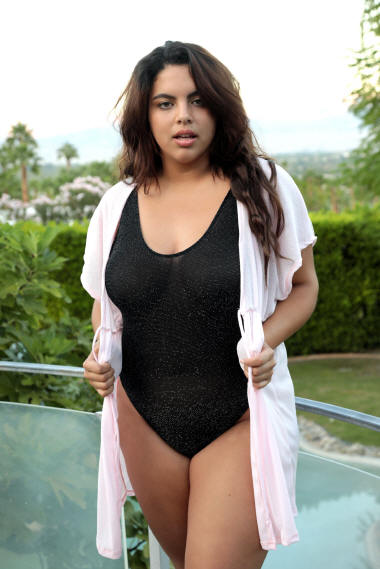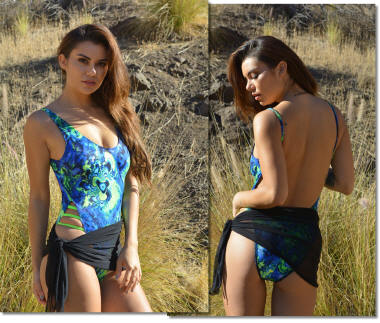 Plunging back with side trim detail. Shown above with Sheer Black Sarong over Desert Trip Breezy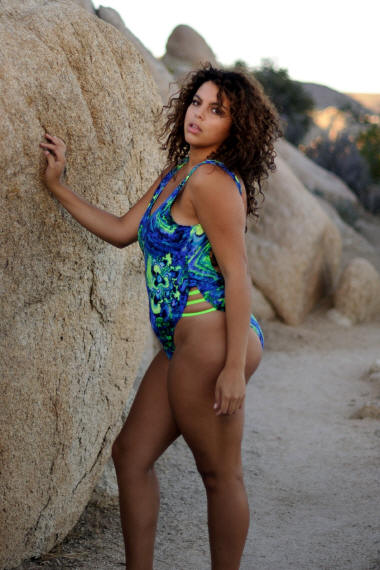 Available in sizes 2-22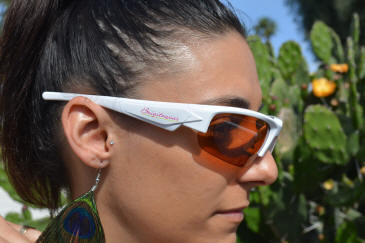 Brigitewear HD sunglasses are the perfect combination of high tech fashion, design and performance. Available in Black and White $26.95
---

Don't forget a thong for the man!
---
Breezy Sheer when wet One Piece Swimsuit

Breezy: adjective \ˈbrē-zē\;
briskly informal, airy, nonchalant, affable, easygoing, devil-may-care
The definition says it all. You will be all these and more when you show up in the Breezy Sheer One Piece Swimsuit. With a crotch lining only, this suit is sensual when dry and some colors seductively sheer on top when wet. Plunging front and back together with the extreme high cut sides make the perfect balance of sexiness and sensuality for the modern woman.
Available in our exclusive Starry Night, Mint Julep
sizes 2-22
$67.95 In stock! Order now!
---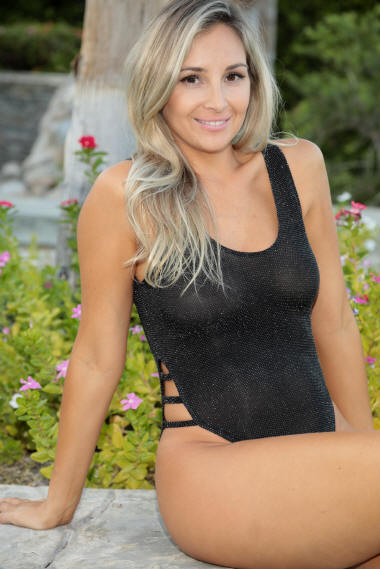 Starry Night, (above) extremely seductive & sexy!!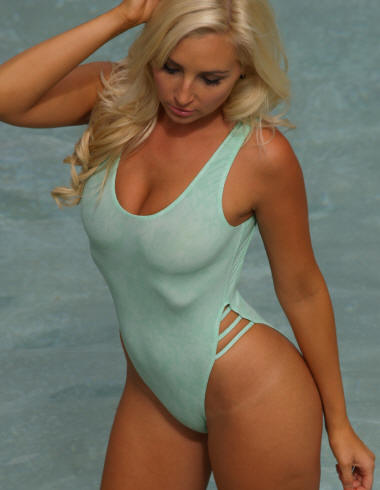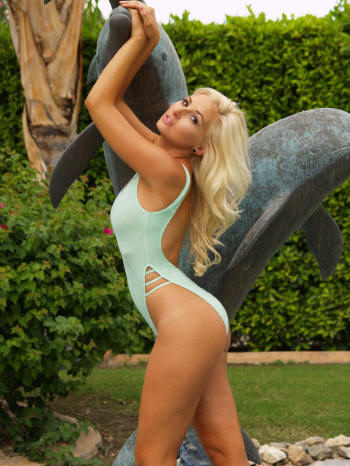 Extreme high cut legs with sexy strapping combined with a deeply scooped neck and plunging back make this an ultra sophisticated continental styled fashion statement.
---
Dazzling Desert Trip below, Sale Price - $49.95 - shows only "bumps" when wet!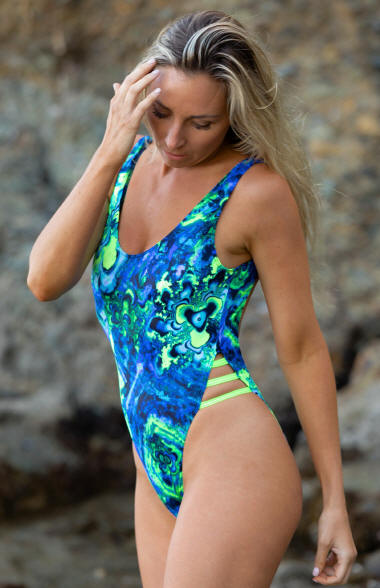 The Desert Trip has vibrant colors with neon lime accents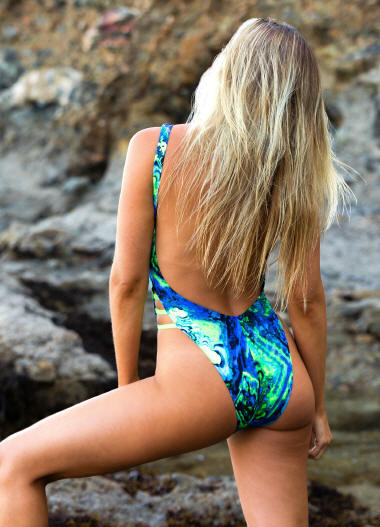 ---
Breezy One Piece Swimsuit - Reviews
Average rating:

---
Breezy Sheer One Piece Thong Suit

Just what I needed! 07/27/2022
By Lynn

I like to be as bare as possible out on the beach. Sometimes you need something with a little more coverage. This suit is perfect. It give the coverage without losing how sexy it is. This suit is perfect in the fit, fabric and the sexiness. I have bought a lot of suits here and I love them all. You can't go wrong. And they ship out so quickly!.
---
Breezy Sheer One Piece Thong Suit

Perfect! 12/30/2021
By Sergio Scagliarini

This swimsuit is exactly like description. We have bought it with adjustable strap and for my wife it's the good choice because she has 100 of bust.
---
Breezy Sheer One Piece Thong Suit

Excellent fit and super sexy! 03/31/2021
By Eric Stewart

I'm in love with my new suit. It fits true to size, and the sheerness is excellent. I bought this for a trip to the beach.
---
Breezy Sheer One Piece Thong Suit

Well Pleased 04/15/2020
By Andrew F

Went for the mint julep which looks great, is a perfect fit and the material and finish are very good too. A great success and beyond expectations so many thanks from us both. Not yet tested in wet mode but not expecting to be disappointed. Many thanks.
---
Breezy Sheer One Piece Thong Suit

Breezy One Piece Swimsuite 03/24/2021
By Ralf

Wundervoller Badeanzug
---
Breezy Sheer One Piece Thong Suit

Breezy One Piece 01/06/2017
By Nicola F. Johnson

Absolutely fabulous. We both LOVE it .. the fit is awesome and it enhances all the right places. Certainly serves the purpose for which it was bought - to show and entice.
Breezy Sheer One Piece Thong Suit

Breezy One Piece 09/16/2016
By Sean Mellinger

Not as sheer as I had hoped, but looks great anyway. My wife liked and looked great in it. When it's dry, it is solid, when it gets wet, is just sheer enough to let the imagination run wild, but not enough to see right through.
Breezy Sheer One Piece Thong Suit

Super Hot 05/25/2016
By Aaron Moore

This suit is amazing! High quality and super sexy. But be warned, it definitely IS see-thru when wet! At a private beach with my busty girlfriend, heads were turning and jaws were dropping whenever she walked out from the surf! Very hot suit indeed!I look forward to our next business !!!!!
Breezy Sheer One Piece Thong Suit

Loved this color 12/20/2015
By Julie Hindel

I loved this color. Although it was a little more pastel green when I received it...but that's ok. Can't wait to try it out in our hot tub and see what it's like when wet. Quick shipping. Thanks.

Happy Couple 12/07/2015
By Jonathon Ingram
Perfection!
Breezy Sheer One Piece Thong Suit

Loved this color 11/25/2015
By Peter Schmid

Bought this for my wife for our trip to Cuba in Sept , This is one hot piece . The fit was perfect nice and tight on her small frame (5'-0") and the color is nice and soft. Quality is exceptional , shipping was quick . I would rate this at five stars . Best Regards Pete

Breezy 10/29/2013
By Len
Great suit for your someone special...if you can get her to wear it...

Nice Suits! 1/2/2014
By Curt Hendrickson
I think the Brigitewear suits are more beautiful than anything online or in any store. They are perfect without being too much for the public beach.

Breezy One piece 02/20/2013
By Mark
Bought this for my girlfriend. She loved it. It is partially see thru even when not wet But that is ok for us.

Sensual 12/17/2014
By Fabio Levon
Este traje al verlo en mi esposa me encanto y ella amo el color y el estilo del traje estamos mucho felizes.

Five Star for Sure 04/20/2015
By MARK NIEPOKUJ
Wow very hot, fits great and I did not know it was see thru when my husband gave it to me, made for a very hot night in the hot tub. fits great and he said it looked great , and so did every body else that was there can't wait to wear it again ! Thank you

Palm Desert, CA USA 92211
(800) 757-2550
Brigitewear International wants you to be satisfied with your selection. Should there be any defect in quality or workmanship, if your size is incorrect, or if you just do not care for the style, your swimwear is exchangeable with original tags & hygiene strip within 30 days of receipt. See our Policies page for full details on exchanges/refunds.