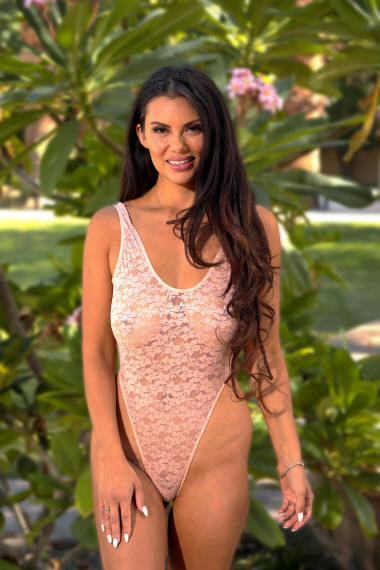 Decadence Thong One Piece - "Limited Edition". A sensually dazzling one piece thong swimsuit that is provocative in every way! The high cut legs flatter any figure. The luxurious Peach Lace fabric is sheer, soft and sumptuous. Available in sizes XSmall to 2X from $79.95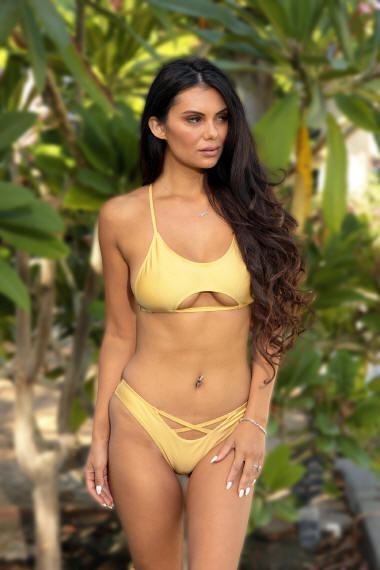 Underboob Bikini - Tantalizing new fashion trend with a fresh take on cleavage. The Underboob Bikini Top accentuates the curved bottom of the breast to show off your most alluring assets. Available in Shiny Gold or Peacock. Pairs with our sexy, low-rise XFront Bikini Bottom in Thong or Rio. Sizes 0-22 $38.95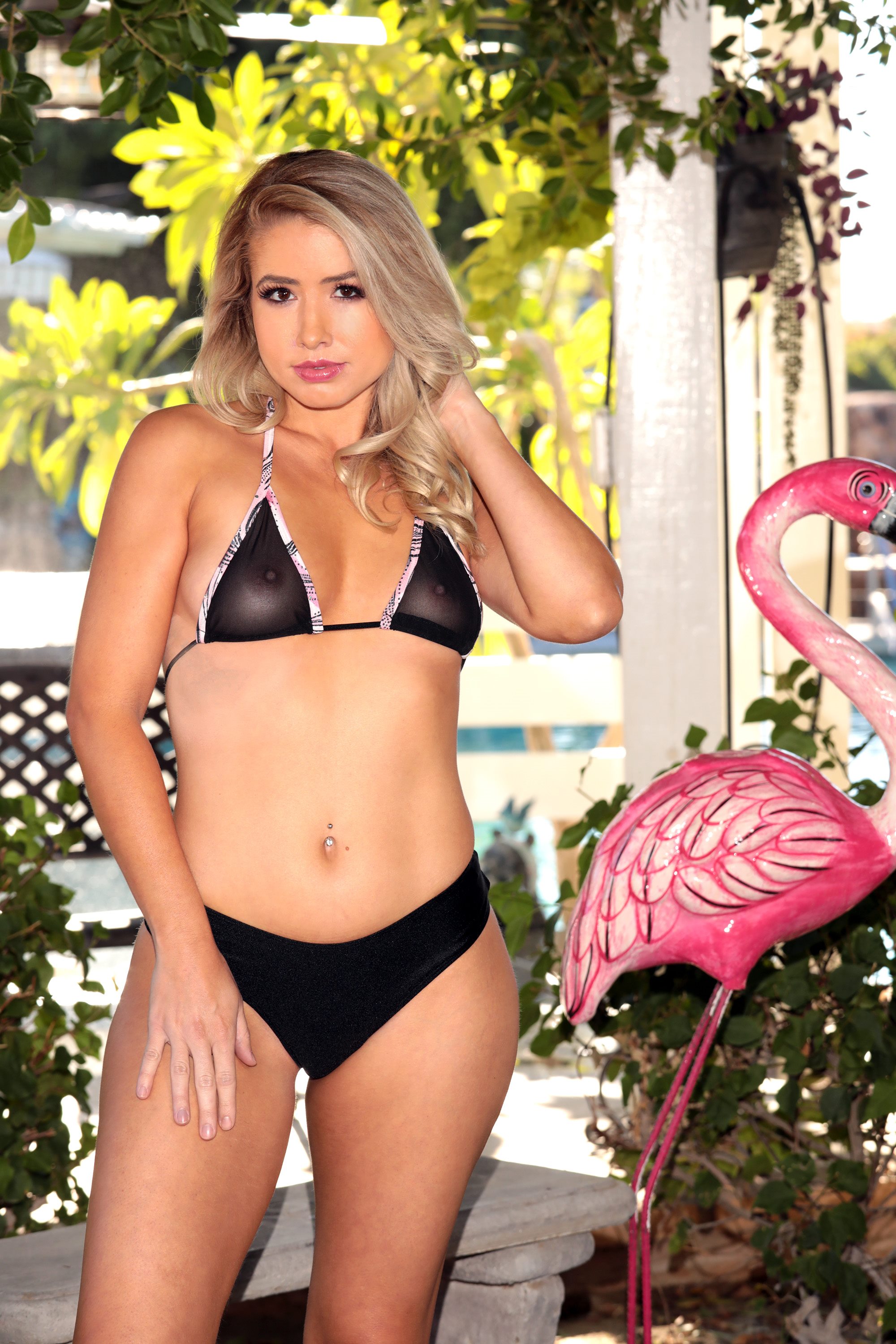 Blush Swirl Collection - The perfect rosiness in a soft tricot swirled with black, burgundy and pink and accented with shimmering sequins.
Create an exquisite "Poolside and Soiree" look with the sheer black triangle top highlighted with blush swirl accents, the versatile front tie top and elegant sarong. In sizes 0-22 from $38.95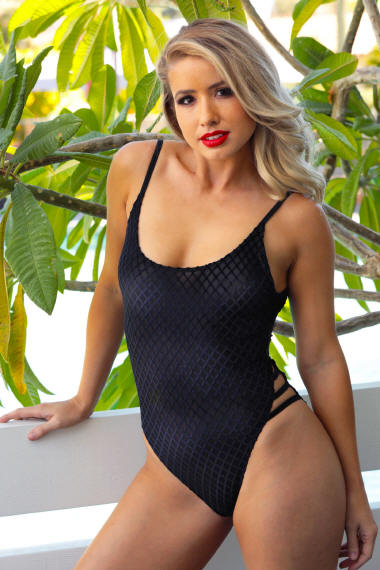 Smoke & Mirrors Rio One Piece - This velvety soft fabric is like a magicians illusion. In some lights it appears sheer, where in other light, you'll only see shadows. There's no deception, only a fabulous high cut leg suit that will stimulate the senses. Available in sizes XSmall to 2X. from $76.95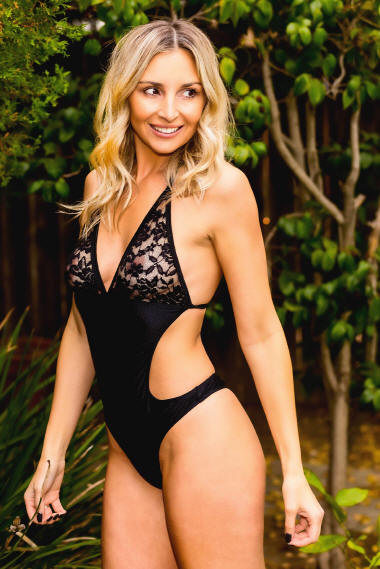 Black Rose Rio or Thong One Piece - An avant-garde one piece in Thong or Rio that enlightens the senses. Visually slimming, this monokini makes a statement! Shiny black tricot with black lace rose pattern with unlined bra that ties around the back and neck for perfect fit. Very sexy and see through top. Comes with crotch lining only. Sizes 2-22 $68.95
Brigitewear 2022 - Fashions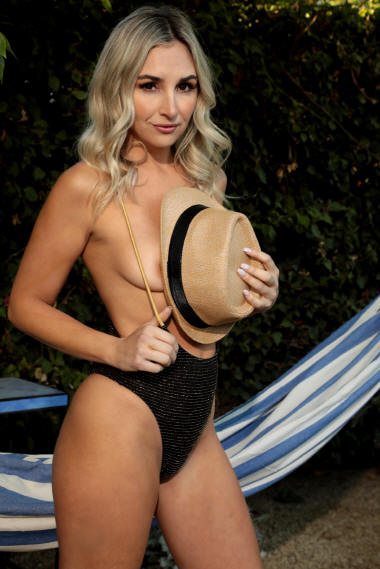 Topless High Waist One Piece - Seductively Sophisticated. Black mesh style fabric with shimmering gold weave and gold strapping. High waist tummy coverage. Racer back with cheeky bottom. High cut legs. fabulously fun, sexy, sophisticated design, in sizes 2-22 from $66.95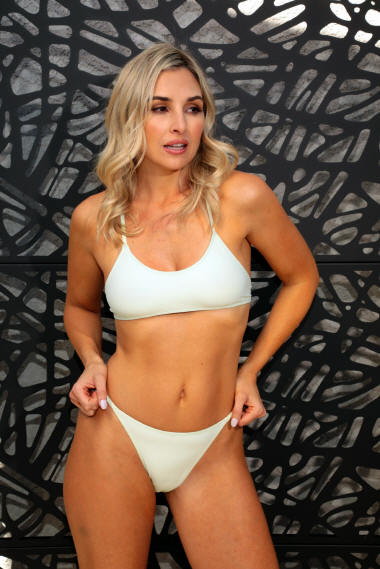 The Natural Bikini - Simple Seductive Sheer When Wet Design. Super comfortable fabric. Thong or Rio bottoms with adjustable side strapping. Crisscross back straps take pressure of neck and are super supportive. Available in Kiwi or Lavender. in sizes 2-22 each piece from $36.95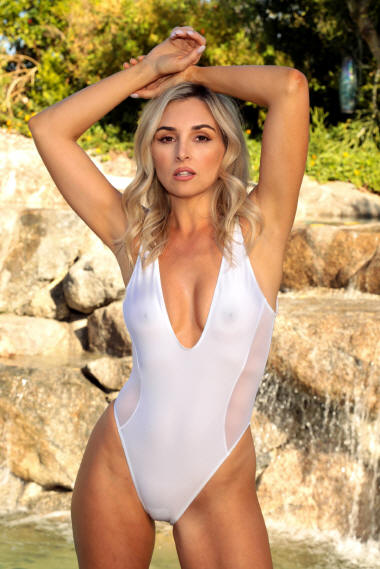 Impulse Sheer One Piece - Flattering Sumptuous Design. Super comfortable high cut leg, plunging back with mesh sheer see through side panels. Side panels create a visual slimming effect throughout the suit. Rio style bottom back with crotch lining only. White becomes seductively sheer when wet, Coral less sheer. In Coral and White. in sizes 2-22 from $69.50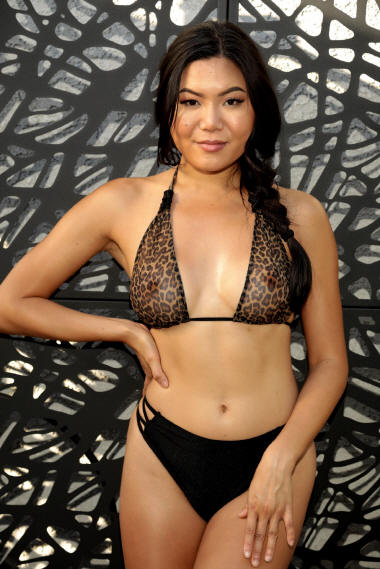 Jaguar Sheer Mesh Halter - Popular halter style now in Jaguar mesh! The printed mesh, while very sheer acts as camouflage. Colors blend with body tones to create that peek a boo transparency. Halter top ties at neck and back to be fully adjustable. Pair with any of our black bottoms for an endless variety of looks. Available in sizes XS to plus size 2X. Halter Top from $35.95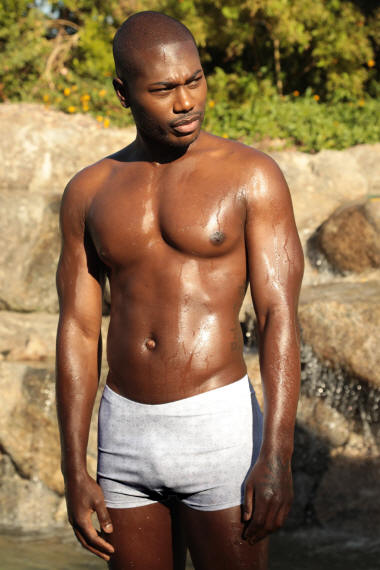 Low Cut Men's Swim Shorts - White/Grey Low cut styling designed for the confident man. With elastic waistband and 3 fabrics, there's one for you! Our sky blue knit is super soft and clingy, even more so when wet. The jade print is ultra light weight, with the print making the suit more discreet. The tan double mesh fabric is like wearing nothing at all. Sizes to 2X, $40.50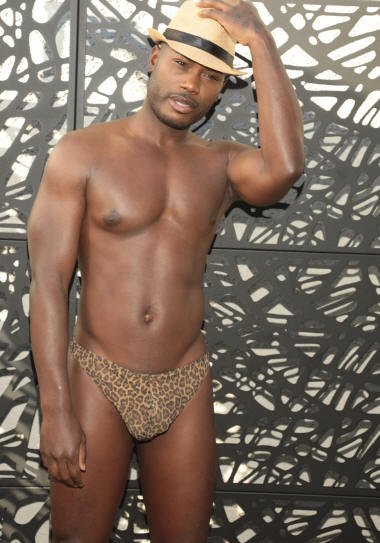 Men's Mesh semi-sheer thong swimsuit - The Jaguar's lightweight mesh print, lined with a solid mesh has just enough wrong to be "right". Comfortable and supportive, it will be one of your favorites! Men's mesh Jaguar thong is lined with nude mesh. Not sheer but very sexy! Want it sheer? Custom order without the lining! $36.50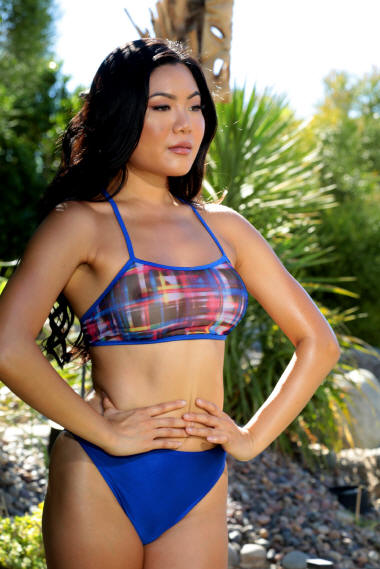 Optic Plaid Sheer Mesh Bikini - Two tremendous tops that offer peek a boo sheerness. The print works as camouflage from a distance, but not up close. Available in triangle or high neck styles. In sizes 0-22 from $34.95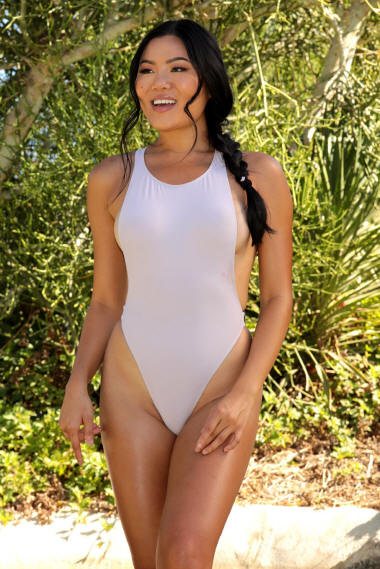 Peek-a-Boob One Piece Simple Seductive Design Our first Side Boob racer back! Super comfortable 4 way stretch fabric. Side clips for easy in and out. Cheeky style rear back. Fabric becomes seductively sheer when wet. In Pale Lavender. in sizes 2-22 from $68.95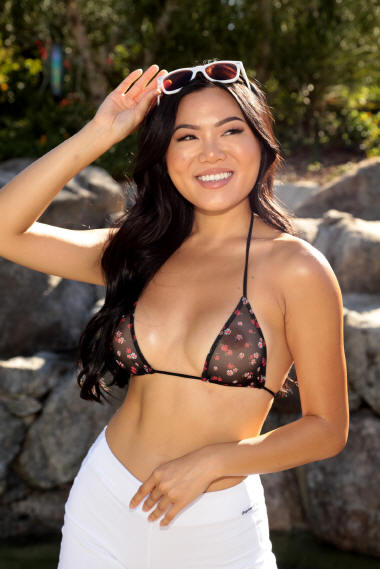 Rosy Mesh Sheer Mesh Bikini - All around terrific top to pair with bikini bottoms, shorts, or whatever you fancy. Just enough transparency to demand a "second" look. Available in sizes 0 to plus size 2X, from $34.95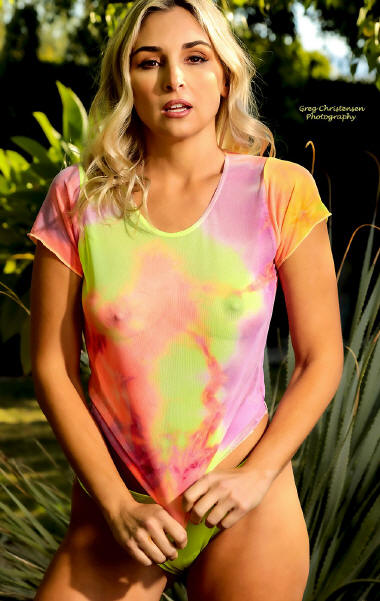 Long Sheer T Tie-Dye - This sexy sheer T shirt is perfect to put on over your bikini top or wear it alone for a super seductive look. Wherever you choose, you will love the silky feel and the attention you will receive. Sizes 0-22. $37.95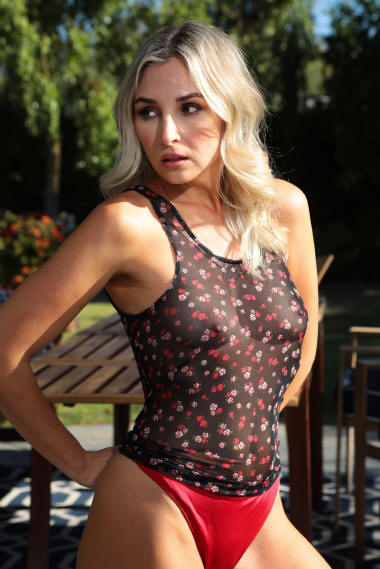 Classic Sheer Tank Top - Sultry & Alluring. Chic, feminine see through design for pool, beach or party. Available in 2 exquisite colors, the enticingly sheer Ivory Lace, or see through White Gold and Rosy Mesh. In sizes 0-22 from $40.95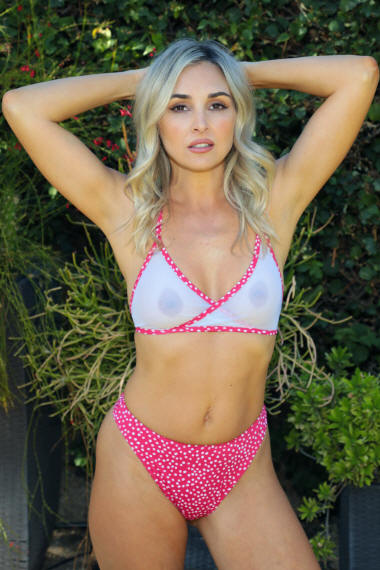 Reveal Sheer Mesh Bikini - Our most daring suit yet! The REVEAL bikini offers a dangerous single layer mesh top along with a double layer top for slightly more coverage. The criss cross over the back strapping provides support and a great fit! Add the bright pink polka dot Thong or Rio……or both… for endless options. Available in sizes to plus size 2X, from $36.50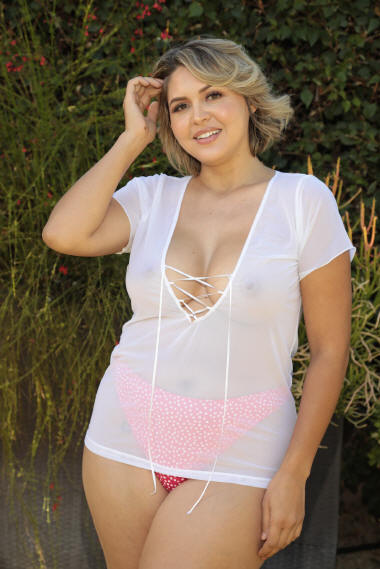 Long Lace Up Sheer T Top - In Polka Dot - The ultimate in sexiness, this lightweight, sheer top compliments swimsuit bottoms, shorts & jeans. Wear it over a bikini top or alone. Coordinates with our Polka Dot Bikini, In sizes XSmall - 2X

from $45.95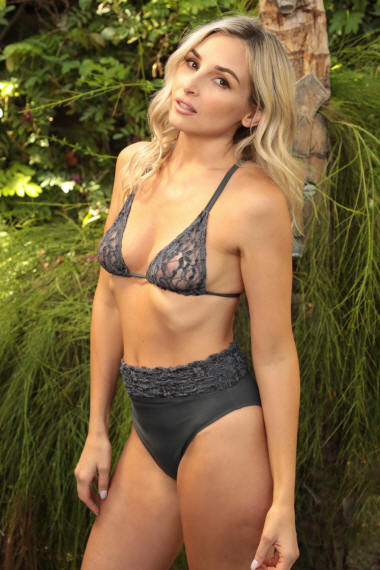 Titanium High Waist Lace Bikini - Sheer, see through lace, crossed top back for comfort, high waist available in Thong or Rio bottom, in sizes 2-22 $36.95 each piece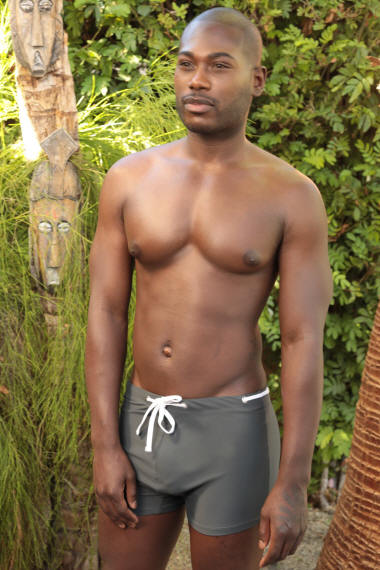 Men's Square Cut Shorts in Titanium - Classic and sexy European styling men's swimsuit designed exclusively for the confident, mature man. The Square Cut men's swimsuit for men exclusively by Brigitewear. A masculine design with minimal coverage, and a very low cut, to give you an athletic look and that great Riviera tan. Available in Frosted White, Red, Silver, Grey, Black and Sheer When Wet unlined White, Sea Foam & Turquoise. (sizes Small-XXL) $49.95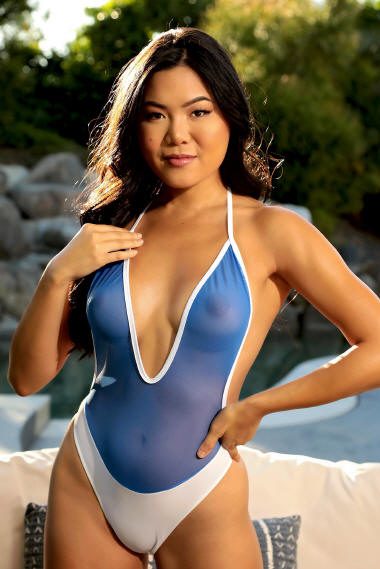 Sapphire Sheer Mesh One Piece - This sensational suit is sure to excite. The one layer sapphire mesh top allows the tan through effect with minimal tan lines. Bottom is white mesh with the front using a white lining. Back is sheer white mesh. Small- 2X, from $66.95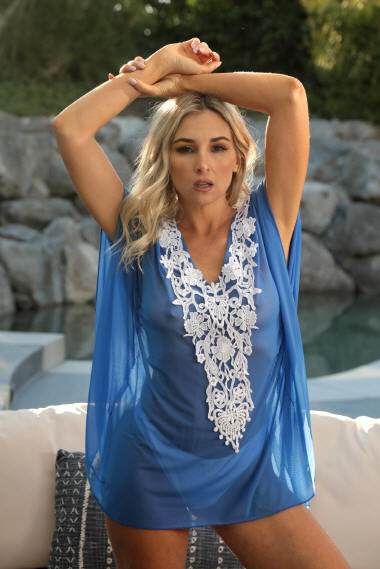 Sapphire Sheer Mesh Poncho - The Poncho with panache! Sheer Mesh with exquisite Appliqué is perfect as a cover-up over a suit or no suit at all! From size Small to Plus size 2X from $66.95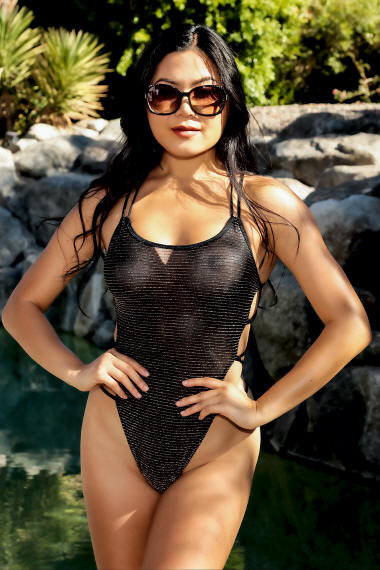 Aphrodisiac Gold One Piece
-
Pulled together in all the right places, the Aphrodisiac Gold lives up to it's name! Casings for free flow of straps are located throughout the suit. Fully adjustable bra style strapping underneath the arms, allows you to feel secure in this racy one piece. sizes 0 to plus size 22 from $68.95

Passion Sheer One Piece Thong or Rio - Just add water. This suit will become your Passion! This simple classic subtly sheer when dry one piece will change before your eyes. Available in thong and Rio styles, with adjustable straps. Crotch lining only. in sizes 2-22 from from $68.95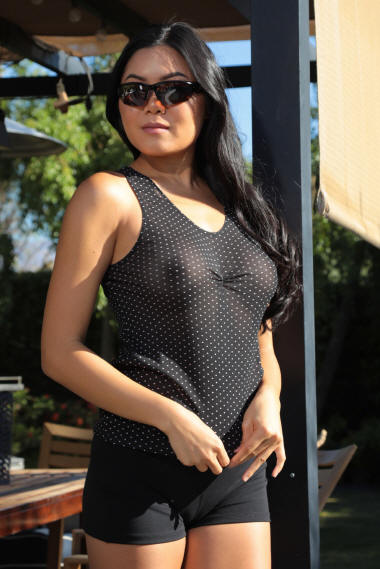 Fitted Tank Sheer Top - Now in Polka Dot, Sexy, sassy, sheer & see through Steamy design for pool or party Available in multiple colors sizes. Coordinates with our Polka Dot Bikini, XSmall - 2X $41.95

Polka Dot Bikini - Two Spectacular tops are offered for a wide range of choices. Subtly Sheer Ruffled Wrap Around and Triangle Top can be paired with the matching Ruched Side Thong or Rio Bottoms, or any of our Black Bikini Bottoms. Ruched Bottoms come with front black mesh lining. Pair with coordinating Sheer Fitted Tank and Sheer Long Lace Up T Shirts. Sizes 0-22 from $35.50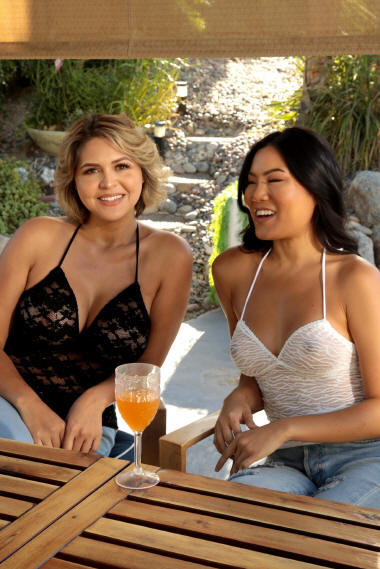 Lovely Lace Sheer Top - New additions to one of our favorite tops. The drawstring neck ties encircle the entire back which allows for variable styles of wear while maintaining maximum comfort. Available in Creamy White, Black Sequins Lace in sizes 0-22 from $45

Brigitewear 2021 - Fashions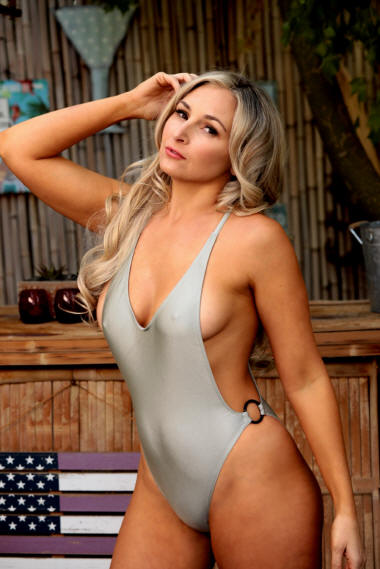 Ringed Side Boob One Piece One of our more titillating designs now enhanced with crisscross strapping and a side ring that opens the look even more! The Side Boob is offered in Watermelon and Silver with thong or Rio bottom options, in sizes 2-22 from from $68.95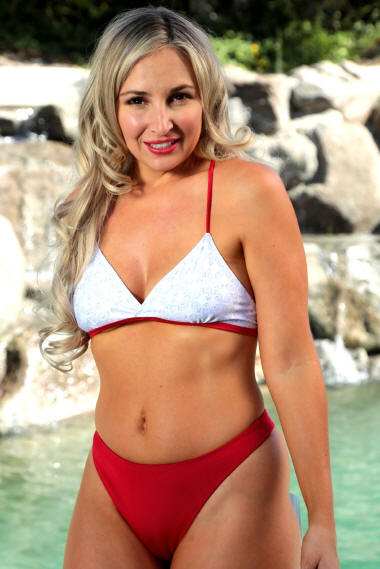 The Radiance Bikini - Two exciting tops and bottoms that offer something for everyone! The Radiance Crossback top uses red spaghetti straps over the shoulders and adjusts in back where the Radiance Ring top has a splash of red in the middle ring and uses wide ties around the neck and back. Both tops are made from quality tricot with a light gray pattern on matte white. The red bottoms are offered in thong and Rio. Also available our Men's coordinating Square Cut shorts. Available in sizes 0 -22 Top from $34.95 Bottoms from $35.95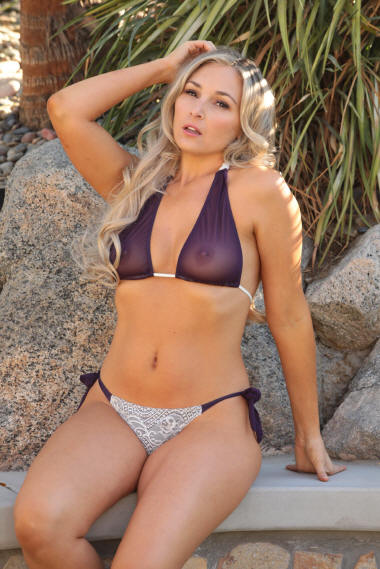 Plum Paradise Sheer Bikini - Versatility at it's best! This suit offers the Plum Mesh Halter Top with ivory lace accents. The thong and Rio bottoms are Ivory Lace with Plum Mesh lining in front and side ties. These pieces pair with a variety of other products in our current line. The Ivory Lace triangle top, Freestyle tops, along with all our plum mesh T's offer never ending combinations to your wardrobe. In sizes XS-2X from $35.00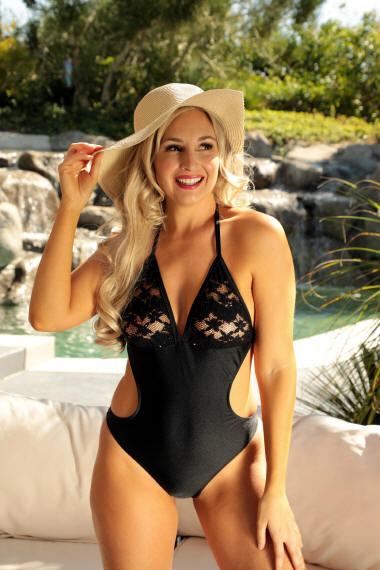 Black Sequins Rio or Thong One Piece - An avant-garde one piece in Thong or Rio that enlightens the senses. Visually slimming, this monokini makes a statement! Shiny black tricot with black lace sequins unlined bra that ties around the back and neck for perfect fit. Comes with crotch lining only, in sizes 2-22 from $68.95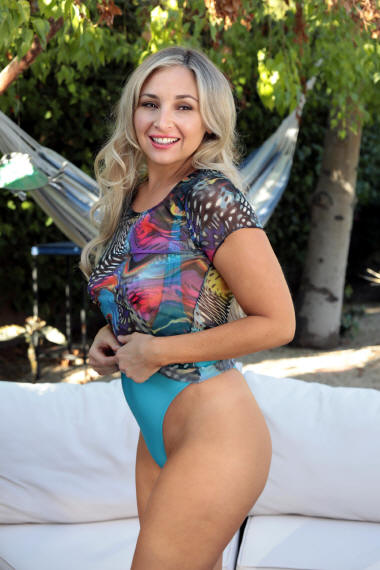 Long Sheer T Aquarius - This sexy sheer T shirt is perfect to put on over your bikini top or wear it alone for a super seductive look. Wherever you choose, you will love the silky feel and the attention you will receive. Sizes 0-22. $37.95

TieTee Aquarius - Sexy sassy T shirt - The sexy little Sheer TieTee a great seductive look for beach, pool or anywhere you want to make be hit. Wear it with jeans, shorts, as a bikini top, or anywhere when you're feeling a little sassy. Sizes S-2X $37.95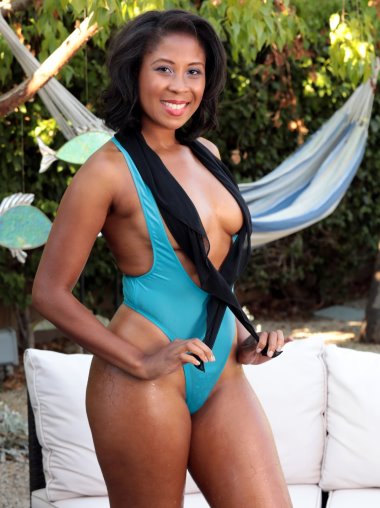 Versailles Topless One Piece Swimsuit Turquoise - Versailles women's topless thong swimsuit, the ultimate in sexy high fashion designer swimwear. In sizes 2-20 from $61.95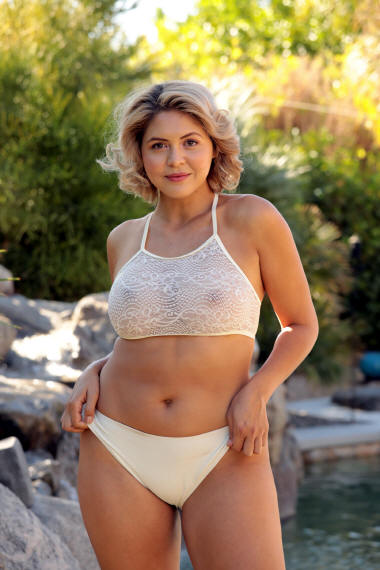 New for 2021 - Freestyle Bikini - Terrific bikini with a sultry halter top available in a see through or lined version. The Ivory mesh sheer triangle top is another great option. Match with our Sheer Long Lace matching shirt and coordination Sarong and you are set for beach or pool.

Available in sizes XS to 2X

from $36.95 Top, $35.00 Bottoms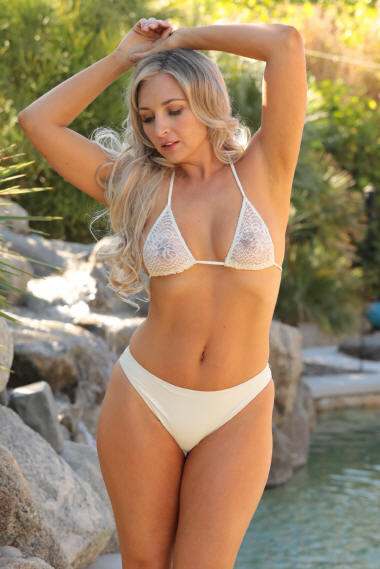 Ivory Lace Triangle Top - Terrific bikini top, the perfect match with the Freestyle bottoms. Match with our Sheer Long Lace matching shirt and coordination Sarong and you are set for beach or pool. Available in sizes XS to 2X from $36.95 Top, $35.00 Bottoms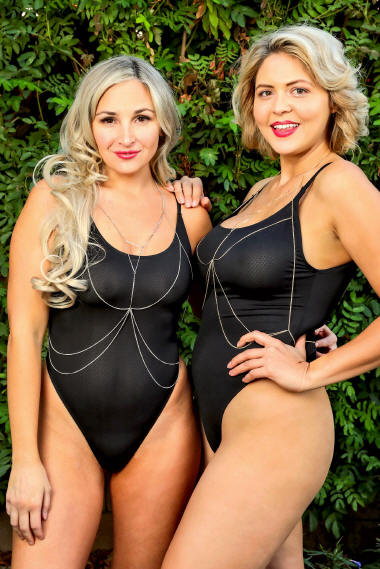 Cloud 9 Rio or Thong One Piece - You'll be on Cloud 9 with this sheer when dry one piece thong suit. With adjustable shoulder straps and lightweight fabric, it'll be one of your most comfortable pieces. Comes with black mesh crotch lining. Available in sizes XSmall to 2X, from $67.95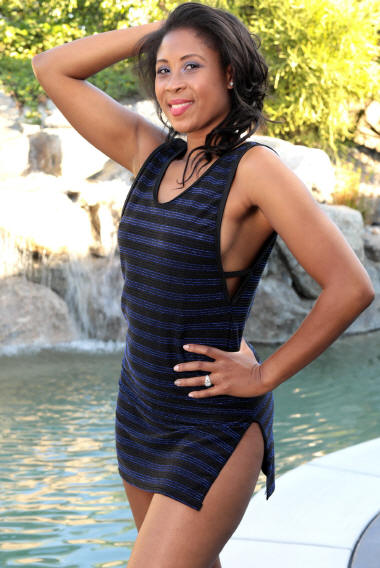 Indigo Sparkle Cover-up - This enchanting cover-up adds style and elegance to whatever it's paired with. Bright sparkle embedded shimmer! Extremely versatile. Available in sizes S - 2X. From $53.95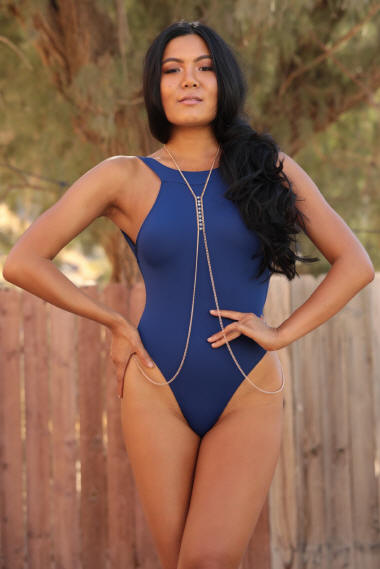 Utopia One Piece - The feeling of being in a "good place" is what you'll experience in this sleek sophisticated suit. This high neck one piece hugs your curves in all the right places. Underarm adjustable straps provide the perfect fit, comes with crotch lining only. Available in subtly sheer Kiwi or Indigo Blue. sizes Small to 2X from $67.95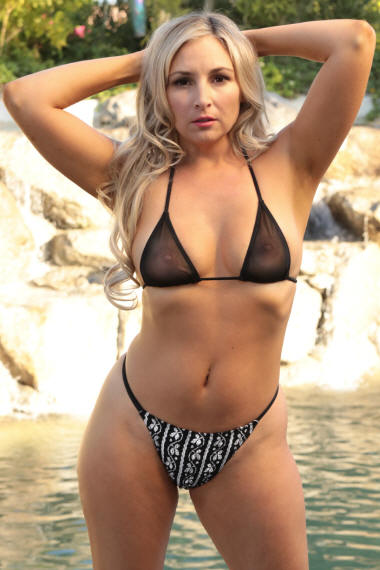 Inferno G-String Bikini - This Hot Little Number will cause Sparks to Fly! Sheer see through Mesh Triangle Top with fully adjustable streamlined G String bottom. Black & Silver bottom front is fully lined. Available in sizes to 2X, from $34.95 Top, $33.95 Bottom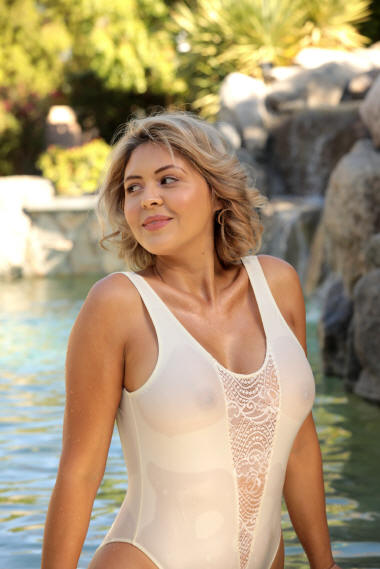 Bliss One Piece You will definitely achieve a state of bliss when wearing this fabulously enticing creation. Soft and sensuous when dry, enticingly sheer when wet.

Available in sizes XSmall to 2X. from $68.95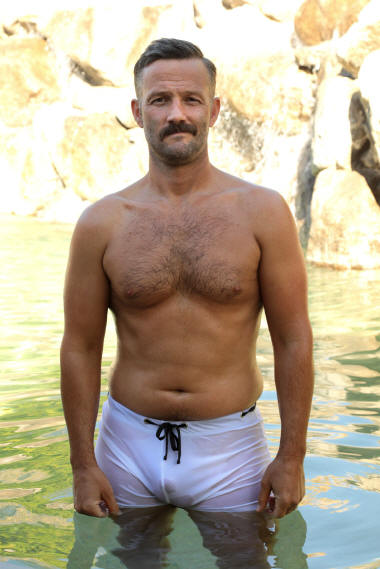 Men's Square Cut Shorts in Sheer Frosted White & Red - Classic and sexy European styling men's swimsuit designed exclusively for the confident, mature man. The Square Cut men's swimsuit for men exclusively by Brigitewear. A masculine design with minimal coverage, and a very low cut, to give you an athletic look and that great Riviera tan. Available in Frosted White, Red, Silver, Grey, Black (lined front) and Sheer When Wet unlined White, Sea Foam & Turquoise. (sizes Small-XXL) $49.95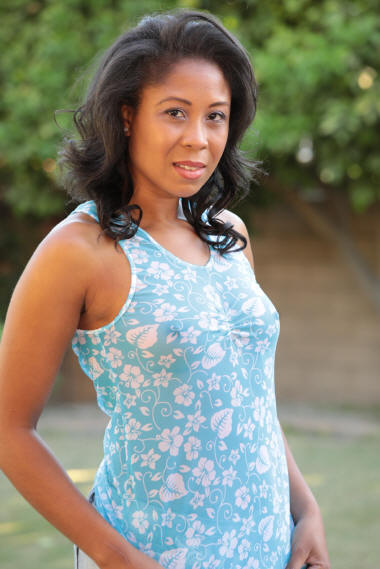 Fitted Tank Sheer Floral Turquoise Top - Sexy, sassy, sheer & see through Steamy design for pool or party Available in 4 colors, sizes XSmall - 2X $41.95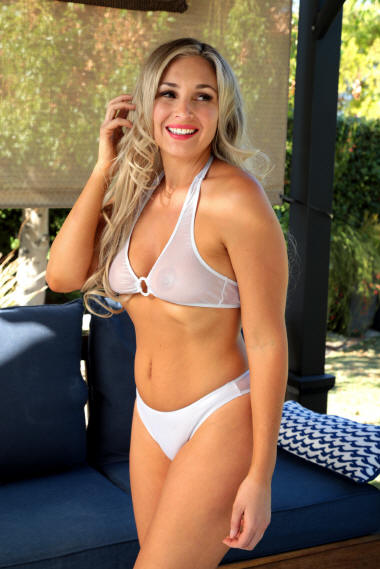 Ecstasy Bikini - You'll be the hit of the beach or resort. This bikini is constructed of a super sheer, shiny, luminous material. The top is highlighted by a sparkling rhinestone embedded ring connector. The bottoms are sheer in back and lined in front and available in Thong or Rio. Available in sizes XSmall to 2X from $36.95 Top $35.00 Bottoms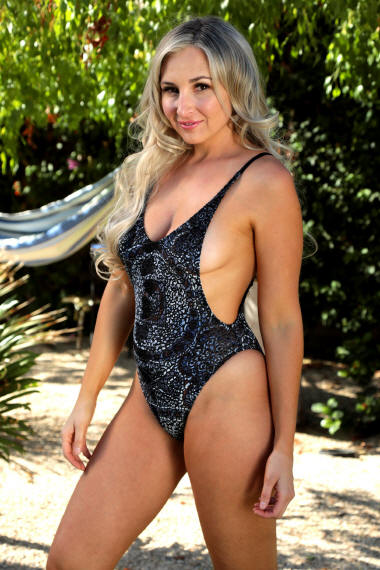 Velvet Side Boob One Piece thong swimsuit - One of our more titillating designs, the Side Boob is offered in ultra soft & sheer White or Velvet or Opaque Black with thong bottom or Rio bottom options. The adjustable straps allow for a perfectly comfortable fit. In sizes 2-22 from $

68.95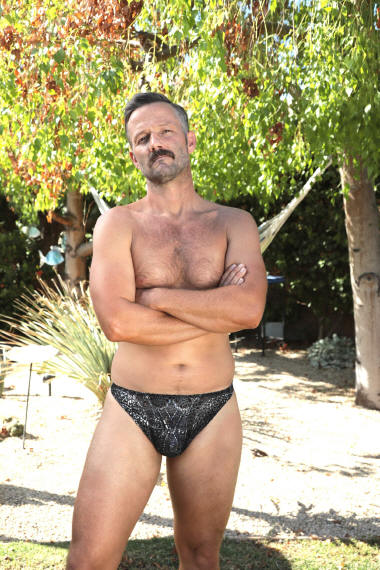 Velvet - Sheer Azur ™ - men's sheer when wet thong swimwear. Classic and sexy European styling designed exclusively for the confident, mature man. The Azur men's thong swimsuits exclusively by Brigite for Brigitewear. A sensual design with minimal coverage, and a very high cut, to lengthen the legs and giving you an athletic look and that great Riviera tan. Sizes 27-44, $40.50

2020 - Popular Products
Thong Skirt - This playful little piece is all about fun! The thong/skirt all in one combo is a wonderful addition to your beach, pool or @home outfits. White striped sheer skirt over a front lined solid white thong. Pair with T shirts, Tie Tee's or any number of Brigitewear tops, from $45.95 in sizes 2-2X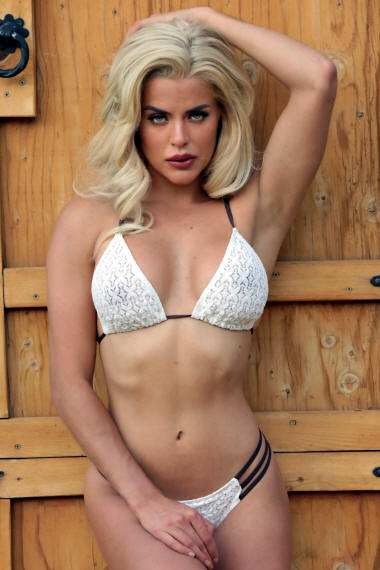 The Islander Bikini - one of our most popular bikinis of all time is back by popular demand. Available with thong or Rio bottom with matching Lovely Lace Sheer Shirt and coordinating Sarong and Men's thong and now in sizes from 2-22, still just $34.95 per piece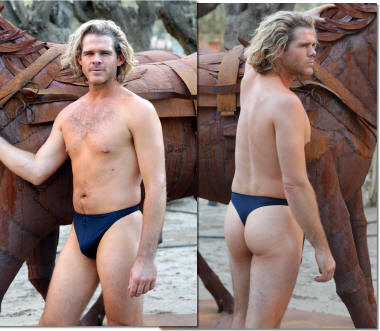 The sexy Dark Navy Azur men's thong swimsuits by Brigitewear. Designed for the confident, mature, discriminating man, this men's swimsuit is slim comfortable cut is great for tanning, swimming and athletic activities, a sexy speedo thong styling Whether by the pool or by the shore, you're sure to be a hit in this provocatively designed men's thong swimwear. Available in 6 colors, size 27-44. $34.50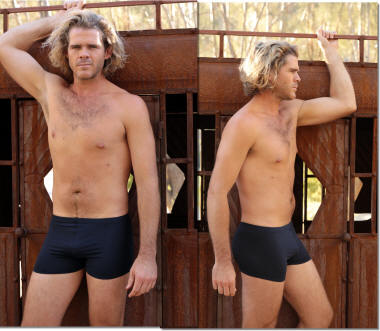 Low Cut Men's Dark Navy Swim Shorts - Low cut styling designed for the confident man. With elastic waistband and 3 fabrics, there's one for you! Our sky blue knit is super soft and clingy, even more so when wet. The jade print is ultra light weight, with the print making the suit more discreet. The tan double mesh fabric is like wearing nothing at all. $40.50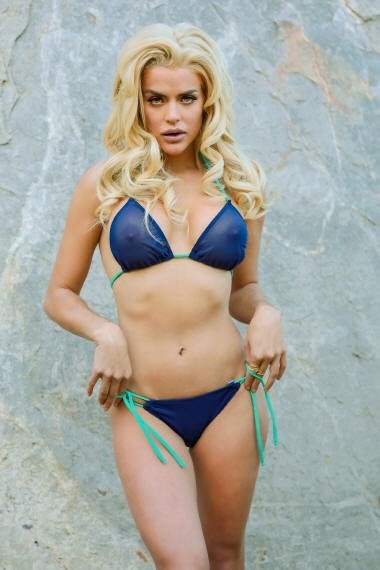 Bombshell Bikini - Sheer See Through Bikini Top or Lined Top, Rio or Thong Bikini bottoms, coordinating Sarong and Matching See Through Sheer T Shirts combine to make an extraordinarily sexy outfit. Starting at $34.50 each piece in sizes 2-22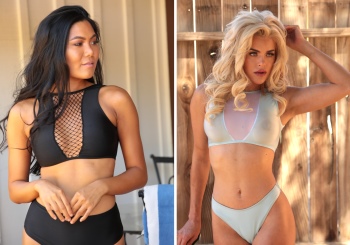 -Knockout Swim & Sport Top - So much more than a swim top! The Knockout provides great support while being super sexy. Excellent for pool volleyball or any sport you choose. Adjustable back ties allow you create the perfect fit. Dazzling new sexy thong bikini swimsuit or cheeky thong bikini in sizes 2-22 from $39.95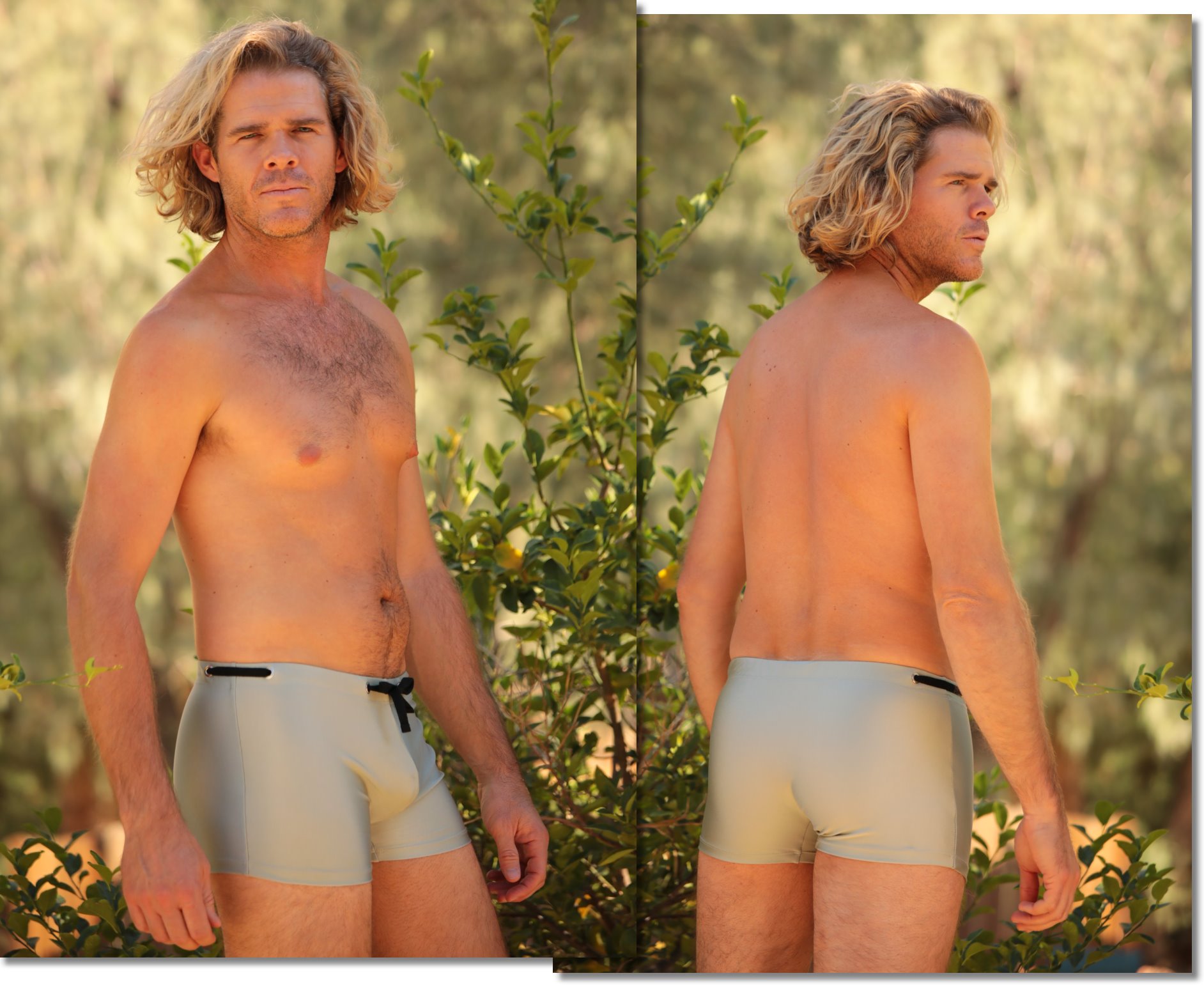 Men's Square Cut Swim Shorts - Now in Unlined Silver! Classic and sexy European styling men's swimsuit designed exclusively for the confident, mature man. The Square Cut men's swimsuit for men exclusively by Brigitewear. A masculine design with minimal coverage, and a very low cut, to give you an athletic look and that great Riviera tan. Available in Silver, Grey, Black (lined front) and Sheer When Wet unlined White, Sea Foam & Turquoise. (sizes Small-XXL) $49.95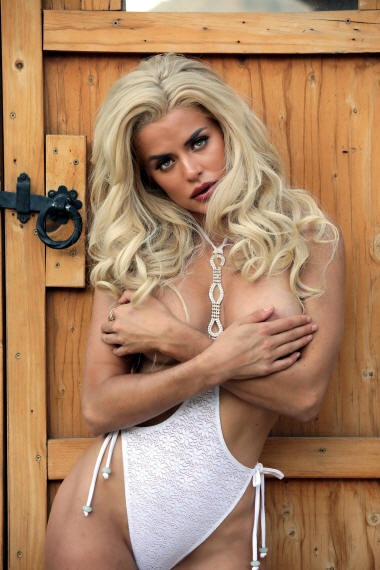 Elegance Topless Swimsuit One Piece - Available in Thong or Rio Bottom! This captivating suit adapts to mood and location. Wear anywhere adding our Vintage Bandeau Top. Adorned with a jeweled accent in front that shimmers in the sun, this suit will make you shine! Tie sides for the perfect fit. Sizes small to 1X from $66.95
Vintage Bandeau Top - This vintage Hollywood styled Bandeau top delivers a classic sexy look. Worn alone or with one of our topless suits, it will make a splash. Comes with changeable center piece in Black and Silver. Sizes S - XL. $34.99 In stock! Order now!
Baby Blue - Sheer When Wet Cannes Bikini - Now available in one of our most popular "sheer when wet colors" - Baby Blue! Available in Thong, Rio or G-String bottom and 4 sexy colors! Top $35.95, Bottoms from $31.95

Marbled Mesh Cover-up - This exquisite cover-up is flirtatious and enticing whatever it's paired with. One side is slit high, side, side boob design and delicate textured mesh striped black fabric - simply stunning. Available in sizes 2-22. From $54.95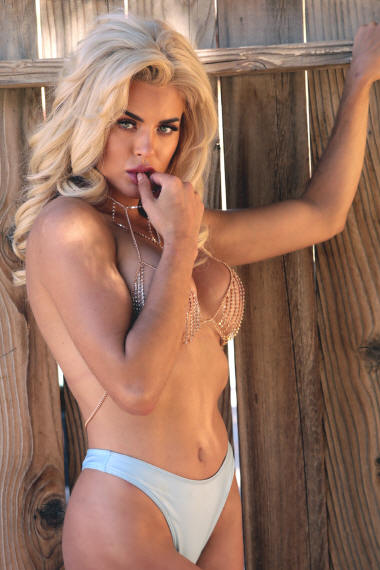 The Jeweled Top Bikini - If you're daring, wear this sizzling top alone or wear it over an existing bikini top. Whichever you choose, this stunner will make an impact. Completely covered in shiny rhinestones, the top is stunning and dazzling in the sunlight! one size top $34.50 Bottoms from $31.95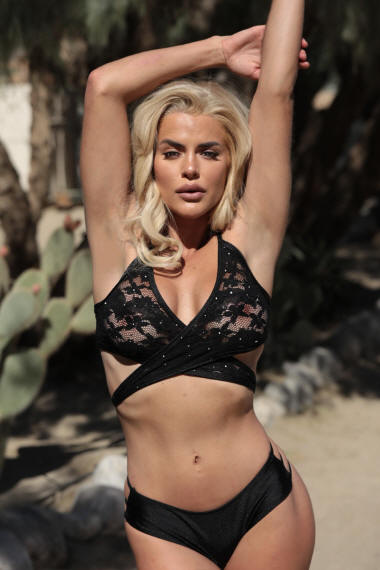 The Wrap Around Top Bikini - This sensual but supportive top offers the best of both worlds. With adjustable shoulder straps plus wrap around body straps, the comfort and fit is superb. Sparkle all day long in this sequins adorned fabric, in sizes 0-22 from $36.95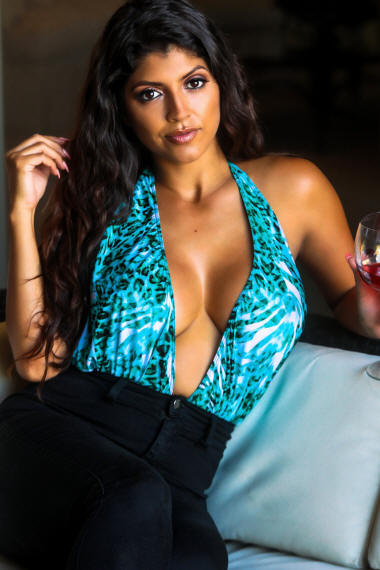 High Waist Halter Rio One Piece Swimsuit - In this luscious one piece, you can go from party to pool instantly. Fabulous when worn as a body suit with pants or skirt, or as swimwear. The top fabric is silky soft and light in weight. Jade is faintly sheer, while the White gives you that "WOW" factor! in sizes 2-22 from $68.95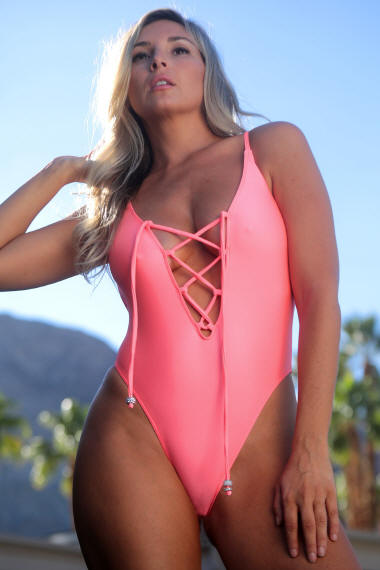 Front Tie Plunge Sheer When Wet One Piece - Illuminating colors - the bright shinny Coral is sleek & smooth, while the Marine Blue is super soft with extra stretch. Adjustable front tie allows you to show as much or little as you want. Sizes 2-22 from $68.95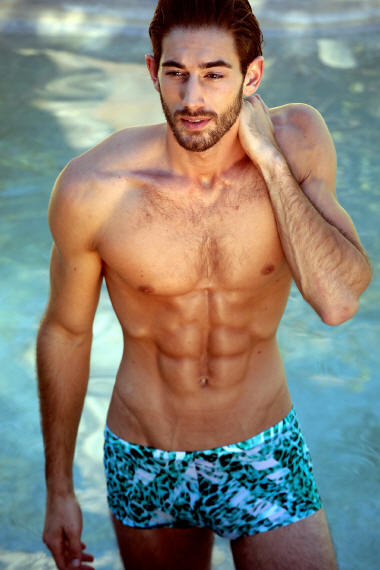 Low Cut Men's Bathing Suit - Low cut styling designed for the confident man. With elastic waistband and 3 fabrics, there's one for you! Our sky blue knit is super soft and clingy, even more so when wet. The jade print is ultra light weight, with the print making the suit more discreet. The tan double mesh fabric is like wearing nothing at all. $40.50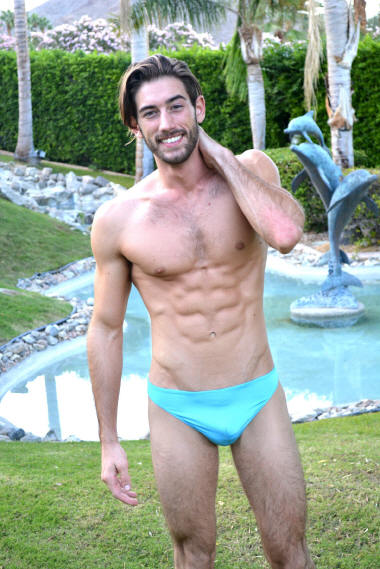 The Sheer when wet Azur men's thong swimsuit by Brigitewear in Blue Ice - is not for the faint of heart. This suit is perfect for tanning, swimming and beach and pool activities. But, get it wet and it turns provocatively sheer - leaving little to the imagination. Available in White and Neon Yellow. $40.50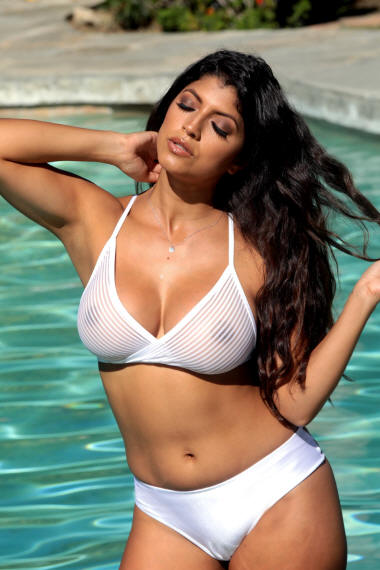 HeartBreaker Bikini Very supportive and sexy, you'll break some hearts in this thrilling suit. The soft and stretchy Sky Blue clings to every curve. The sensationally sheer White Stripe Top and semi-sheer Blue Shimmer pair with a variety of Brigitewear bottoms. Most in sizes S -1X from $36.50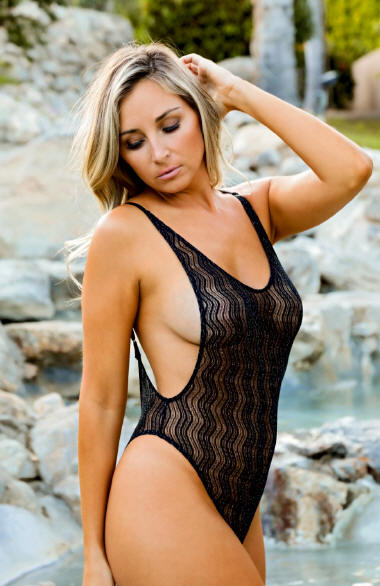 Cheeky Side Boob One Piece One of our more racy designs, the Cheeky Side Boob is offered in ultra sheer see through stretchable mesh fabric .The adjustable straps allow for a perfect comfortable fit. In sizes 2-20 from $68.95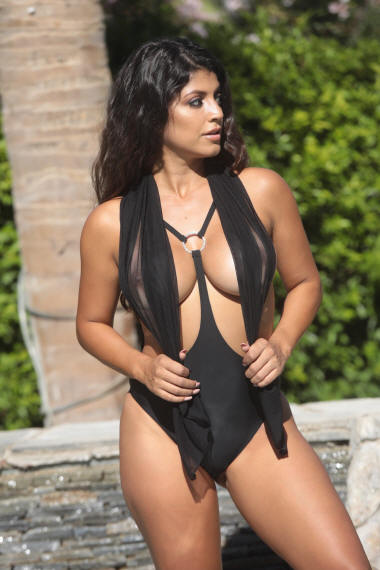 Topless Jewel One Piece -This captivating swimsuit adapts to whatever your mood is. Change up the look with a variety of optional tops. Adorned with a jeweled accent in front that catches and reflects the light. High waisted front panel help conceals any pesky bulge. A darling Cheeky bottom with high cut legs finished off the look. In sizes 2-20 from $61.95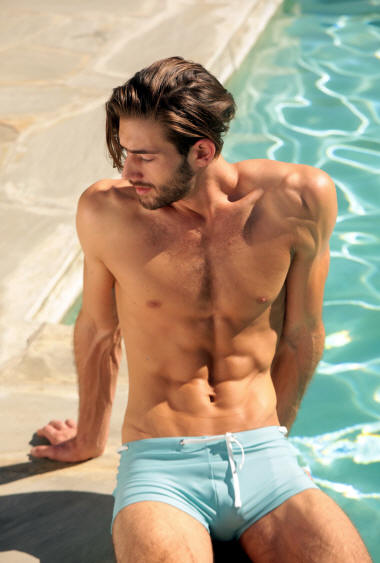 Men's Square Cut Shorts - Sea Foam Classic sporty European styling designed exclusively by Brigitewear. The Square Cut men's swim shorts offer a fully lined low rise front with adjustable draw strings, and a seamless back. Sizes Small-XXL $49.95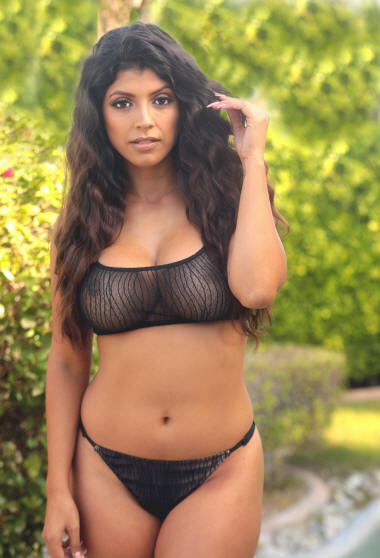 The Flawless Bikini - Feel lawless in the Flawless Bikini. The ultra sheer, see through bikini top leaves little to the imagination. The wide band ties securely around the back for added support. The adjustable side, front lined, minimalist bottoms are available in thong and Rio. The top and bottoms mix and match with numerous other Brigitewear products in sizes S -1X, from $34.50-35.95 each piece.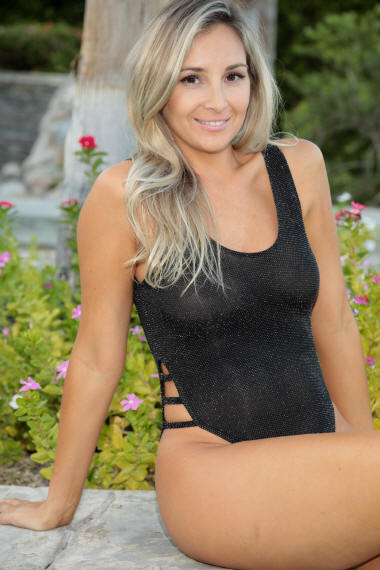 Breezy Starry Night Sheer One Piece Swimsuit. This suit is sensual when dry and seductively sheer and see through when wet. Plunging front & back together with the extreme high cut sides make the the perfect balance of sexiness and sensuality. In our exclusive Midnight Sky, Dusty Blue, Mint Julep, Electric Blue colors. Sizes 2-22 $67.95

Side Boob White One Piece - One of our more titillating designs, the Side Boob is offered in ultra soft Clay or Opaque Black with thong or Rio bottom options. As shown, the Starry Night becomes sheer and clingy when wet. The adjustable straps allow for a perfectly comfortable fit. in sizes 2-22 from $

68.95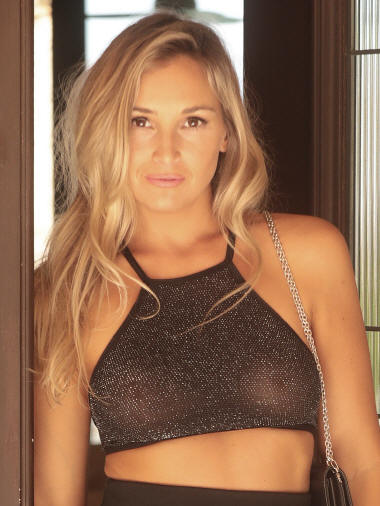 High Neck - Sheer Swim & Sport Top With three color top options, this top is perfect as a bikini top or as a sport top to wear with shorts, jeans or whatever you choose. The back ties offer an adjustable fit that is very snug and supportive. Available in Black/Gold & Starry Night. Many coordinating options to choose from. $36.95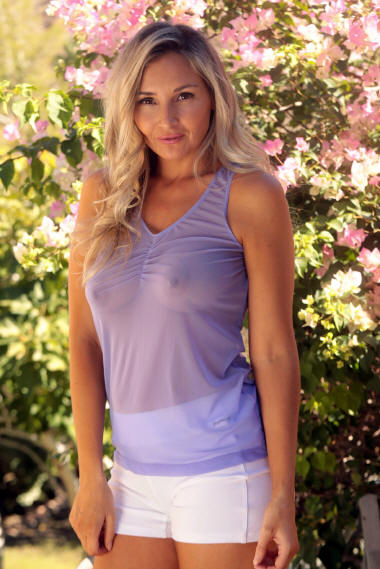 The Sexy, Sassy Fitted Tank Top - perfect for pool, beach or party wear - in sizes 0-22 from $40.95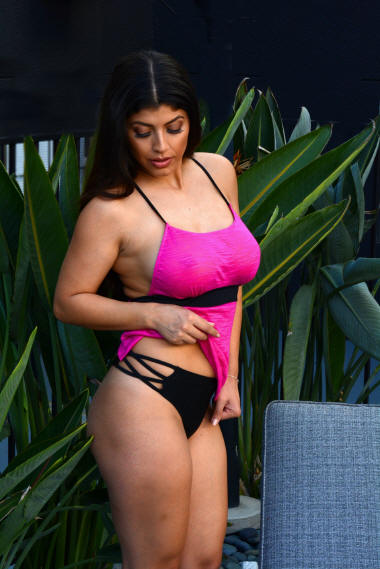 Scoop Neck Tankini Swimsuit - A sensual swim top that feels heavenly. You will feel secure with the built in support band while still being very sexy. Adjustable straps for the ultimate fit. In colorful Fuschia/Black or Sky Blue/White. Available with a variety of Rio or thong bottoms! In sizes 2-22 from $46.95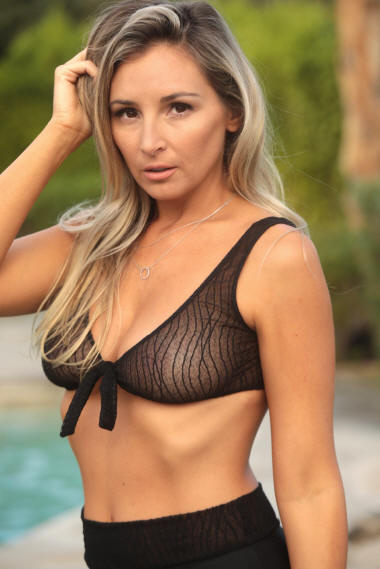 Front Tie Bikini - This enticing piece works as a bikini top or "anywhere" top. Offered in 3 different fabrics with varying levels of sheerness, there is one to please you! With elastic all around, the adjusting tie front will fit how you like it. Pairs well with numerous Brigitewear bottoms for many different looks. In sizes XS -2X, Top $36.95 - Bottoms $29.95-$35.95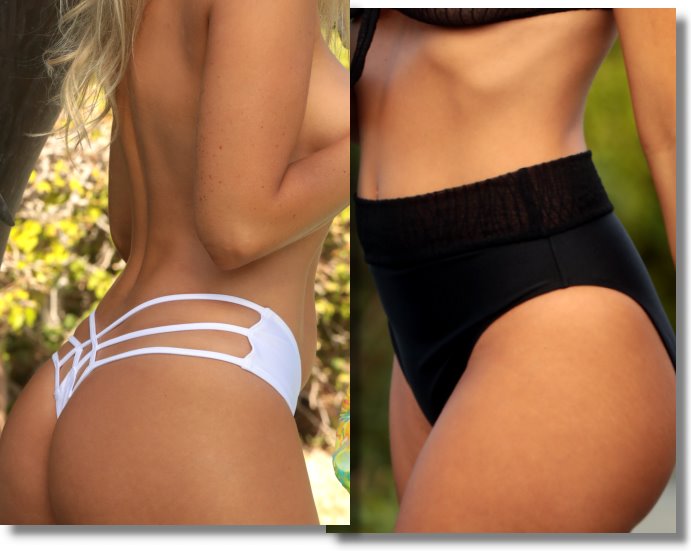 Sexy new bikini bottoms - thong, Rio, High Waisted, many to choose from $34.95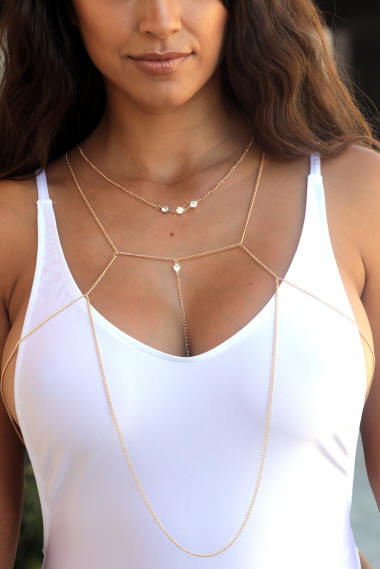 New Jewelry pieces for 2019. Great selection to dress up or coordinate with out other Brigitewear fashions. From $12.95 to $31.95
Other Hot Fashions from Brigitewear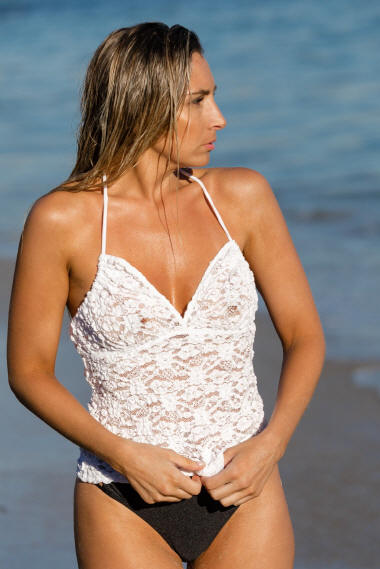 Lovely Lace Sheer Top - Subtle Seductive Sexiness. This sultry, lacey, halter type sheer top is a poly cotton, lycra blend which allows for a truly comfortable fit. The drawstring neck ties encircle the entire back which allows for variable styles of wear. Available in Star White, Vanilla White, Black and Green Lace $41.00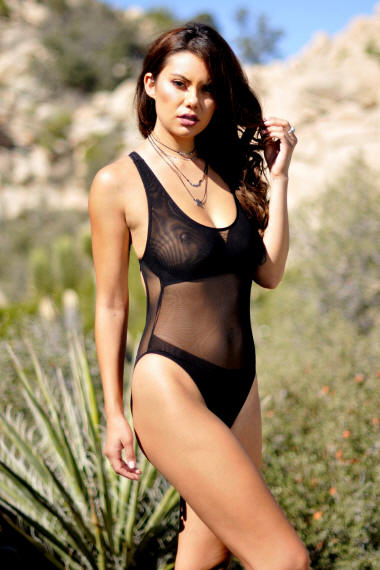 Cross Back Sheer One Piece - Action Suit! Designed for action, this suit has a built in mesh bra for support and adjustable back straps for the ideal fit. Unlined Rio bottom back can be worn either "cheeky" or "full". All this combined with variable levels of transparency based on fabric choice. Bikini style mesh lining in front, sheer in back. in sizes 2-22 from from $67.95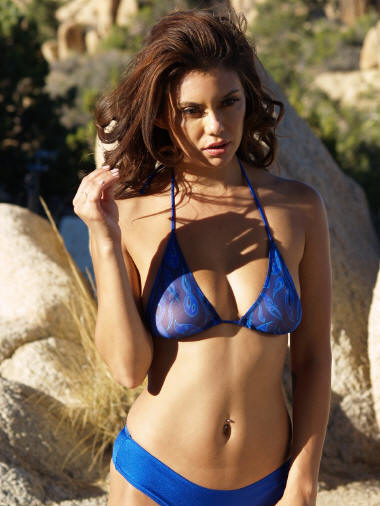 Sheer Mesh Bikini - The Flame Mesh Bikini Top pairs perfectly with numerous bottoms from the Royal Bikini Ensemble. Choose from Cheeky Full, Thong or G-String bottoms. Add the sheer Lace Up Tee Shirt or Royal Sheer T to complete the look. From $31.95 each piece.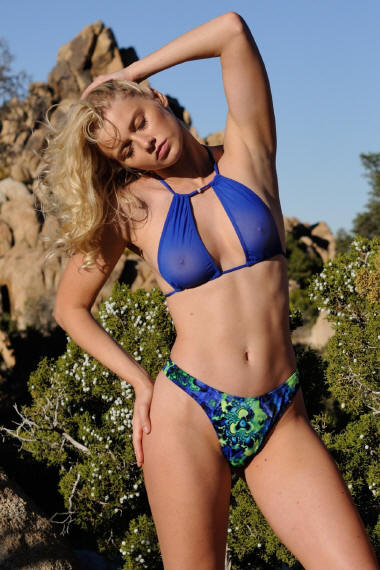 Keyhole Top Bikini - Our new Keyhole, Seamless and Sheer Mesh Tops match up perfectly with several new bottoms enabling you to design your own custom bikini swimsuit. Sizes 2-22 from $27.95 per piece
Lace Up Bikini Top - With Princess Cut styling, this semi sheer top is super supportive & form fitting. The luxurious fabric glistens in the sunlight like no other. Pair with a variety of different bottoms for a multitude of looks. Our exclusive new Faux thong Bottom features a high waisted full bottom with a surprise! Not quite yet a thong wearer? GO FAUX! in sizes 2-22. Top from $36.95 Sale $31.95 each piece, bottoms from $27.95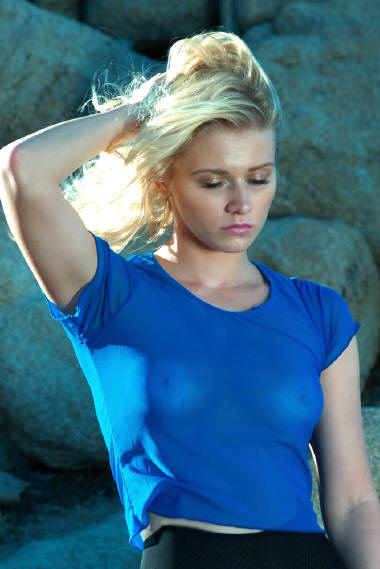 Sheer T Shirt - one of our most popular products is now available in Royal Blue, perfect for beach, pool or party. In sizes S-XL+ $35.50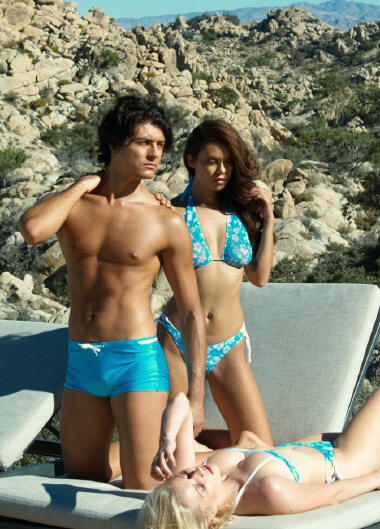 Men's Square Cut Swim Turquoise Shorts - Classic and sexy European styling designed exclusively for the confident, mature man. The Square Cut men's swimsuit for men exclusively by Brigitewear. A masculine design with minimal coverage, and a very low cut, to give you an athletic look and that great Riviera tan. Fully lined in front. Available in Grey, Black and a Sheer When Wet unlined White, Grey or Black (sizes Small-XXL) $49.95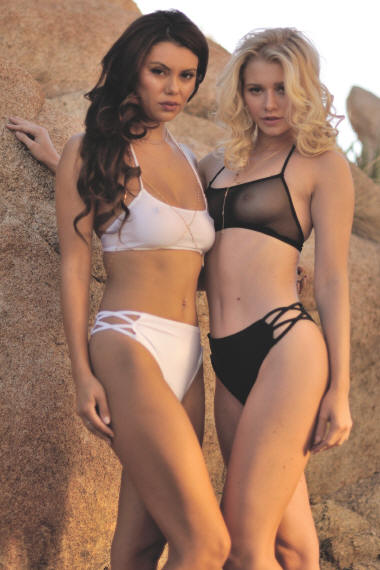 Seamless Bikini - The ultimate in smooth, sensual, and sheer. This sexy top is available in black mesh and solid white which lets you decide how transparent you want to be. White is sheer when wet. With no side seams, and a crisscross adjustable tie back, it provides the perfect fit and fashion details. Pairs well a variety of Brigitewear mesh and solid bikini bottoms. Sizes 2-20 $34.50 each piece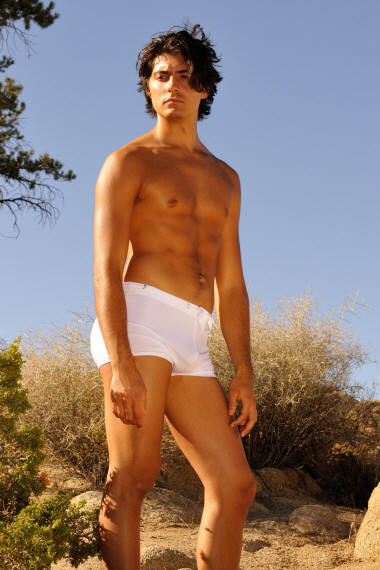 Men's Square Cut Shorts - Our popular Square Cut Shorts for Men are now available in unlined White Sheer sizes S-XXL $49.95

Palm Desert, CA USA 92211
(800) 757-2550