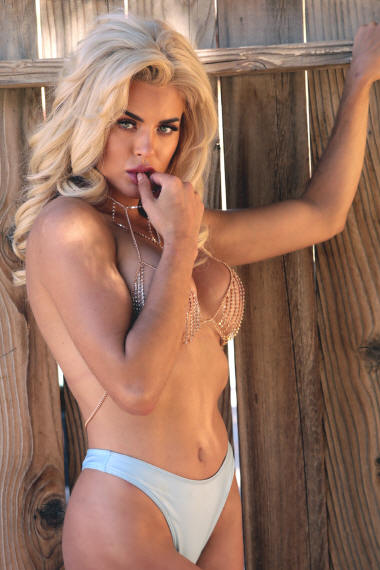 New for 2020 - The Jeweled Top Bikini - If you're daring, wear this sizzling top alone or wear it over an existing bikini top. Whichever you choose, this stunner will make an impact. Completely covered in shiny rhinestones, the top is stunning and dazzling in the sunlight! one size top $32.50 Bottoms from $28.95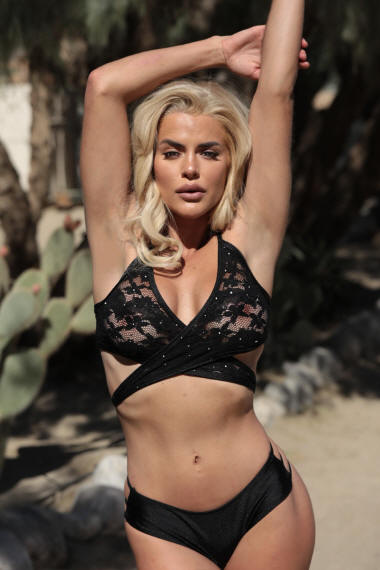 New for 2020 - The Wrap Around Top Bikini - This sensual but supportive top offers the best of both worlds. With adjustable shoulder straps plus wrap around body straps, the comfort and fit is superb. Sparkle all day long in this sequins adorned fabric, in sizes 0-22 from $34.95
St. Tropez Thong One Piece Swimsuits by Brigitewear. Sea Foam. Hot New Color for 2020! This thong swimwear features a crotch only lining. The provocatively deep plunging back and high cut leg design becomes daringly sheer when wet on top making it the ultimate in a sensuous sexy feminine thong swimsuit design in plus sizes 0-22 - from $59.95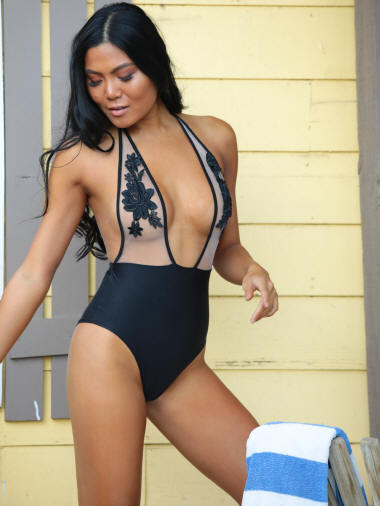 New for 2020 Fleur Noir, sheer mesh swimsuit. East meets West in this collaborative Fleur Noir one piece suit. Ultra-lightweight fabric throughout makes this cheeky bottom halter easy to pack and quick to dry. It will definitely be one of your favorites! Throw some high waist black pants on to show off a stunning top piece! Available in sizes S – XL $64.95

BEST SELLERS FROM 2019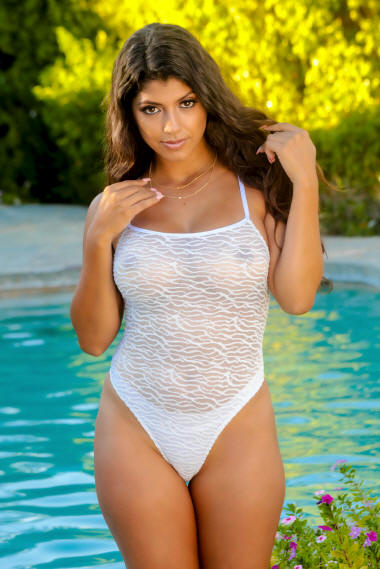 The DreamCatcher - luxurious woven stretch mesh offers the ultimate sheerness. Back straps adjust for your ideal fit and provide optimum support. Available in thong Rio bottoms with front "bikini style" lining and sheer unlined back. Sizes 2-22 from $66.95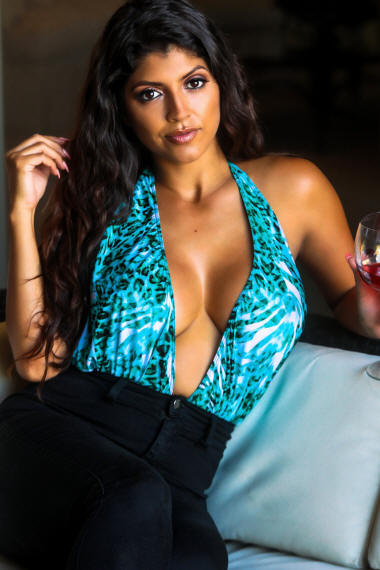 High Waist Halter Rio One Piece Swimsuit - In this luscious one piece, you can go from party to pool instantly. Fabulous when worn as a body suit with pants or skirt, or as swimwear. The top fabric is silky soft and light in weight. Jade is faintly sheer, while the White gives you that "WOW" factor! in sizes 2-22 from $66.95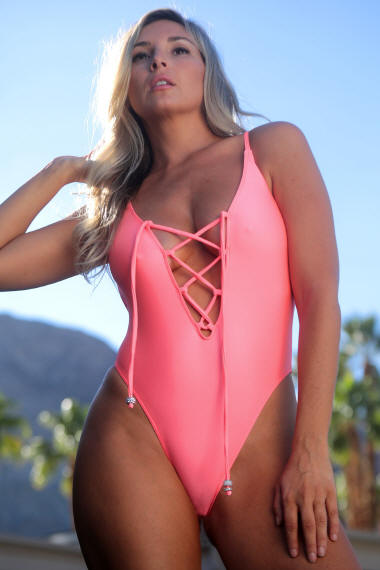 Front Tie Plunge Sheer When Wet One Piece - Illuminating colors - the bright shinny Coral is sleek & smooth, while the Marine Blue is super soft with extra stretch. Adjustable front tie allows you to show as much or little as you want. Sizes 2-22 from $67.95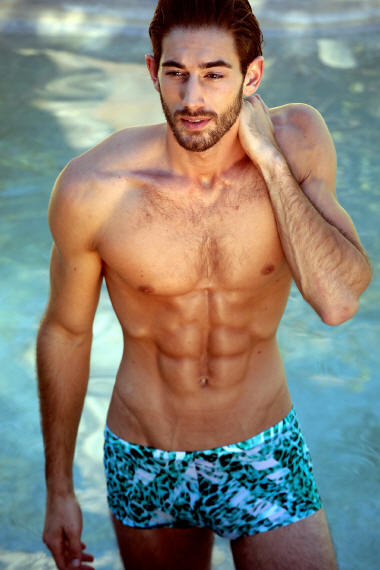 Low Cut Men's Bathing Suit - Low cut styling designed for the confident man. With elastic waistband and 3 fabrics, there's one for you! Our sky blue knit is super soft and clingy, even more so when wet. The jade print is ultra light weight, with the print making the suit more discreet. The tan double mesh fabric is like wearing nothing at all. $38.50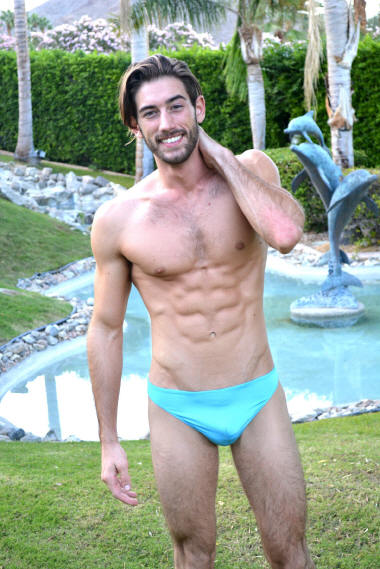 The Sheer when wet Azur men's thong swimsuit by Brigitewear in Blue Ice - is not for the faint of heart. This suit is perfect for tanning, swimming and beach and pool activities. But, get it wet and it turns provocatively sheer - leaving little to the imagination. Available in White and Neon Yellow. $38.50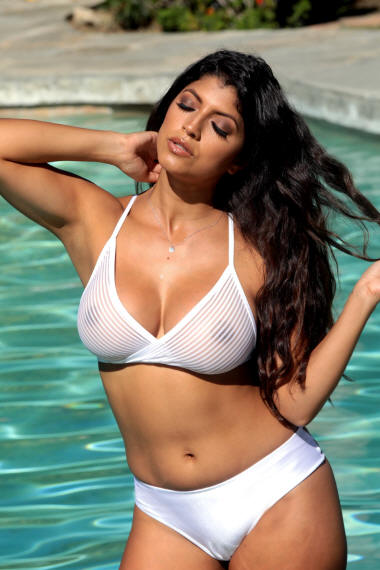 HeartBreaker Bikini New for 2019 Very supportive and sexy, you'll break some hearts in this thrilling suit. The soft and stretchy Sky Blue clings to every curve. The sensationally sheer White Stripe Top and semi-sheer Blue Shimmer pair with a variety of Brigitewear bottoms. Most in sizes S -1X from $32.50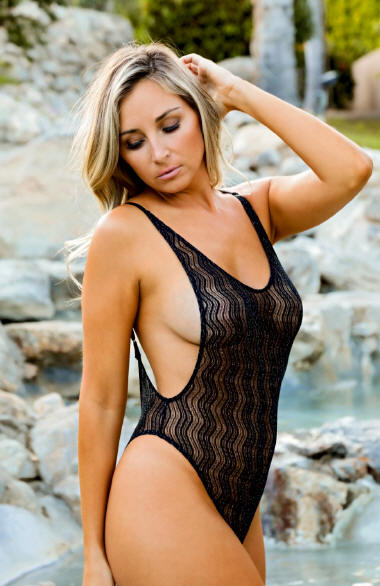 New for 2019 - Cheeky Side Boob One Piece One of our more racy designs, the Cheeky Side Boob is offered in ultra sheer see through stretchable mesh fabric .The adjustable straps allow for a perfect comfortable fit. In sizes 2-20 from $66.95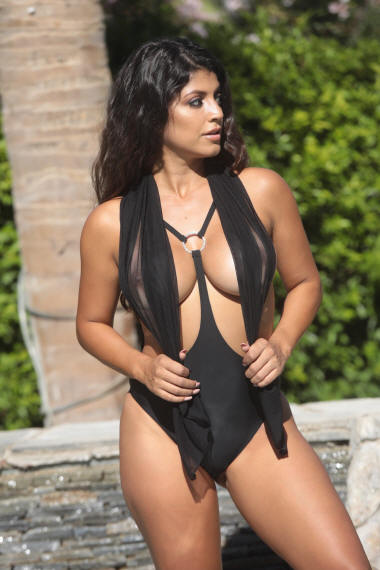 Topless Jewel One Piece -This captivating swimsuit adapts to whatever your mood is. Change up the look with a variety of optional tops. Adorned with a jeweled accent in front that catches and reflects the light. High waisted front panel help conceals any pesky bulge. A darling Cheeky bottom with high cut legs finished off the look. In sizes 2-20 from $59.95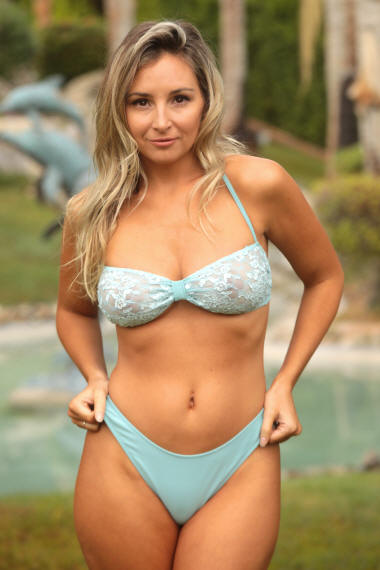 The Adorable Sheer Thong Bikini & Matching Shorts - This sheer floral textured lace bandeau top & thong bottom will demand a second look anywhere you wear it. The flirty feminine scalloped lace edged shorts complete the look. Sizes 0-16 $32.50-$34.50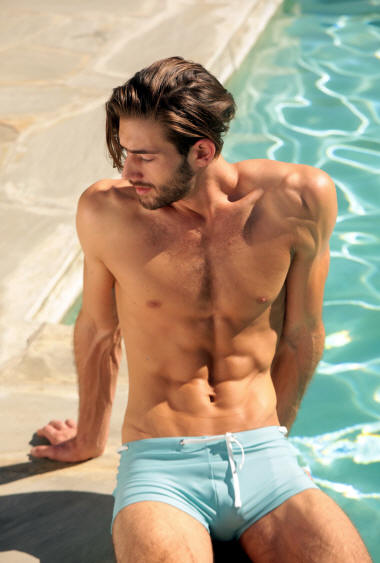 Men's Square Cut Shorts - Sea Foam Classic sporty European styling designed exclusively by Brigitewear. The Square Cut men's swim shorts offer a fully lined low rise front with adjustable draw strings, and a seamless back. Sizes Small-XXL $44.95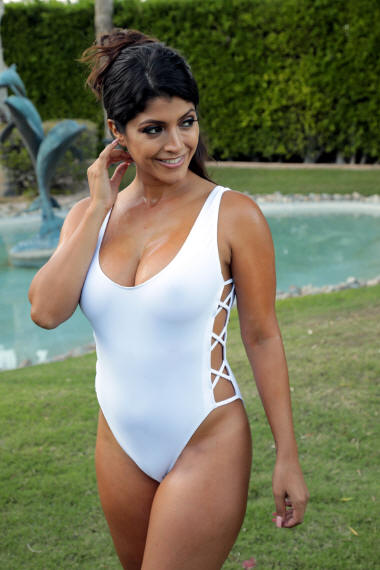 New for 2019 - Side Ways One Piece Swimsuit - Rio bottom, high cut legs and sultry sophisticated side trim set off this subtly sheer when wet bathing suit. In sizes 2-22 $68.95 Sale $59.95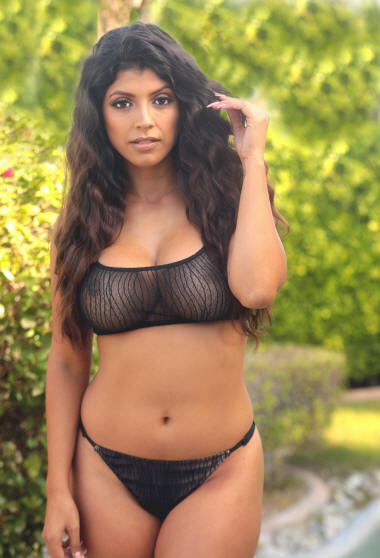 The Flawless Bikini - Feel lawless in the Flawless Bikini. The ultra sheer, see through bikini top leaves little to the imagination. The wide band ties securely around the back for added support. The adjustable side, front lined, minimalist bottoms are available in thong and Rio. The top and bottoms mix and match with numerous other Brigitewear products in sizes S -1X, from $32.50-33.95 each piece.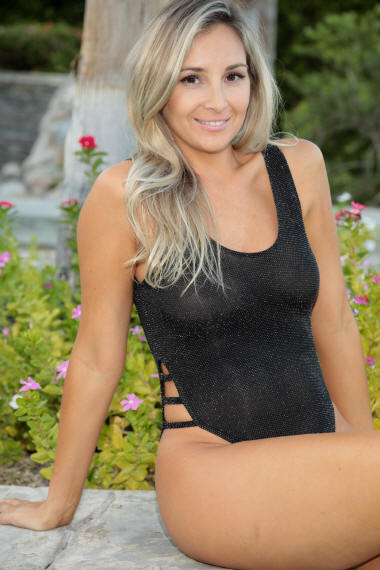 Breezy Starry Night Sheer One Piece Swimsuit. This suit is sensual when dry and seductively sheer and see through when wet. Plunging front & back together with the extreme high cut sides make the the perfect balance of sexiness and sensuality. In our exclusive Midnight Sky, Dusty Blue, Mint Julep, Electric Blue colors. Sizes 2-22 $64.95

Side Boob White One Piece - One of our more titillating designs, the Side Boob is offered in ultra soft Clay or Opaque Black with thong or Rio bottom options. As shown, the Starry Night becomes sheer and clingy when wet. The adjustable straps allow for a perfectly comfortable fit. in sizes 2-22 from $

66.95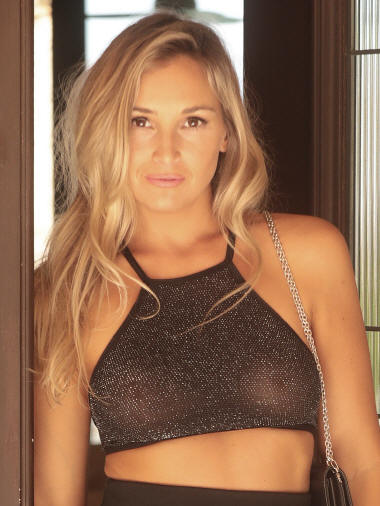 High Neck - Sheer Swim & Sport Top With three color top options, this top is perfect as a bikini top or as a sport top to wear with shorts, jeans or whatever you choose. The back ties offer an adjustable fit that is very snug and supportive. Available in Black/Gold & Starry Night. Many coordinating options to choose from. $34.95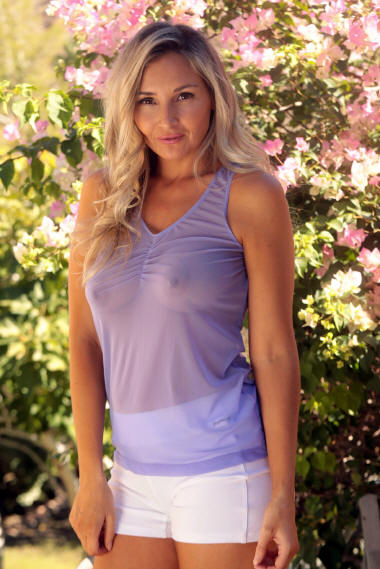 The Sexy, Sassy Fitted Tank Top - perfect for pool, beach or party wear - in sizes 0-22 from $34.95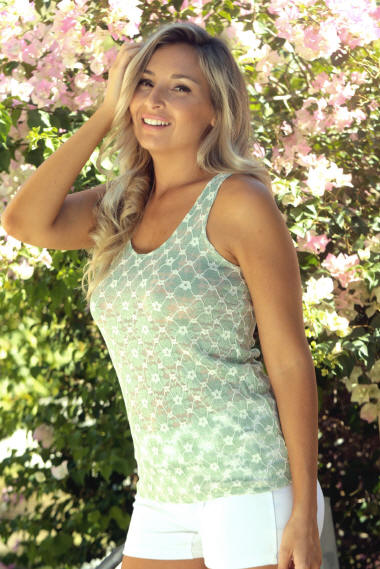 Scoop Neck Tank Top - Two great new colors for this popular top. This sexy tank top is scooped low in front for a provocative look. The poly lycra blend allows for a truly comfortable and soft fit. Great as a cover-up, bikini top, with jeans, shorts or as evening wear. $35.95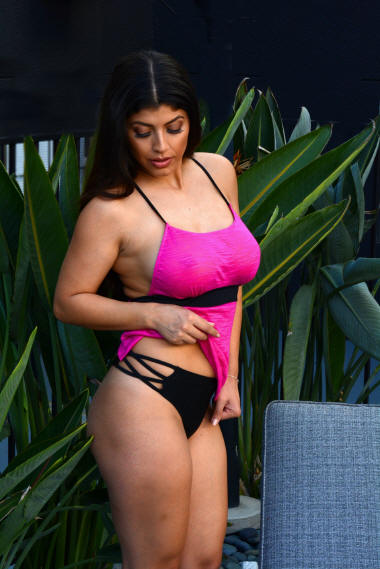 Scoop Neck Tankini Swimsuit - A sensual swim top that feels heavenly. You will feel secure with the built in support band while still being very sexy. Adjustable straps for the ultimate fit. In colorful Fuschia/Black or Sky Blue/White. Available with a variety of Rio or thong bottoms! In sizes 2-22 from $46.95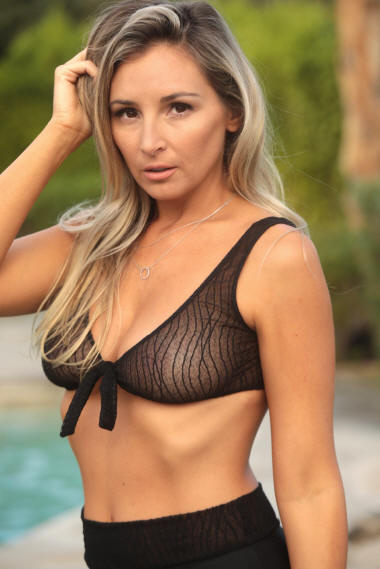 New for 2019- Front Tie Bikini - This enticing piece works as a bikini top or "anywhere" top. Offered in 3 different fabrics with varying levels of sheerness, there is one to please you! With elastic all around, the adjusting tie front will fit how you like it. Pairs well with numerous Brigitewear bottoms for many different looks. In sizes XS -2X, Top $33.95 - Bottoms $27.95-$33.95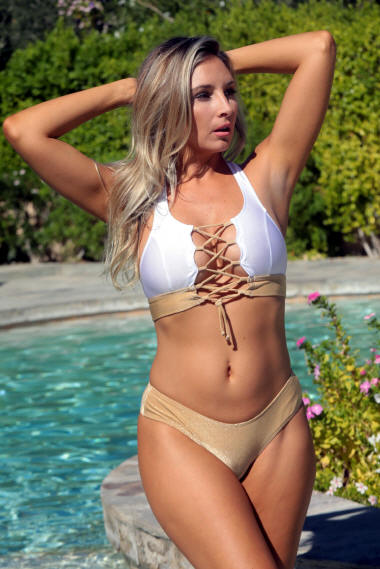 Lace Up Bikini Top in White Gold - with Princess Cut styling, this semi sheer top is super supportive & form fitting. The luxurious fabric glistens in the sunlight like no other. Pair with a variety of different bottoms for a multitude of look,. in sizes 2-22 Top from $36.95 each piece.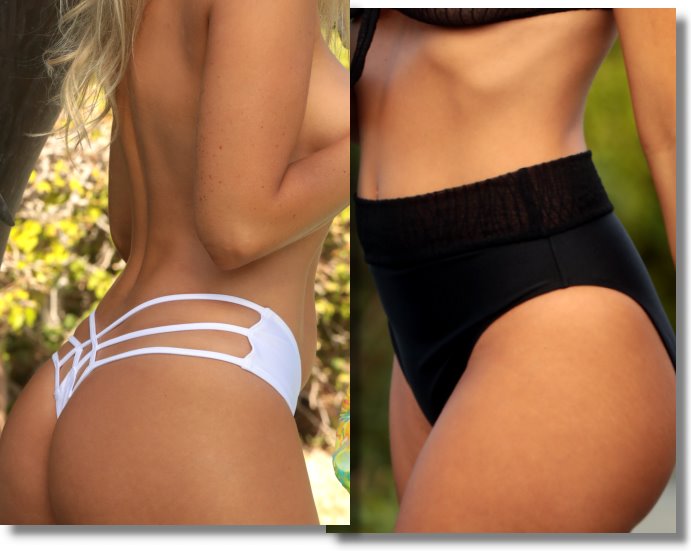 Sexy new bikini bottoms - thong, Rio, High Waisted, many to choose from $28.95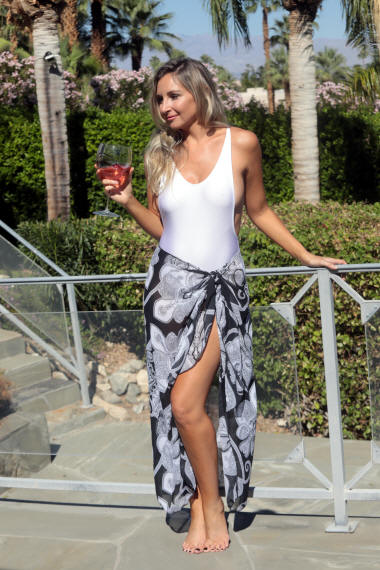 Long Sarong - Perfect as a cover-up or wear it as a wrap alone. One size $38.00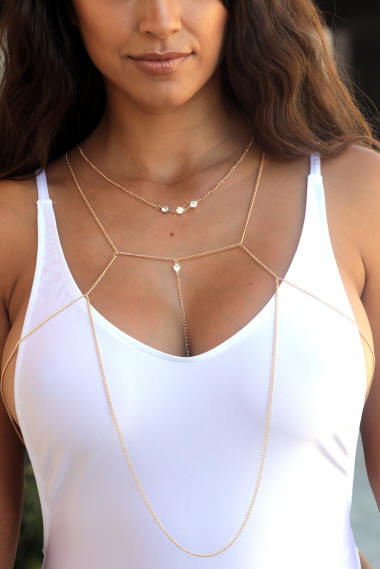 New Jewelry pieces for 2019. Great selection to dress up or coordinate with out other Brigitewear fashions. From $12.95 to $29.95
Hot Fashions from Brigitewear's 2018 line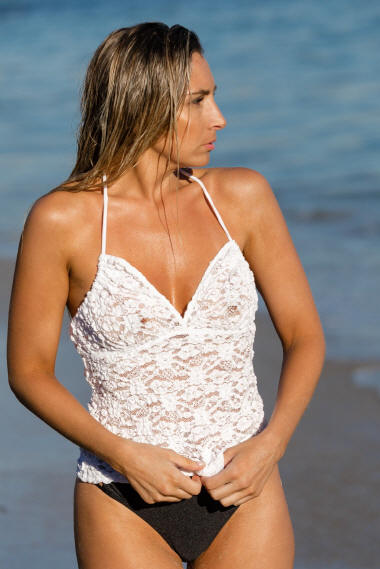 Lovely Lace Sheer Top - Subtle Seductive Sexiness. This sultry, lacey, halter type sheer top is a poly cotton, lycra blend which allows for a truly comfortable fit. The drawstring neck ties encircle the entire back which allows for variable styles of wear. Available in Star White, Vanilla White, Black and Green Lace $39.00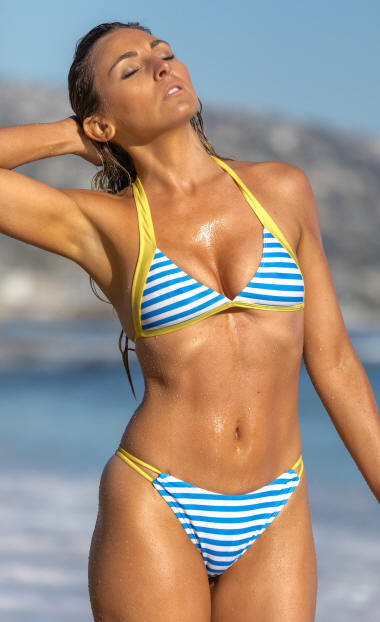 Beach Babe Bikini - Classic styling defines the Beach Babe Bikini. Available in string sided thong or Rio bottoms. Offered with two top options; a fixed triangle that adds support or a sliding triangle that adjusts to whatever coverage you wish. Optional coordinating men's Low Rider thong swimsuit fill out the look. in sizes 2-22 from $32.95 SALE $24.95 each piece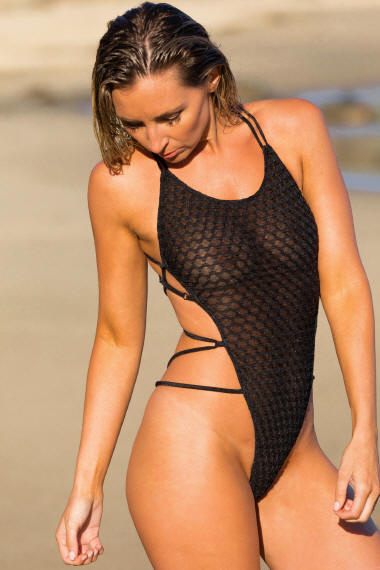 Aphrodisiac One Piece - Pulled together in all the right places, the Aphrodisiac lives up to it's name! Casings for free flow of straps are located throughout the suit. Fully adjustable bra style strapping underneath the arms, allows you to feel secure in this racy one piece. The sheer patterned stretch fabric, leaves just enough to the imagination. Lining in the crotch only. Available in sizes Small to XLarge. from $65.95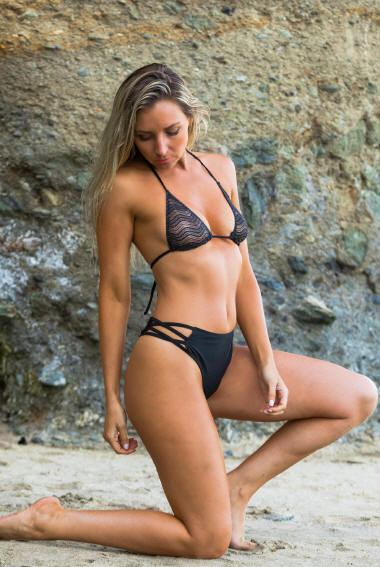 The Wavy Mesh Bikini Ensemble - this ensemble has it all, 4 top options, Side Cross thong and Rio bikini bottoms, and accessories. An extremely sexy, seductive outfit. in sizes 2-22 from $29.95 SALE from $24.95 each piece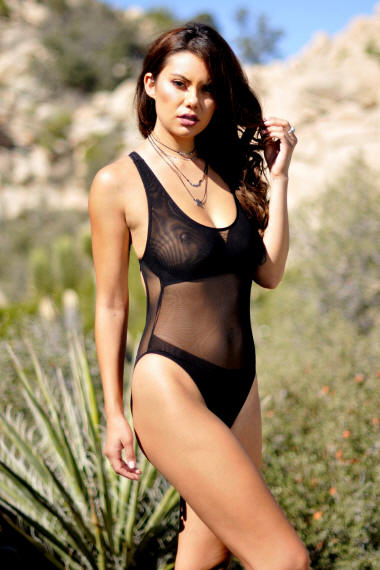 Cross Back Sheer One Piece - Action Suit! Designed for action, this suit has a built in mesh bra for support and adjustable back straps for the ideal fit. Unlined Rio bottom back can be worn either "cheeky" or "full". All this combined with variable levels of transparency based on fabric choice. Bikini style mesh lining in front, sheer in back. in sizes 2-22 from from $67.95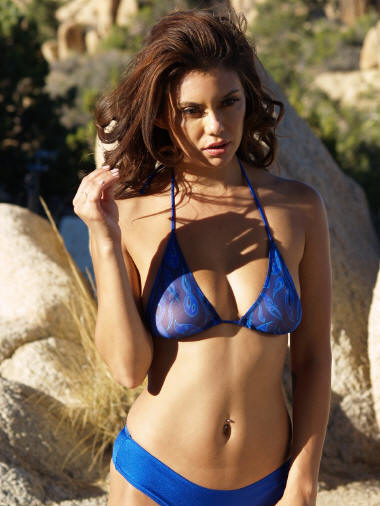 Sheer Mesh Bikini - The Flame Mesh Bikini Top pairs perfectly with numerous bottoms from the Royal Bikini Ensemble. Choose from Cheeky Full, Thong or G-String bottoms. Add the sheer Lace Up Tee Shirt or Royal Sheer T to complete the look. From $29.95 each piece.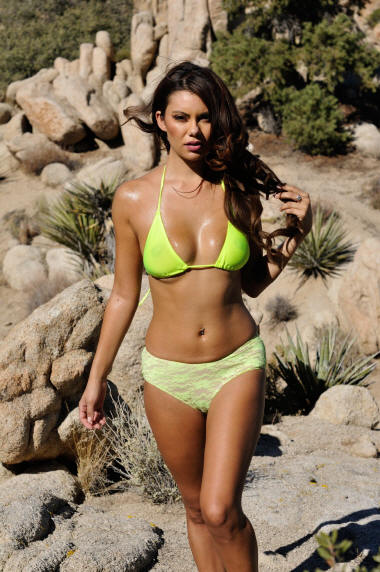 Boy Short Two-piece Swimsuit - Our popular Sheer Cannes top pairs perfectly with these radiant neon yellow lace boy shorts. This inventive design with a lined front and sheer back will support you in all the right places - while showing off you best assets. Stunning neon color. In sizes 2-22, from $32.50 SALE $24.95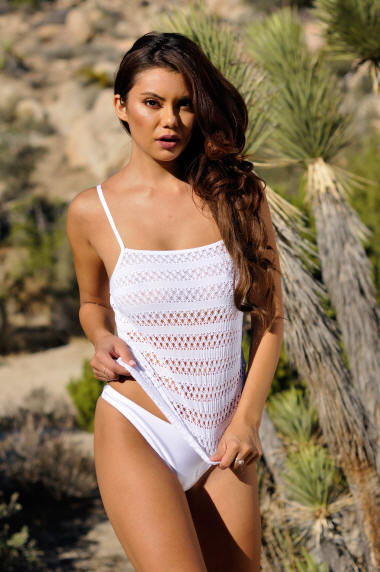 Silhouette Tankini Swimsuit - A sensual swim top that feels heavenly. You will feel secure with the built in white mesh bra while still being very sexy. Adjustable straps for the ultimate fit. Available with a variety of Rio or thong bottoms! In sizes 2-22 from $46.95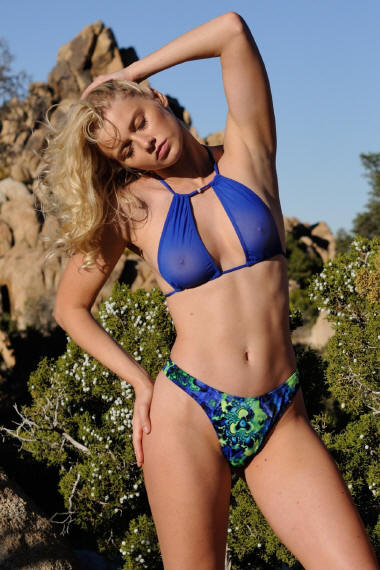 Keyhole Top Bikini - Our new Keyhole, Seamless and Sheer Mesh Tops match up perfectly with several new bottoms enabling you to design your own custom bikini swimsuit. Sizes 2-22 from $27.95 per piece
Lace Up Bikini Top - With Princess Cut styling, this semi sheer top is super supportive & form fitting. The luxurious fabric glistens in the sunlight like no other. Pair with a variety of different bottoms for a multitude of looks. Our exclusive new Faux thong Bottom features a high waisted full bottom with a surprise! Not quite yet a thong wearer? GO FAUX! in sizes 2-22. Top from $36.95 Sale $31.95 each piece, bottoms from $27.95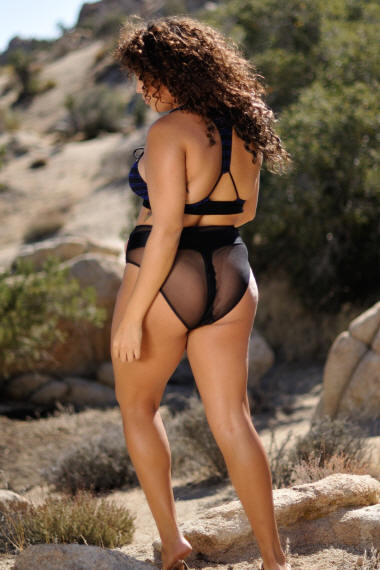 Faux thong Bottom - a high waisted full bottom with a surprise! Not quite yet a thong wearer? GO FAUX! in sizes 2-22, from $32.95 Sale $26.95each piece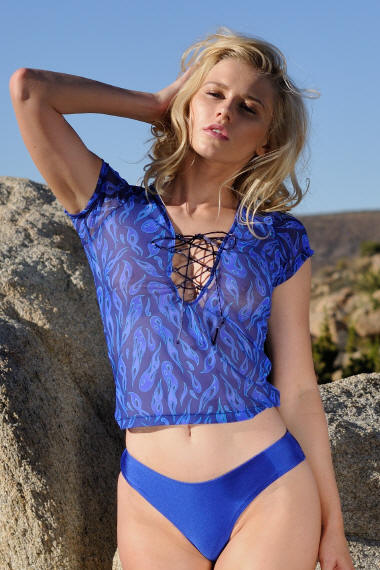 Lace Up T Top - The ultimate in sexiness, this mesh T top compliments swim bottoms, shorts & jeans. Wear it over the Flame triangle bikini top or alone. In sizes Small - XL+ $36.95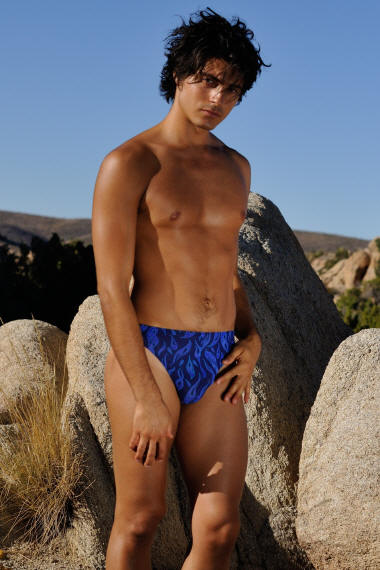 Men's Mesh semi-sheer thong swimsuit - The Flame's lightweight mesh print, lined with a solid mesh has just enough wrong to be "right". Comfortable and supportive, it will be one of your favorites! In sizes S-XXL $34.95 SALE $25.95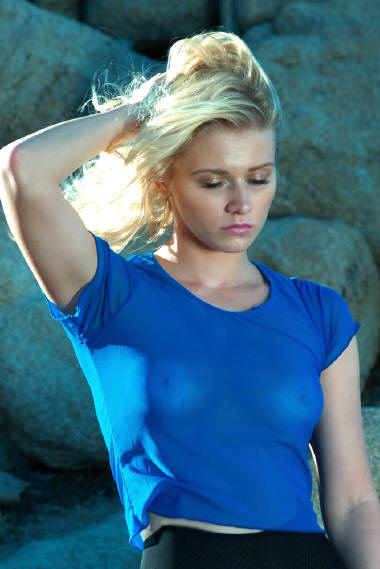 Sheer T Shirt - one of our most popular products is now available in Royal Blue, perfect for beach, pool or party. In sizes S-XL+ $29.50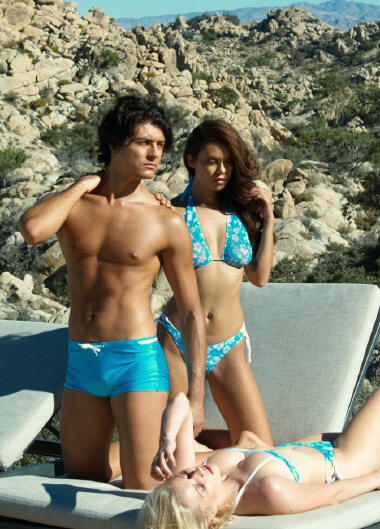 Men's Square Cut Swim Turquoise Shorts - Classic and sexy European styling designed exclusively for the confident, mature man. The Square Cut men's swimsuit for men exclusively by Brigitewear. A masculine design with minimal coverage, and a very low cut, to give you an athletic look and that great Riviera tan. Fully lined in front. Available in Grey, Black and a Sheer When Wet unlined White, Grey or Black (sizes Small-XXL) $44.95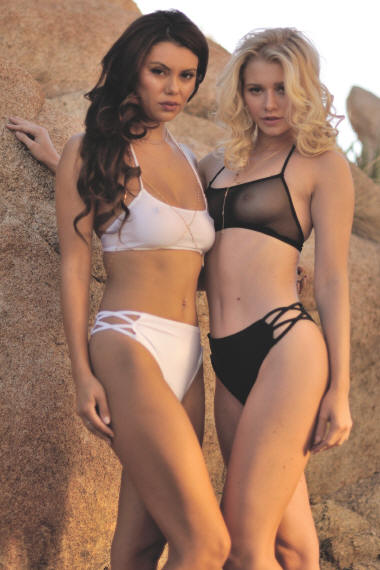 Seamless Bikini - The ultimate in smooth, sensual, and sheer. This sexy top is available in black mesh and solid white which lets you decide how transparent you want to be. White is sheer when wet. With no side seams, and a crisscross adjustable tie back, it provides the perfect fit and fashion details. Pairs well a variety of Brigitewear mesh and solid bikini bottoms. Sizes 2-20 $32.50 each piece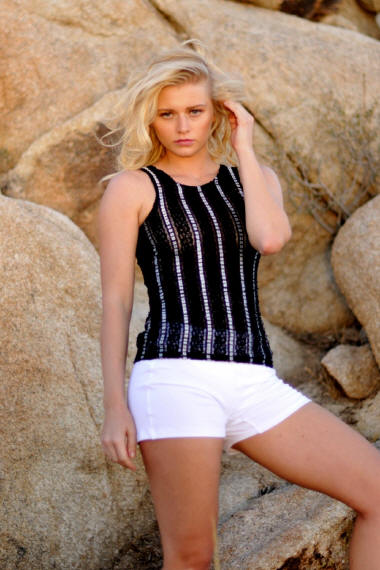 Brigite Tank Top - Now available in White Ribbon, very seductively sheer. This fun, sultry, sexy, cutting edge semi sheer tank top is a poly lycra blend which allows for a truly comfortable fit. Also available in Blue Leopard Mesh and Monaco in sizes S-1X $32.95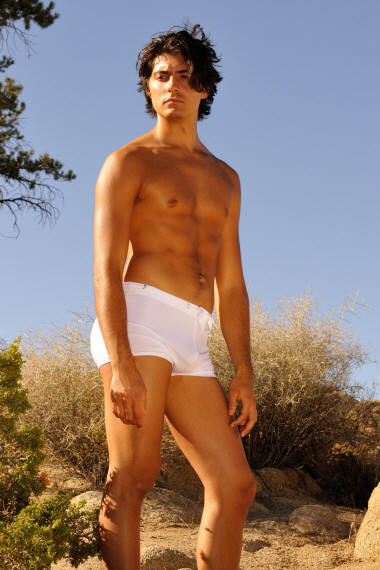 Men's Square Cut Shorts - Our popular Square Cut Shorts for Men are now available in unlined White Sheer sizes S-XXL $44.95

Palm Desert, CA USA 92211
(800) 757-2550