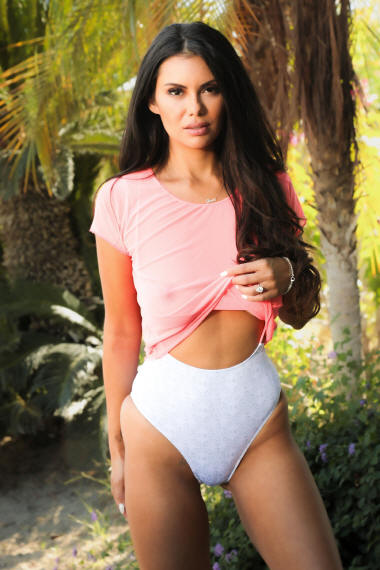 Topless Tie Back Swimsuit - Command attention in our sensuously suggestive Topless Tieback Swimsuit! Quality tricot with a light gray pattern on matte white is beautifully contrasted with bright coral adjustable back lacing and spaghetti style shoulder straps. High waist tummy coverage, Rio bottom, and high cut legs create a fabulously fun, sexy, and sophisticated design and adapts to whatever your mood! Change up the look with a variety of colorful tops. Add one of our matching Coral Sheer T's or bright Coral Sarong for a captivating "wear anywhere" ensemble. Comes with crotch lining only.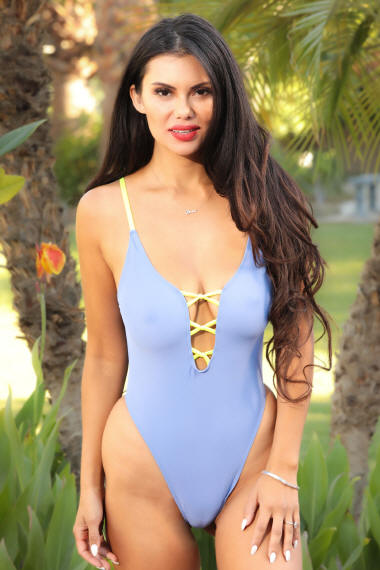 Coachella Chic Thong and Rio - Make a statement with our new Coachella Chic one-piece bathing suit! Offered with a Thong or Rio bottom, the Coachella Chic is available in soft Periwinkle fabric with stunning Neon Yellow accents, adjustable straps and crotch lining only. The high cut legs are very flattering and sensuous. The Coachella Chic is inspired by the Coachella Music Festival vibe and latest fashion trends. Pair with a Neon Yellow Sarong for a sensational outfit for the day!
In Sizes 2-22 $75.95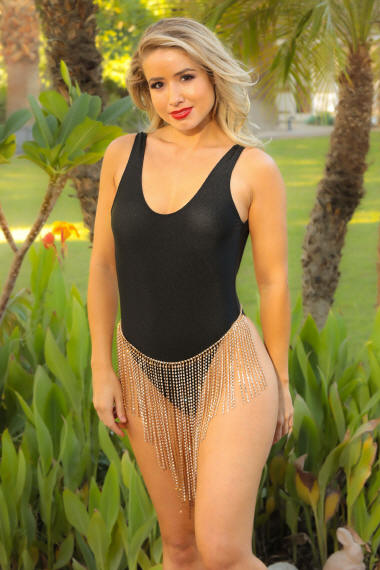 Rhinestone Fringe Belt
- Create an exotic festival look with our stylish, shimmering Rhinestone Fringe Belt that is sure to make a statement! Rhinestone front fringe swings and sparkles with every move and will definitely dress up any number of outfits! An adjustable waist chain has a lobster clasp closure in the back. Available in Gold and Silver. One size $38.50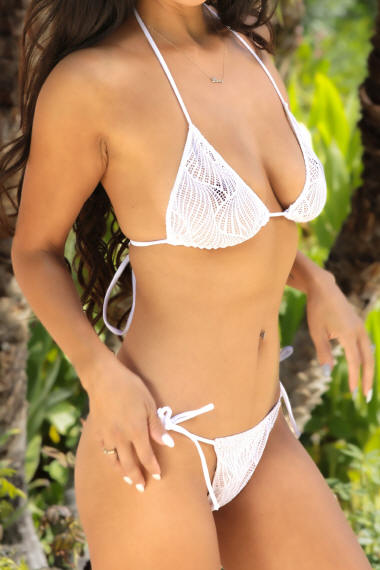 Twister Lace Bikini - Thong or Rio - Soft, sheer white lace in a fun 'Twister' pattern creates just the right amount of peek-a-boo transparency! The flattering classic triangle top pairs with a nude front-lined Thong or Rio bikini bottom. Pair with any of our T's, sarongs or cover-ups and have the perfect outfit for the day! In sizes 0-22 this is a bikini that will dazzle and delight! Tops and Bottoms from $38.50 ea. pc.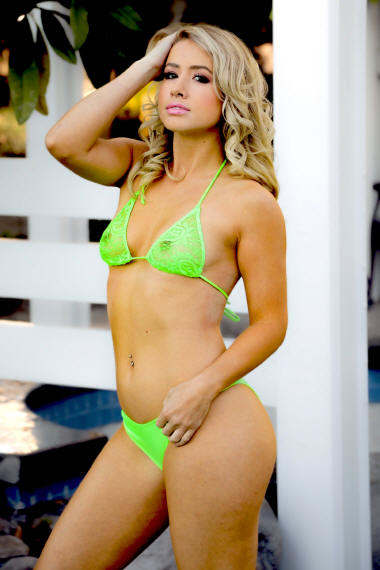 Lime Paisley Bikini Triangle Top - Look forward to sun-drenched summer days with our wonderfully sheer and colorful lime green lace triangle top with touches of shimmering gold. Radiate 'chic' when you wear this delightfully seductive bikini with jeans, shorts or our coordinating lime green Cannes classic Thong or Rio bottoms. Pair with a coordinating Sheer T, Tank or Sarong for a completely fun and flirtatious poolside or resort ensemble! Available in sizes 0-22. Tops and Bottoms from $38.95 ea. pc.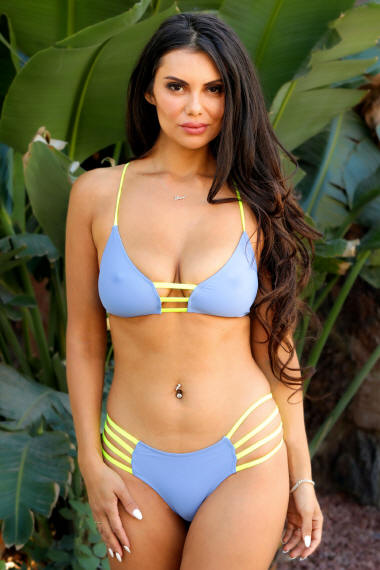 Oasis Bikini Top/Thong/Rio - Step into pure paradise with our Oasis Bikini ensemble! The unlined Oasis top has cross-back strapping and contrasting front embellishments in just the right places! The matching bottom comes in Thong or Rio with high cut legs and sexy side straps. Offered in a fun confetti pattern with rose colored accents or eye-catching periwinkle with neon yellow accents. The Oasis will be sure to keep you dreaming of that tropical getaway! Bottom has full front lining. Offered in XS – 2X. Tops and Bottoms from $38.95 ea. pc.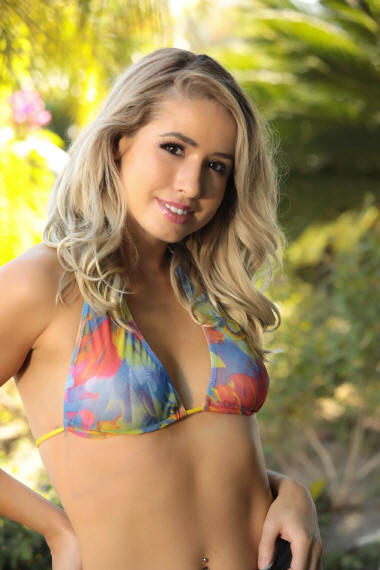 Feathers Bikini Swimsuit Ensemble Turn some heads with our new scoop neck sheer, see through bikini halter top that will surely be one of our best sellers! It's a terrific top to pair with bikini bottoms, shorts, or whatever you fancy. The scoop neck cut has just enough transparency to demand a "second" look! Pair with our coordinating Rio or Thong canary yellow bottoms – the perfect compliment to the colorful Feather mesh fabric. Available in sizes Small to 2X Tops and Bottoms from $38.95 ea. pc.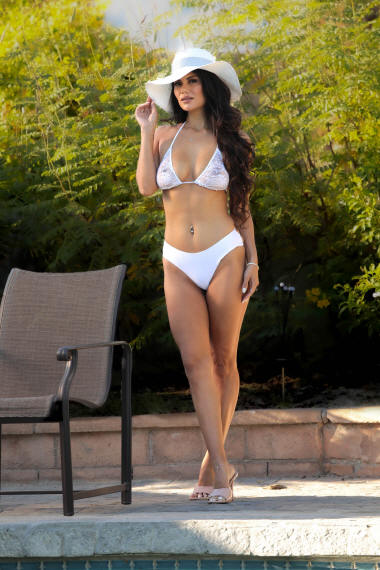 White and Gold Lace Sheer Bikini Top - sheer in unlined white lace with a shimmering gold paisley design. Pair with any of our bikini Thong or Rio bottoms for the perfectly fashionable poolside attire. Available in sizes XSmall to 2X, top from $38.95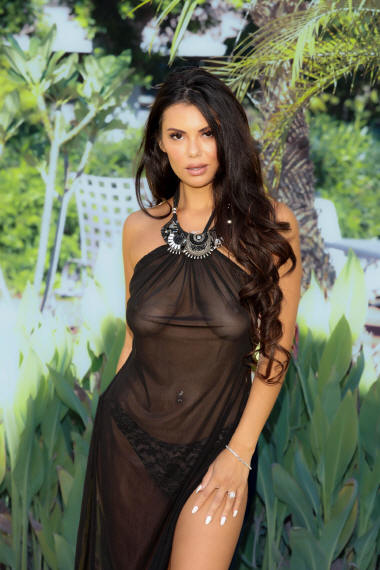 Sheer Mesh see thru Cover Up - Glamorous sheer mesh is perfect for the beach or for a romantic sunset dinner! This versatile halter neck cover-up shows off a semi-sheer silhouette and has stunning thigh-baring side splits for added sexiness. Wear with a "statement necklace" (not included) for a daringly seductive and deliciously stunning outfit! Offered in sizes S - 2X from $59.95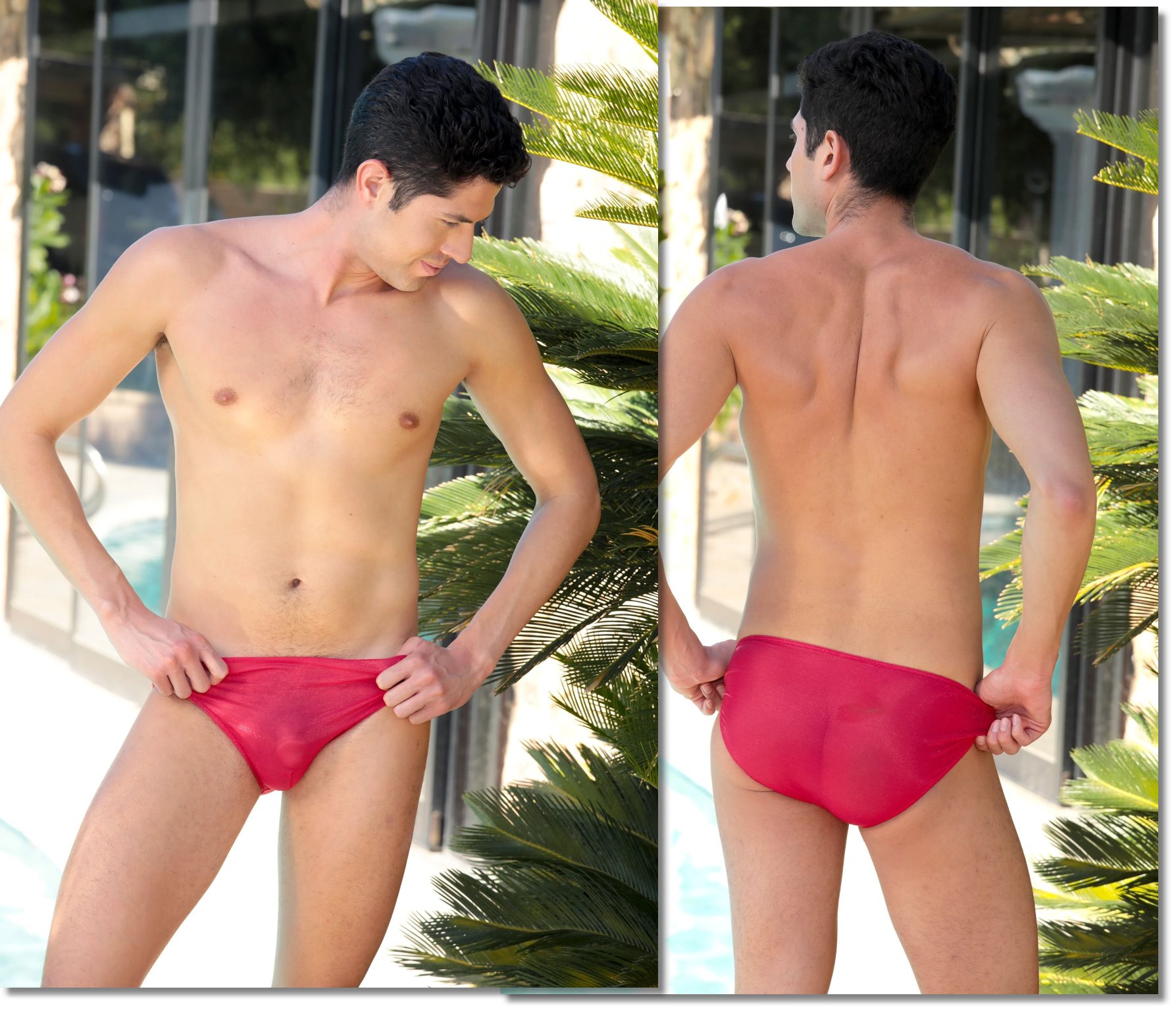 Bravado Men's Sheer When Wet Swimsuit - Full bottom low rise styling for the bold and confident man. This flattering cut and style is unlined and comes in sheer, soft and shimmering Crimson or not as sheer Black Ghost. The Bravado becomes more sheer and defining when wet. Available is sizes S-XXL $44.50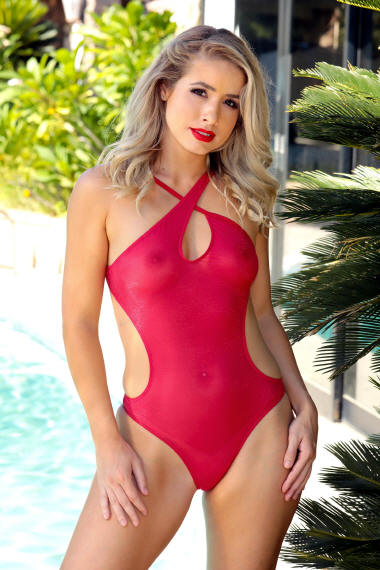 Teardrop Thong or Rio One Piece - The perfect combination of Flirty and Sophisticated! This stunning Monokini style in Thong or Rio features sexy side cutouts and flattering high cut legs. This suit will be a fabulously sexy addition to your swimwear wardrobe. Comes with crotch lining only. Size 2-22 from $79.95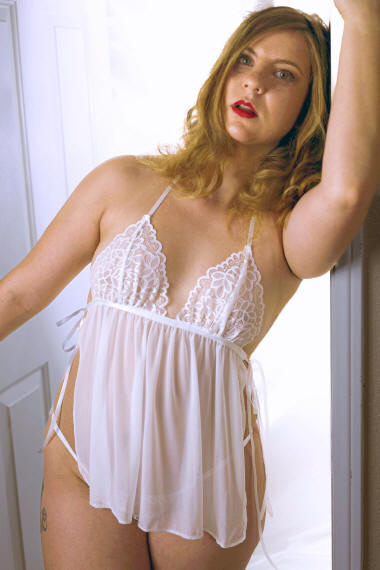 Babydoll Negligee - Create that 'special ' moment with this very seductive satin ribbon tie side Babydoll Negligee top. The sexy scalloped Lace bra tops an empire waist and a see-through mesh bodice that flutters with your every move! Add the matching unlined thong lace panty for a very tempting, sensual ensemble. Sizes 0-22 $39.95 Top $20.00 Thong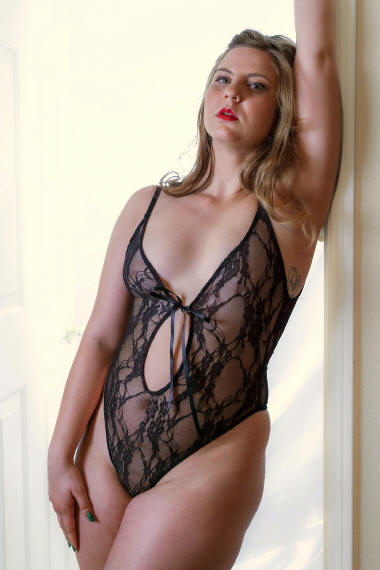 Temptress Lace Teddy Thong or Rio - Sheer & See Through - This gorgeous sheer lace Teddy is a fabulous addition to your most intimate and seductive lingerie. Soft, delicate lace with a very low cut tie-front combines with a sensual open back creating an elegant, revealing look. The unlined, barely-there Thong or full bottom Rio have a snap closure. Available in sizes 0-22. Pair with our Sheer Mesh & Lace Robe – the perfect cover for any sleepwear or lingerie look. $59.95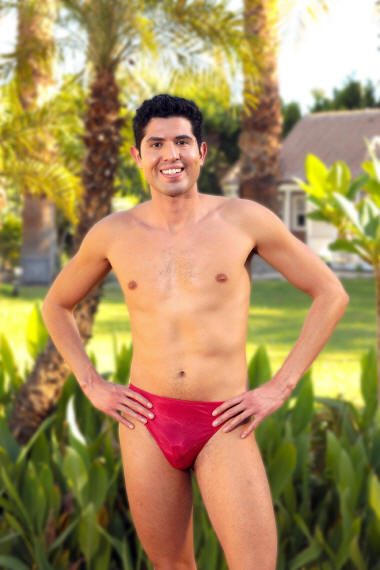 Crimson & Ghost Black - Sheer Azur ™ - men's sheer when wet thong swimwear. Classic and sexy European styling designed exclusively for the confident, mature man. The Azur men's thong swimsuits exclusively by Brigite for Brigitewear. A sensual design with minimal coverage, and a very high cut, to lengthen the legs and giving you an athletic look and that great Riviera tan. Sizes 27-44, $40.50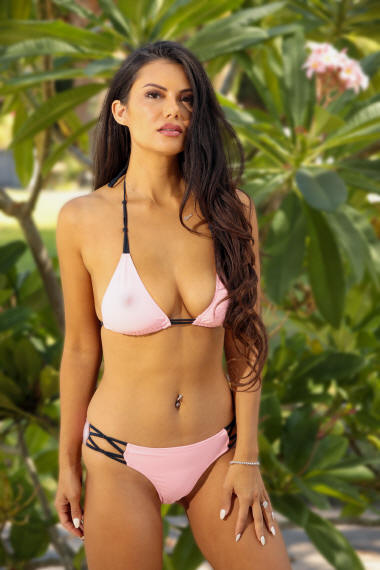 BUBBLEGUM SEMI-SHEER BIKINI - This bright bubblegum pink bikini will definitely make you stand out on the beach! Hand-knotted details in navy blue add the perfect contrasting touch of color to both the triangle top and sexy side cross thong and Rio bottoms. Bottoms are fully lined in front and sheer in the back. Pair with a matching sarong for a terrific all-day ensemble. Sizes 0-22 from $38.95 each piece
SHEER BLACK LACE BIKINI - Soft, sheer lace with a black rose design leaves just enough to the imagination! The flattering classic triangle top pairs with a thong or Rio bikini bottom. The bikini bottom has a soft, nude front lining and sheer back. The look is tantalizing and pleasing to any eye! Sizes 2-22, from $38.95 each piece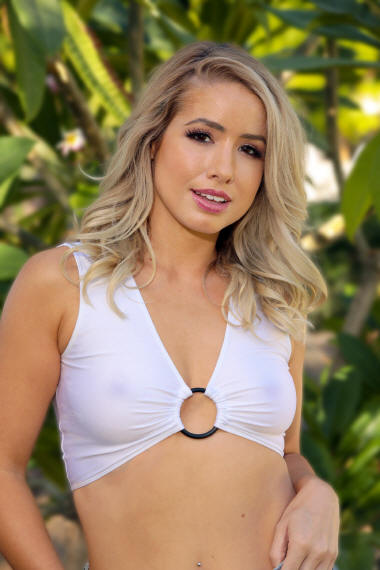 Ringed Crop Top - Fun and Flirtatious with a center ring that opens up the look just the right amount! The Ringed Crop Top is offered in Shiny Gold and White – both colors becoming delightfully sheer when wet! This is a fabulous addition to any wardrobe and is perfect with shorts, jeans or any one of our Thong or Rio bikini bottoms. Sizes 2-22 from $43.95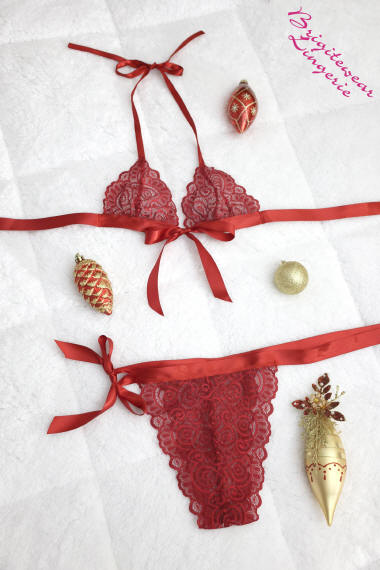 Scarlet Temptation Lace Lingerie
- Ooh la la! Our sexiest offering yet! Soft and delicate Scarlet Lace Lingerie is tied with a shimmering satin ribbon for that "oh so sweet" seductive and exquisitely romantic intimate moment. The Scalloped Edge Lace Top is tied in the front and back and the Rio bottom ties at the sides for the perfect fit. Tops and bottoms are unlined. Sizes S-2X
$39.95
each piece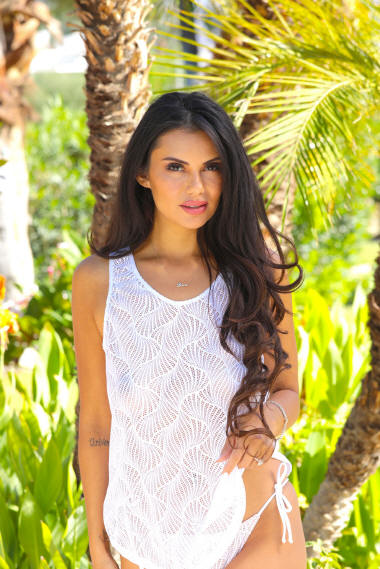 Flowy Tank Top - Sheer & See Through - A fabulously sheer, light weight and Flowy Tank in lime green lace with a shimmering gold paisley print or bright white twister lace. Wear this delightfully seductive tank with jeans, shorts or a bikini bottom for a stunning poolside or resort outfit! It provides the perfect balance of sexiness and sensuality. Sizes 2-22, from $47.95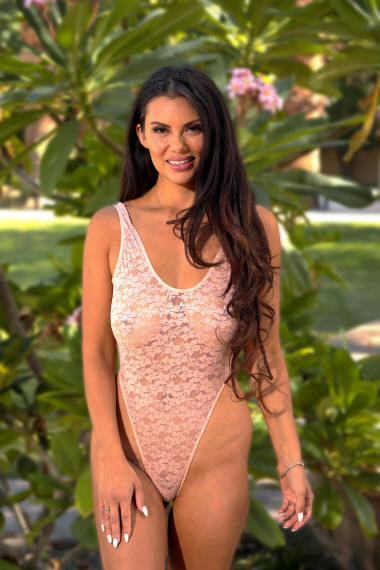 Decadence Thong One Piece - A sensually dazzling one piece thong swimsuit that is provocative in every way! The high cut legs flatter any figure. The luxurious Peach Lace fabric is sheer, soft and sumptuous. Available in sizes XSmall to 2X from $79.95
On SALE! Suit of the Month ~ May 2023 $55.95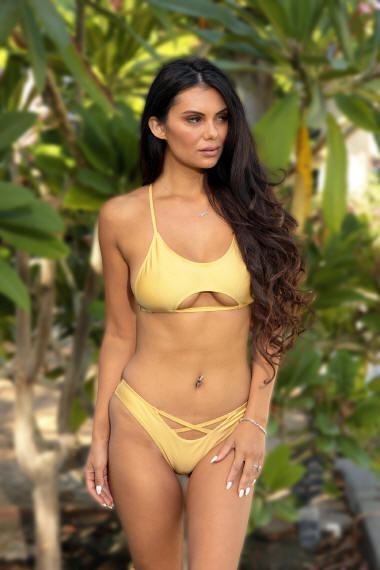 Underboob Bikini - Tantalizing new fashion trend with a fresh take on cleavage. The Underboob Bikini Top accentuates the curved bottom of the breast to show off your most alluring assets. Available in Shiny Gold or Peacock. Pairs with our sexy, low-rise XFront Bikini Bottom in Thong or Rio. Sizes 0-22 $38.95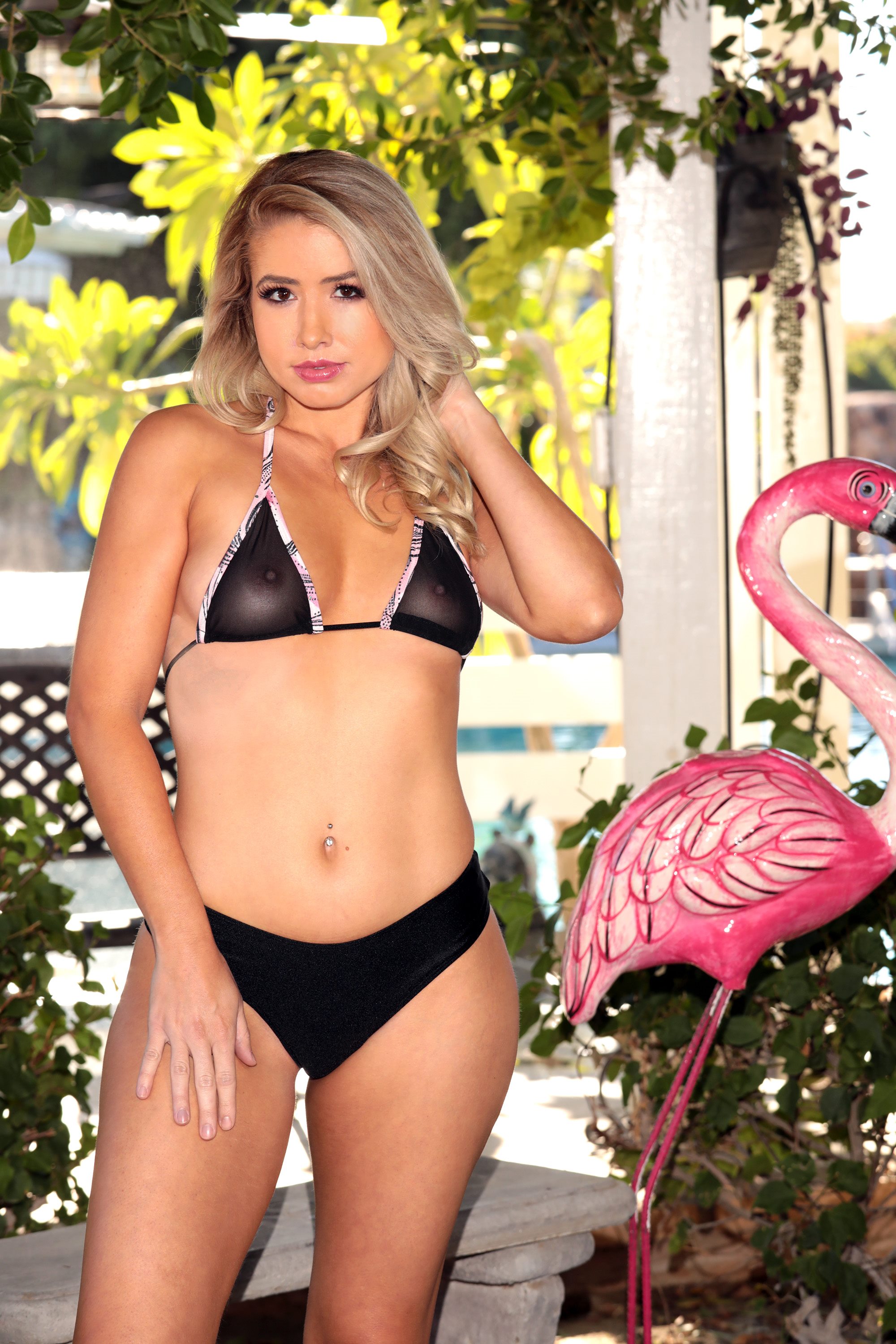 Blush Swirl Collection - The perfect rosiness in a soft tricot swirled with black, burgundy and pink and accented with shimmering sequins.
Create an exquisite "Poolside and Soiree" look with the sheer black triangle top highlighted with blush swirl accents, the versatile front tie top and elegant sarong. In sizes 0-22 from $38.95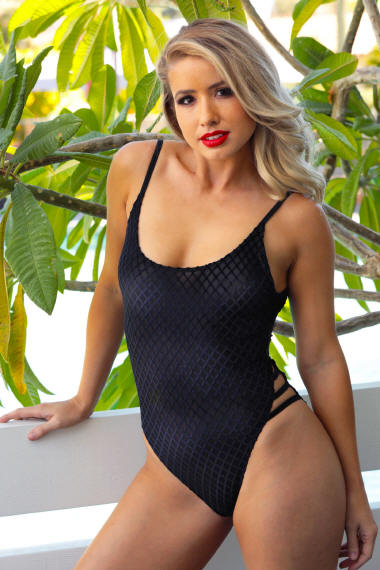 Smoke & Mirrors Rio One Piece - This velvety soft fabric is like a magicians illusion. In some lights it appears sheer, where in other light, you'll only see shadows. There's no deception, only a fabulous high cut leg suit that will stimulate the senses. Available in sizes XSmall to 2X. from $76.95
Brigitewear 2021 - Fashions
-

Palm Desert, CA USA 92211
(800) 757-2550