Sexy, lovely textured lace with unlined top
Pick the Rio bottom above or below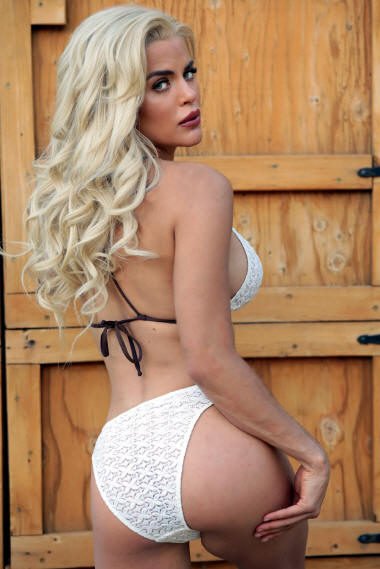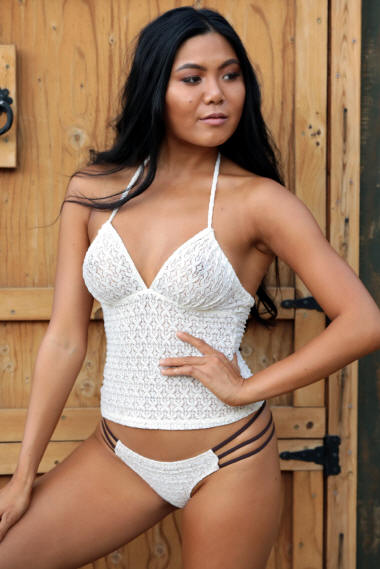 Above the Matching Lovely Lace top shown the the Islander Thong bottom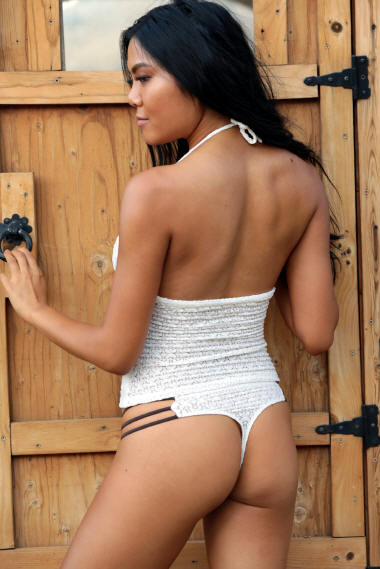 Delicate lace is tantalizingly sheer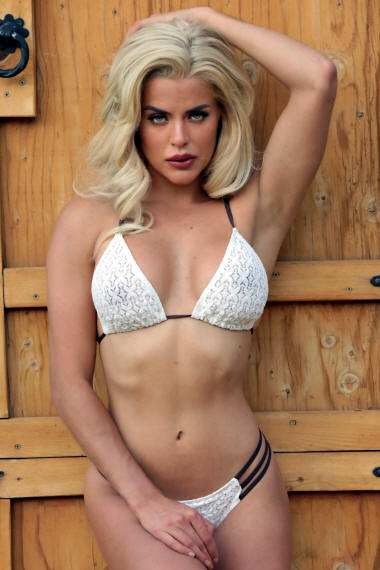 Crisscross top straps eliminate pressure on the neck for a wear all day suit.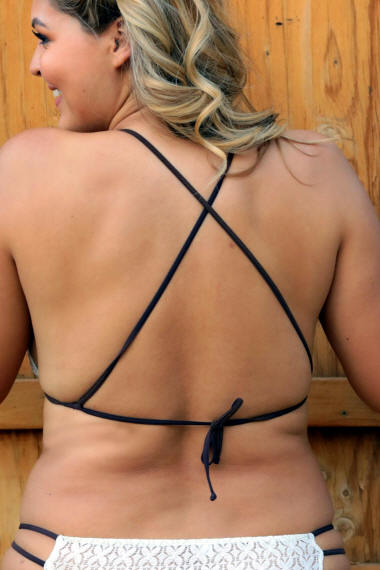 Enticing side straps, sheer unlined top, just dazzling!
Create your own Private Paradise
Islander - Thong or Rio Bikini Ensemble

This striking suit combines fashion with comfort. Low rise bottoms with side straps available in Rio and thong styles. The Vanilla Lace is a textured lace and fabulously sexy. Top is unlined and semi sheer. Lovely Lace Top and coordinating Sarongs & Men's Thong round out this resort favorite.
Available in our exclusive Vanilla Lace - some sizes sold out
On Sale! Order now!
---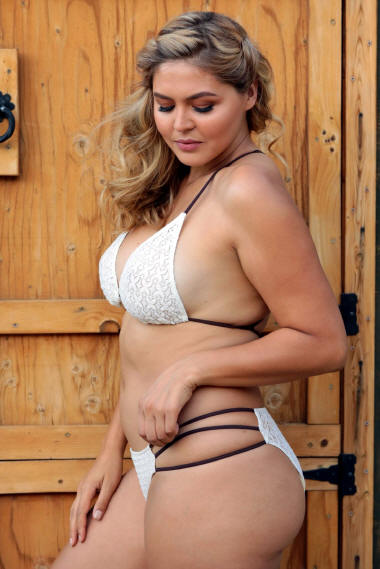 Available in sizes 2-22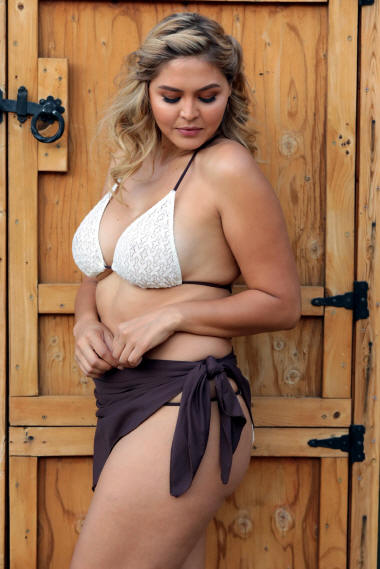 Shown above and below with our coordinating Sarong in Chocolate, in regular or extended widths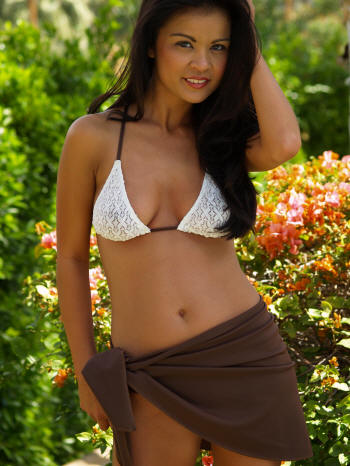 Add a coordinating Chocolate Sarong for a complete resort outfit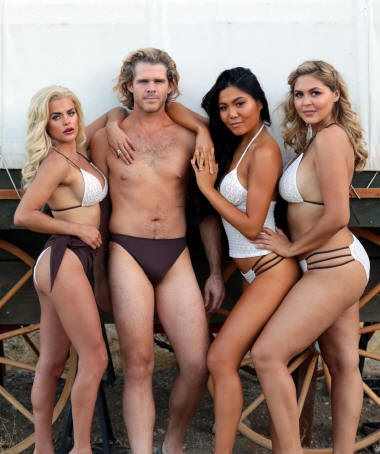 Matching men's Low Rider Thong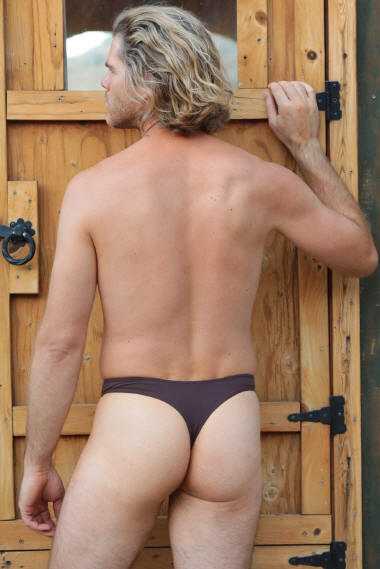 ---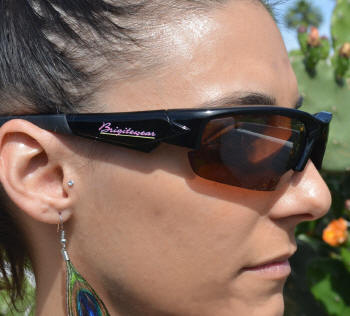 Brigitewear HD sunglasses are the perfect combination of high tech fashion, design and performance. Available in Black and White $26.95 $19.95
Islander Bikini - Review
Average rating:

---
Islander Bikini Swimsuit

Beautiful suit ! 10/28/2022
By Patty T

I absolutely LOVE this suit! Not only is it stunning on but the sheer when wet gives it a sexy reveal. I've worn it in our pool and spa, but when we go back to Playa Del Carmen with our Swim-up Suite, that will be exciting. Sheer and see through in a semi-public atmosphere. Should be fun!
---
Islander Bikini Swimsuit

WOW! 07/14/2020
By Billy T

Thought this lil bikini would look great on my Sweet Heart..... Holy Moley, does she wear it well. Sexy as all can imagine. Very nice fit, sliding triangle helps, sizing is good. Big thumbs up! These bottoms are very sexy. Hard to imagine her in anything else! Her new tan line is inviting.
---
Islander Bikini Swimsuit

Purchased for my wife 04/30/2018
By Craig Hanson

They fit perfectly and looked just as good on her as the website. And most importantly she was happy with how they look and is willing to wear them giving the right circumstances.
---
Islander Bikini Swimsuit

Another Winner! 12/08/2017
By Steve

Vanilla lace bikini is a bit more see-thru than it appears in the pictures, but great for our travels to Mexico. Can't wait to see it wet.
---
Islander Bikini Swimsuit

Totally awesome Love it! 07/17/2017
By Kevin James

Great top love wearing it it's very comfortable and also very sexy. When the top is dry it doesn't show very much but when wet it shows all. My nipples show though like I have nothing on. My hubby loves it when we go to the pool. He can't wait to get me wet. I love the material it's very nice and stretchy so I can pull it to the sides and go topless very easy. Love wearing this top and love the way it shows off my breast all so natural.
---
Islander bikini swimsuit

Exactly as described 02/20/2013
By P

I never write reviews, but feel compelled to share my highest regard for this company and the Islander bikini. First Brigitewear...well, I can't say enough good things, I've rarely had a better experience overall. Now the Islander bikini top and Rio bottom...my fiancÚ is weeks away from 50 - she's always beautiful but she has never looked better than in this suit. Dry it's really lovely - well cut, the straps of the top and the bottoms are supportive and intriguing. The material is textured and alone is a really lovely piece of attire, particularly under a sheer top and sarong. Wet, well wet the suit is everything I dreamed of. It is more suggestive than provocative, more a discrete double-take than a stare. Dry she could wear this suit anywhere. If she swims, I hope she does it with me. She has exquisite taste and she couldn't say enough good things about the suit. Just buy the thing and get it over with.
---
Islander Thong Bottom Bikini

Exactly as described 05/20/2014
By brianna stehle

This suit looks and feels great! I love it.
---
Islander Thong Bottom Bikini

Nice 09/24/2014
By LF

This is my first purchase and I am impressed. Shipping was very fast. The top is well made and extremely flattering. I love the alternate crossed back ties. I am a 36D and the L fits perfectly. I wear 10 in most swimwear.
---

Love it 1/19/2015
By J
Thing is awesome, makes my girls butt look wicked sexy

Palm Desert, CA USA 92211
(800) 757-2550
Brigitewear International wants you to be satisfied with your selection. Should there be any defect in quality or workmanship, if your size is incorrect, or if you just do not care for the style, your swimwear is exchangeable with original tags & hygiene strip within 30 days of receipt. See our Policies page for full details on exchanges/refunds.