Thong Skirt - This playful little piece is all about fun! The thong/skirt all in one combo is a wonderful addition to your beach, pool or @home outfits. White striped sheer skirt over a front lined solid white thong. Pair with T shirts, Tie Tee's or any number of Brigitewear tops, from $47.95 in sizes 2-2X.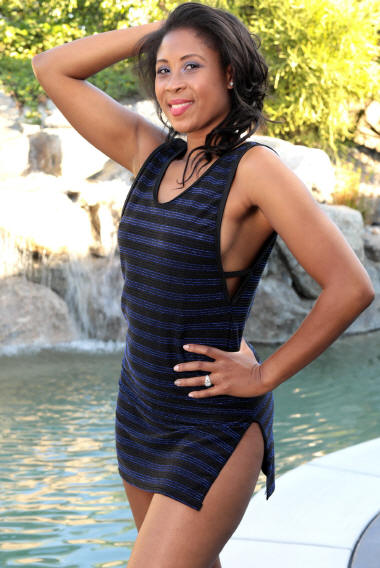 Indigo Sparkle Cover-up - This enchanting cover-up adds style and elegance to whatever it's paired with. Bright sparkle embedded shimmer! Extremely versatile. Available in sizes S - 2X. From $53.95
- Marbled Mesh Cover-up - This exquisite cover-up is flirtatious and enticing whatever it's paired with. One side is slit high, side, side boob design and delicate textured mesh striped black fabric - simply stunning. Available in sizes 2-22. From $53.95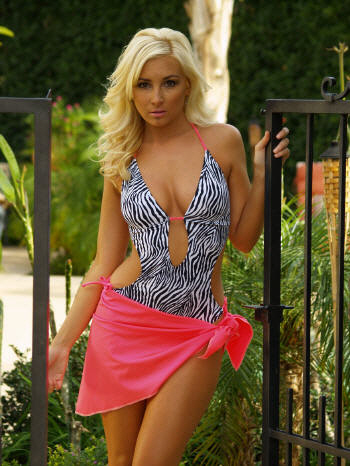 Sarong by Brigitewear. The perfect amount of coverage for a stroll along the beach or by the pool. Tie it in front or at your hip. The perfect cover up for your thong swimwear. Generous cut fits all. Available in our Nylon/Lycra fabric to match any of our suits. $31.00 - Extended Width $35.00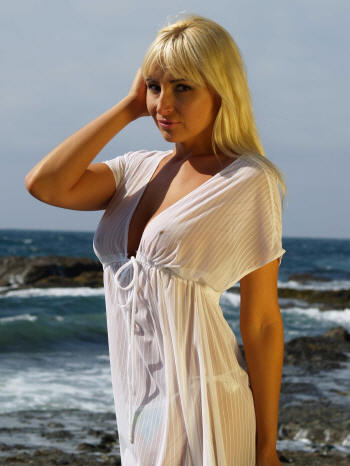 Sea Island Cover-up - Subtle Seductive Sexiness. This beautiful sheer cover up combines stripes on a sheer, flowing fabric that every woman must have. Billowy sleeves and waist tie make an easy on and off. Can be worn with any swimsuit colors Limited sizes $53.95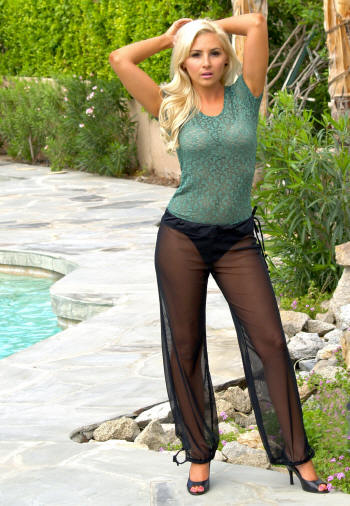 Sheer Mesh Pant - Hot! Brigitewear's sexy new cover up pants offer great versatility. The side tie adjustable drawstring with elegant gold accents feed through a black tricot waistband. The very slightly flared leg bottoms also have adjustable drawstrings allowing the pants to be worn open or cinched closed at the ankle. Available in Black $46.95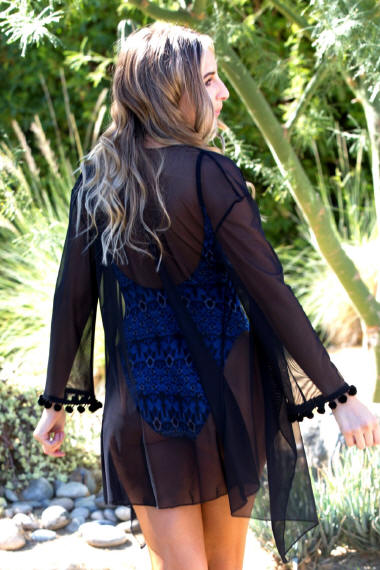 Pom Pom Cover - Stunning, sheer see through cover-up for pool, beach or party! Show your style with this sophisticated cover. Trimmed with fun sleeve Pom Poms. Available in Black or White in sizes 2-24 $48.95 Sale $43.95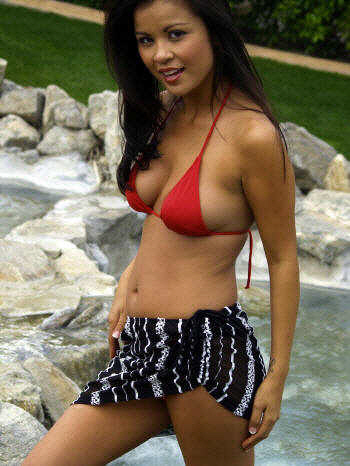 Scrunchie Sheer Mini Skirt Cover-up - Subtle Seductive Sexiness. Pair it with any see through / sheer tops / t shirts/ crop top for a great outfit.
The side tie adjustable drawstring allows for a perfect fit. The perfect accessory of pool, beach or party. $34.95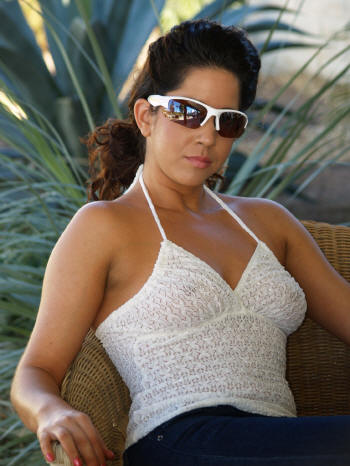 Lovely Lace Sheer Top - Subtle Seductive Sexiness. This sultry, lacey, halter type sheer top is a poly cotton, lycra blend which allows for a truly comfortable fit. The drawstring neck ties encircle the entire back which allows for variable styles of wear. Available in Black & Icy White $45.00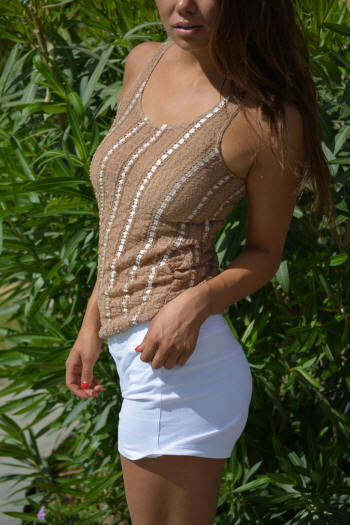 Sport Shorts Seductive Sexiness shorts for all occasions.
Sport Shorts by Brigitewear are made of a luxurious light weight cotton/lycra blend. This allows for a snug fit while the shorts maintain their super shape. Perfect for hanging out at the beach, gym, or throw some heels on for that "sexy time" look. Available in White and Black, sizes 0-14 $41.95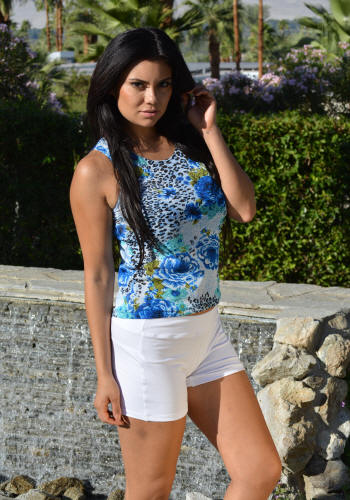 Brigite Tank Top - Subtle Seductive Sexiness. This sultry, sexy, semi sheer tank top is a poly lycra blend which allows for a truly comfortable fit. Great as a cover-up, bikini top, with jeans, shorts or as evening wear. Available in Blue Leopard Mesh, Zebra & NeonGeo. $36.95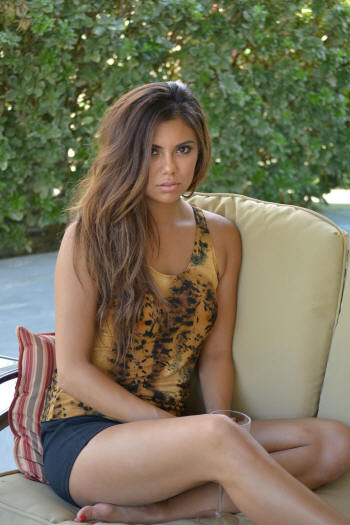 Scoop Neck Tank Top - This sexy tank top is scooped low in front for a provocative look. The poly lycra blend allows for a truly comfortable and soft fit. Great as a cover-up, bikini top, with jeans, shorts or as evening wear. Available in our exclusive Aloha print $34.95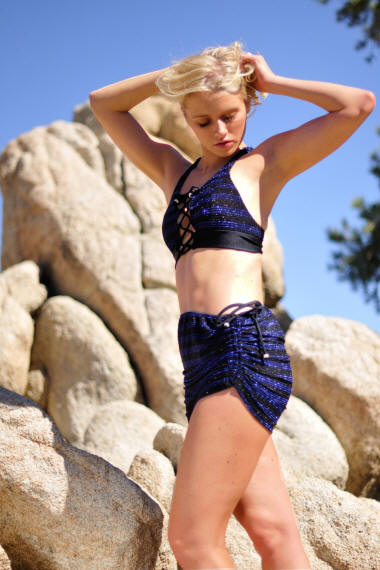 Draw String Mini Skirt - Blue Shimmer fabric sparkles in sunlight, a beautiful accessory. $35.95

Sexy swimwear to the world ™
Palm Desert, California USA 92211
(800) 757-2550
Made in the California