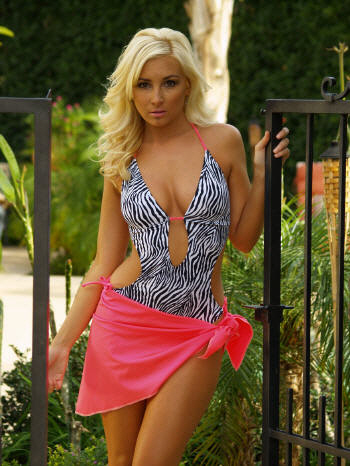 Sarong by Brigitewear. The perfect amount of coverage for a stroll along the beach or by the pool. Tie it in front or at your hip. The perfect cover up for your thong swimwear. Generous cut fits all. Available in our Nylon/Lycra fabric to match any of our suits. $29.00 - Extended Width $33.00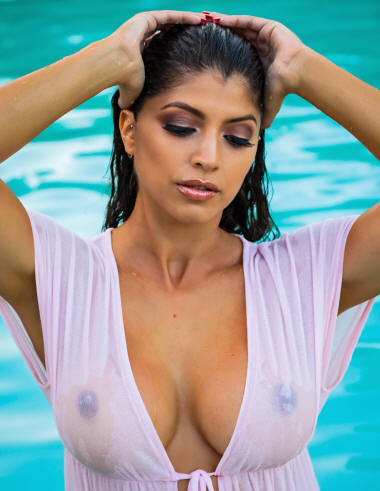 Classic Cover Up - This lightweight tunic style cover is superbly comfortable as well as super sexy! Elastic under the bust creates a slight gather. Wear it open or tie it under the bust. Use it as a swim cover, or layer it over your most luxurious bra or bikini top, add skinny jeans and VOILA! Available in sizes 2-22 $49.95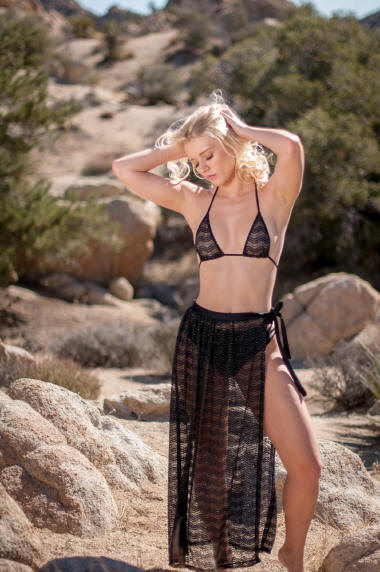 The Wavy Mesh Long Sheer Skirt - Adjustable side tie, slit leg, sexy see through sheer silver embellished fabric. A host of coordinating tops, bottom and accessories galore! sizes Small-2XL $38.95 Sale $33.95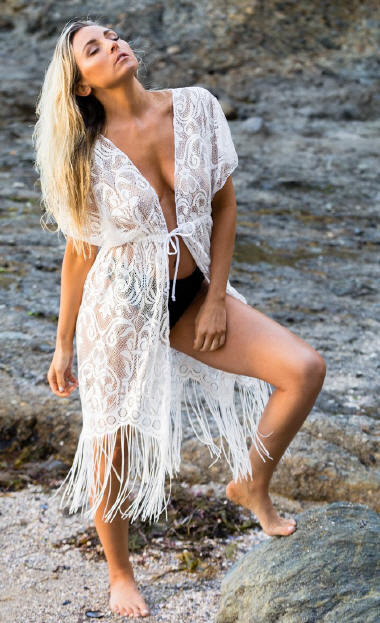 Fringe Cover - This enchanting cover-up adds style and elegance to whatever it's paired with. Wear it open or tie under bust. Extremely versatile. Available in sizes 2-22 $48.95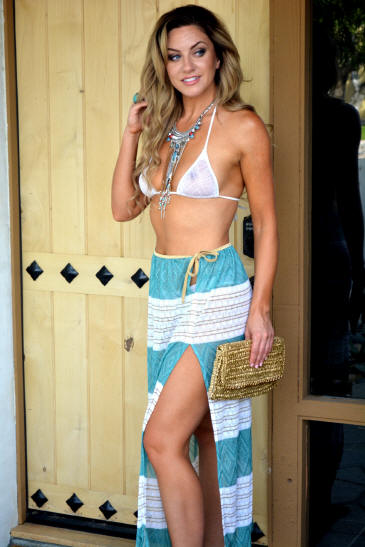 Desert Gold Long Skirt - adjustable tie - gold thread embellished, semi sheer fabric, versatile - go from pool to evening with ease, available coordinating tops in sizes 2-22 On Sale $32.95
Pom Pom Cover - Stunning, sheer see through cover-up for pool, beach or party! Show your style with this sophisticated cover. Trimmed with fun sleeve Pom Poms. Available in Black or White in sizes 2-24 $46.95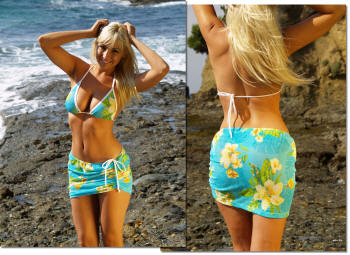 Scrunchie Sheer Mini Skirt Cover-up - Seductively Sexy
Brigitewear's sexy new Sheer Scrunchie Mini Skirt offers great versatility. The side tie adjustable drawstring allows for a perfect fit. Whether as a cover-up or stand alone skirt the perfect accessory of pool, beach or party. Available in 4 luscious colors $32.95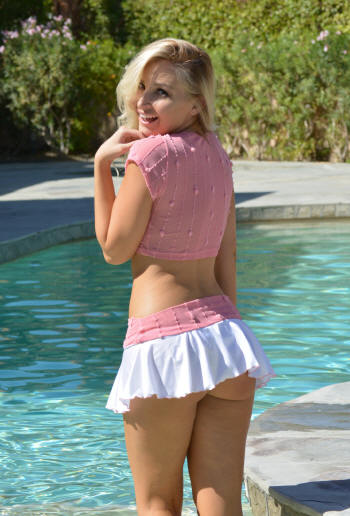 Flirt Skirt - This playful little piece with a built in thong is all about fun! The thong/skirt all in one combo is a wonderful addition to the pink blush ensemble, which includes the sheer crop top, sheer T shirt, and bikinis. $36.50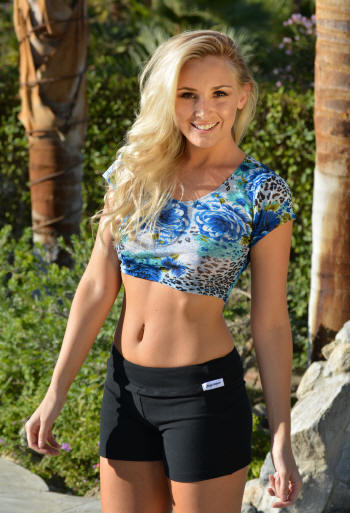 Camino - Sheer Crop Top T Shirt - A great little shirt for when you're feeling romantic, sassy, or just want to make a statement or be noticed. The Pink Sequin material is sparkly and very see through while the Blue Leopard is more subdued and a little less risqué. You will command attention. Perfect as an alternate top for a bikini bottom $31.50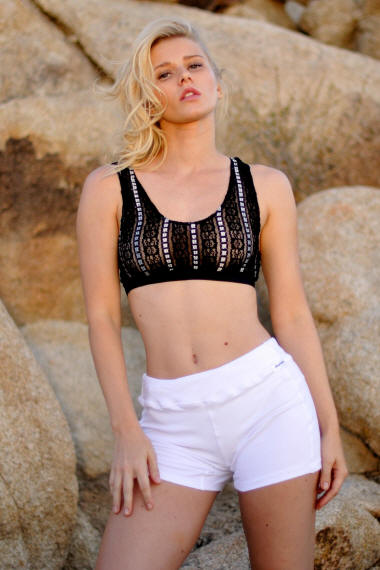 Sleeveless Sheer Crop Top - Sleeveless crop top – Fun and flirtatious! Made with a soft, super stretch blend, this year round top is perfect with shorts, jeans, bikini bottoms, or layered with a jacket. Fabulous addition to any wardrobe! The sexy, sophisticated. $31.50 Sale $24.95 sizes S-XL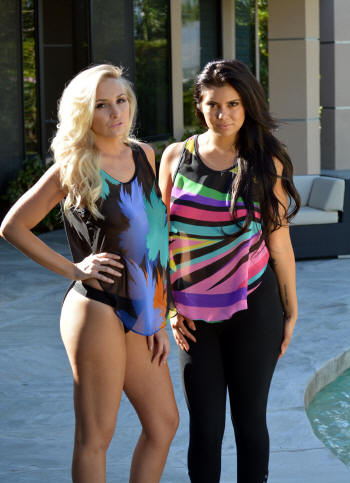 Santa Monica Tunic - Sheer Cover-up. This extremely versatile Sheer Tunic Top can be worn as a beach cover or a sexy top on its own with shorts, pants or swimsuit bottom. With just the right amount of subtle sheerness, it will be a hit wherever worn.
Available in sizes 2-18 Closeout $34.95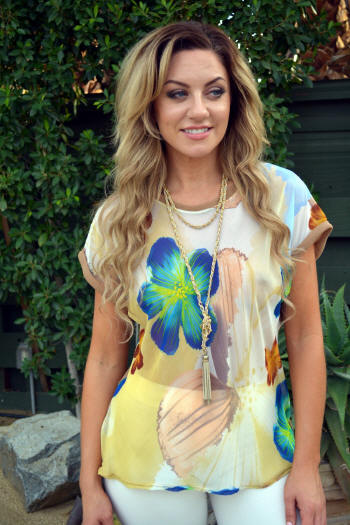 Chiffon Mesh - Sheer Top Flirty, Flowing, Feminine. This versatile ultra light weight top is a must have for travel. It can be worn as a cover-up or with shorts or pants for casual attire or with a skirt for a special evening. With the flowing chiffon front and stretchy mesh back, the top is super comfortable and easy to fit. Just sheer enough to leave something to the imagination. Available in Black/White and Blue Hibiscus. Available in sizes 2-16 $45.95

Santa Monica Skirt/Dress A versatile must have in your wardrobe. The double lined light weight tricot top allows for wear as a dress or fold down the top and it's worn as a skirt. Great beach cover and more! The flowing chiffon skirt is subtly see through. Sizes 2-18 Closeout $44.95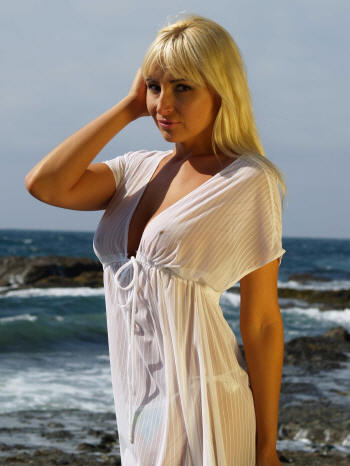 Sea Island Cover-up - Subtle Seductive Sexiness. This beautiful sheer cover up combines stripes on a sheer, flowing fabric that every woman must have. Billowy sleeves and waist tie make an easy on and off. Can be worn with any swimsuit colors Limited sizes $47.95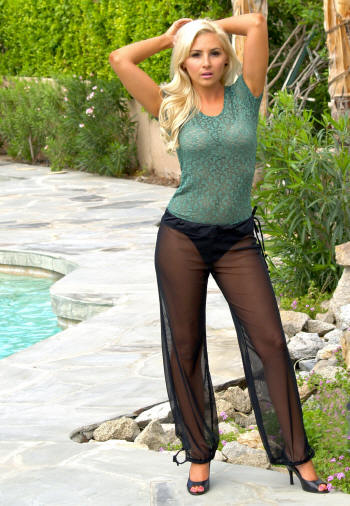 Sheer Mesh Pant - Hot! Brigitewear's sexy new cover up pants offer great versatility. The side tie adjustable drawstring with elegant gold accents feed through a black tricot waistband. The very slightly flared leg bottoms also have adjustable drawstrings allowing the pants to be worn open or cinched closed at the ankle. Available in Black $42.00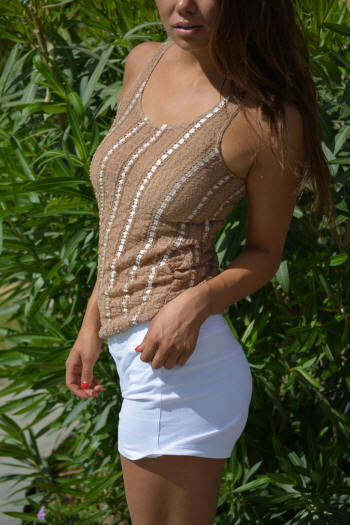 Sport Shorts Seductive Sexiness shorts for all occasions.
Sport Shorts by Brigitewear are made of a luxurious light weight cotton/lycra blend. This allows for a snug fit while the shorts maintain their super shape. Perfect for hanging out at the beach, gym, or throw some heels on for that "sexy time" look. Available in White and Black, sizes 0-14 $34.95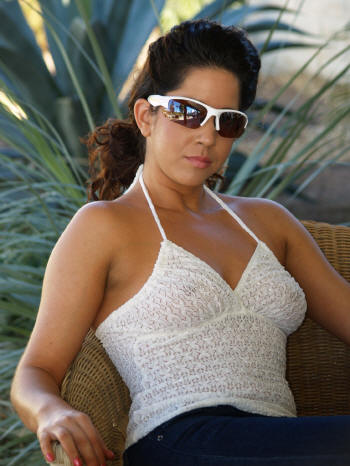 Lovely Lace Sheer Top - Subtle Seductive Sexiness. This sultry, lacey, halter type sheer top is a poly cotton, lycra blend which allows for a truly comfortable fit. The drawstring neck ties encircle the entire back which allows for variable styles of wear. Available in Black & Icy White $39.00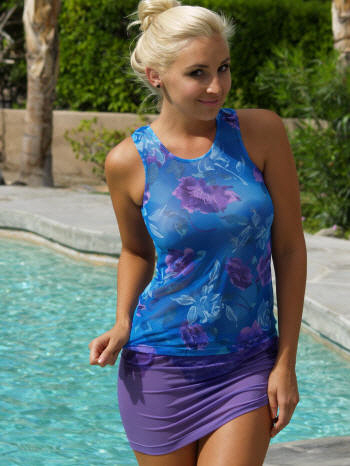 Brigite Tank Top - Subtle Seductive Sexiness. This sultry, sexy, semi sheer tank top is a poly lycra blend which allows for a truly comfortable fit. Great as a cover-up, bikini top, with jeans, shorts or as evening wear. Available in Blue Leopard Mesh, Zebra & NeonGeo. $34.95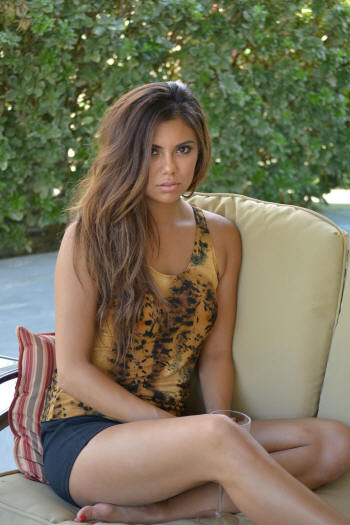 Scoop Neck Tank Top - This sexy tank top is scooped low in front for a provocative look. The poly lycra blend allows for a truly comfortable and soft fit. Great as a cover-up, bikini top, with jeans, shorts or as evening wear. Available in our exclusive Aloha print $32.95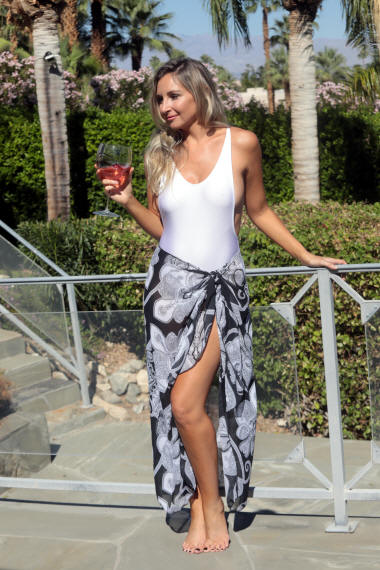 Long Sarong - Perfect as a cover-up or wear it as a wrap alone. One size
$38.00

Sexy swimwear to the world ™
Palm Desert, California USA 92211
(800) 757-2550
Made in the California