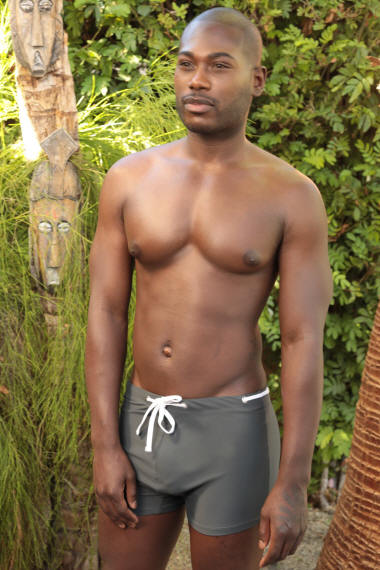 Our popular Men's Square Cut Titanium Short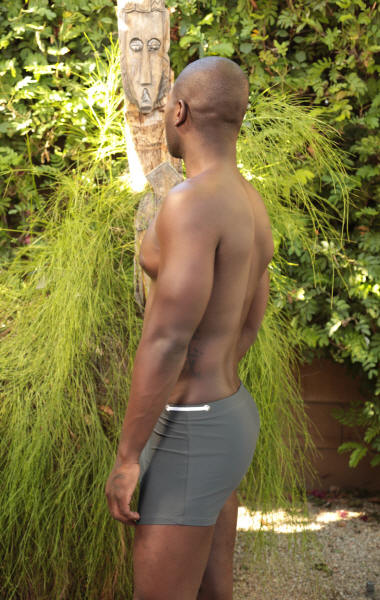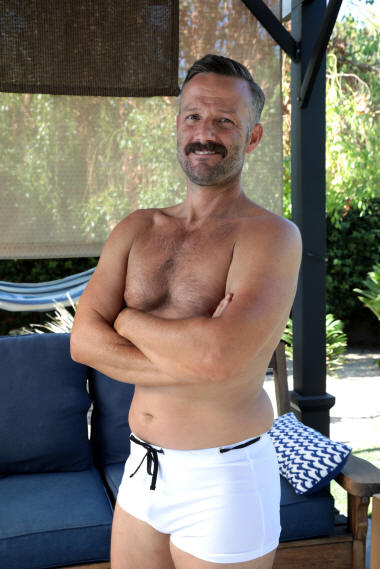 Frosted White - sparkling when dry, sheer when wet!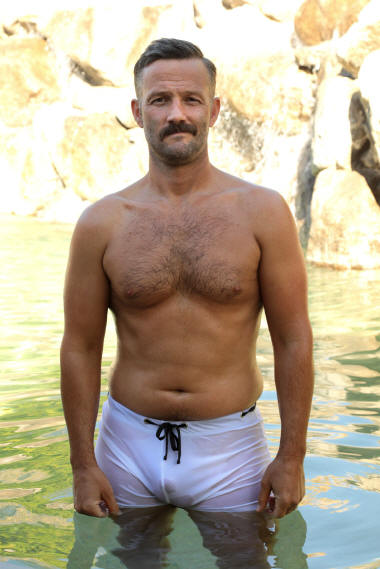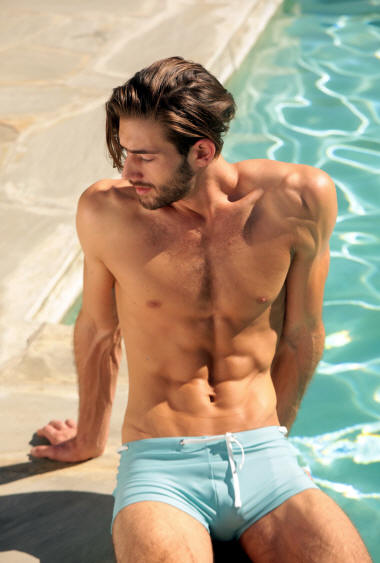 Unlined Square Cut Shorts in Sea Foam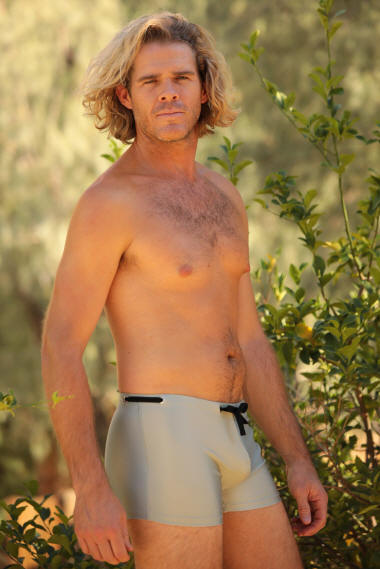 Square Cut Shorts in Unlined Silver (above)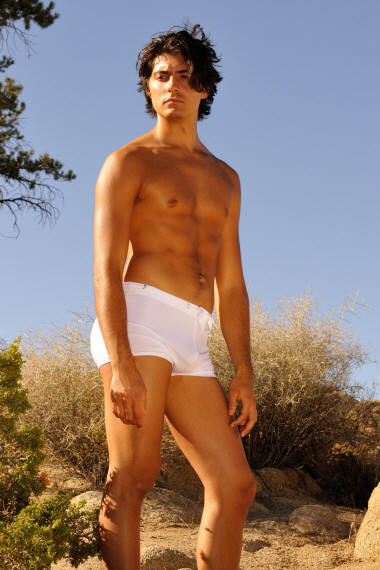 White on White, available in Sheer When Wet unlined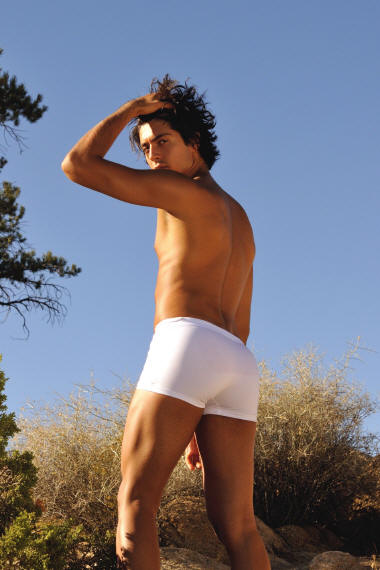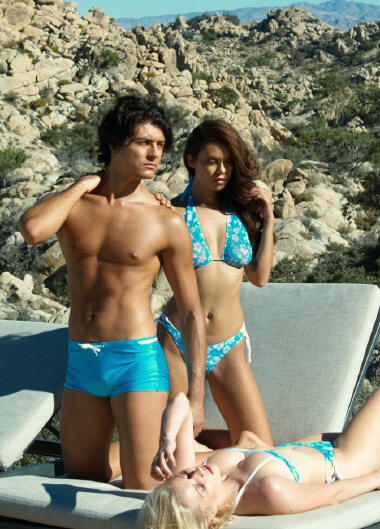 Turquoise Unlined Men's Square Cut shorts
*Grommet colors may vary
Men's Square Cut Shorts
Classic sporty European styling designed exclusively by Brigitewear. The Square Cut men's swim shorts offer a fully lined low rise front with adjustable draw strings, and a seamless back.
Available Sheer When Wet unlined White, Sea Foam, Silver & Turquoise, Red, Black and Titanium. (sizes Small-XXL)

---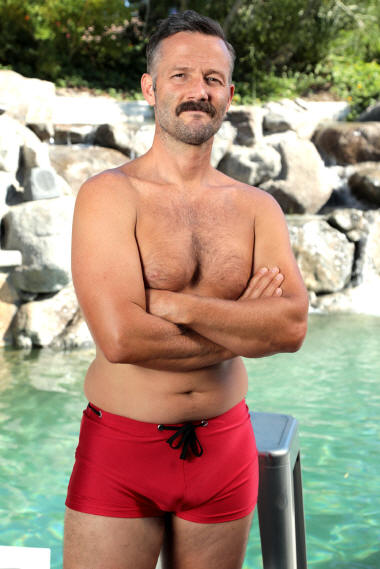 The Red Square Cut Shorts are fun and classic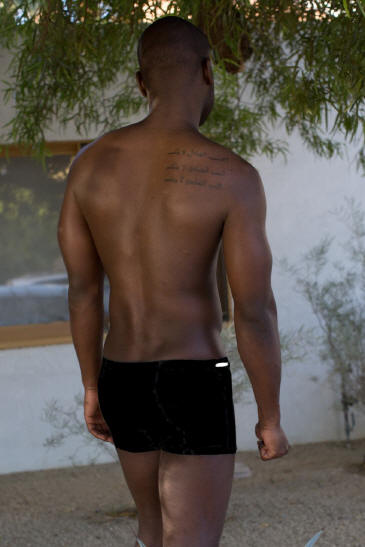 Classic Black shorts, a perennial favorite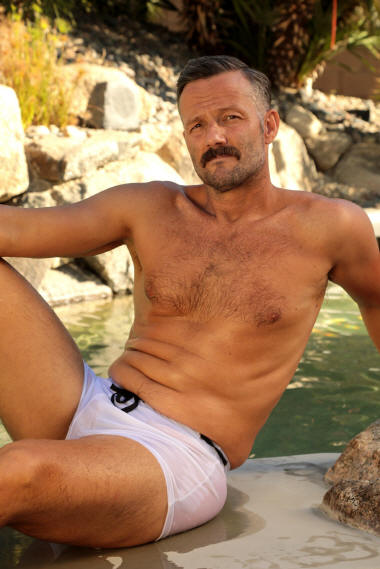 Comfortable stretch fabric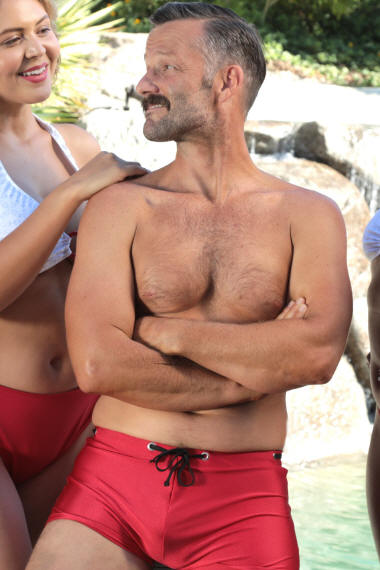 Join in the fun!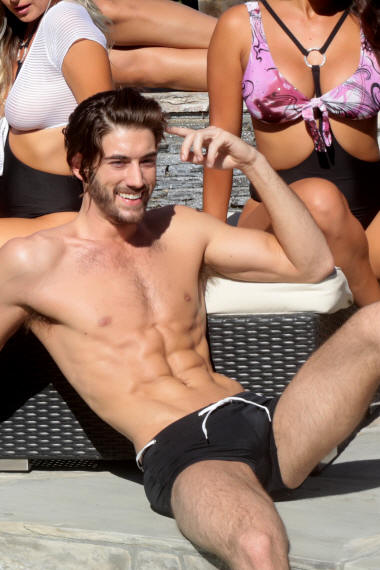 Square Cut Men's swim shorts in Black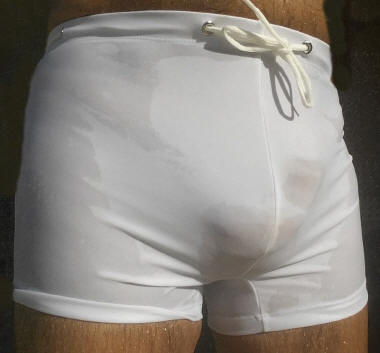 The White shorts become translucently sheer when wet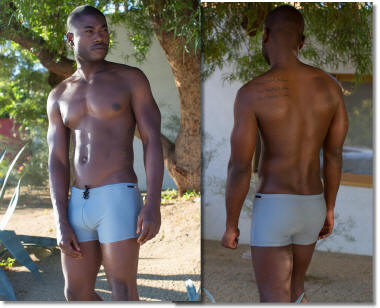 Men's Square cut Grey - on Sale
Men's Square Cut Shorts - Reviews
Average rating:

---
Men's Square Cut Shorts

Great looking, even on an "Old Guy" 09/05/2022
By Radar & R
We ordered these Square Cut Shorts for me, at the some time that we ordered my Wife's Jaguar Halter Top and Black Cheeky High Waist Bottoms.
---
Men's Square Cut Shorts

Great suit 09/05/2022
By George P
The company that made the square cut suits I have been wearing closed up a couple of years back. I've been looking at the suit since then but only recently purchased it. Great material and extremely comfortable. Will be purchasing another one soon for our trip to Mexico in a couple of months.
Men's Square Cut Shorts

Sexy not Racy 02/13/2022
By Tim B
I originally only got one pair because I was afraid that might be too skimpy or clingy. I have now purchased a few pairs and these are my suit of choice for the public pool. They are definitely sexy as hell, and my wife really likes them. However, unlike the sheer thong, you can wear it in a family setting as it isn't "in your face". They fit well, are roomy enough in the front, and look very stylish. Great colors too! You will definitely get positive looks and compliments in these!
Men's Square Cut Shorts

Perfect 04/20/2021
By Xander de Graaf
Already own two other pairs of men's square cut shorts, really like them a lot! Perfect fitting, and always the same reaction from my wife when I wear them :-).
---
Men's Square Cut Shorts
Men's Square Cut 07/20/2021
By Kevin
Good fit and very comfortable.
---
Men's Square Cut Shorts

Wife Loves 04/19/2021
By John
Bought the medium size Sea Foam shorts and wear them to the beach in Mexico. The wife loves the way the way they look and loves the way other women smile at me ....
---
Men's Square Cut Shorts

Very Sexy 06/12/2020
By Matt
Makes me feel young again. Super comfortable!

---
Men's Square Cut Shorts
Great Fit 05/19/2020
By Matt
I ordered a Large and it fits exactly as advertised (size 34 waist). Great soft high quality material. !


---
Men's Square Cut Shorts

Perfect for Burning Man 03/13/2020
By John M
Got these shorts for Burning Man, can't wait to wear them later this year!


---
Men's Square Cut Shorts
Great Trunks 06/25/2019
By Ken from Portland
I generally wear 33-34" waist in shorts and jeans. I ordered the Seafoam large size and the color and fit is just right. These are great swim trunks for your private pool or out on the boat. I would caution against wearing them in public as they do show more of your junk than most people probably want to see. They dry fast and are much more comfortable and up-to-date looking than a Speedo.

I would have rated them 5 stars, but didn't because they are a little looser fitting than I would have preferred. That said, I ordered a pair in white and decided to try the medium. These fit tighter and are perfect, especially when wet. However, the draw string is way to short and it should have been in a contrasting color (black or blue). My wife doesn't like the white because she thinks it looks like I'm wearing underwear. The contrasting draw string would make them look better.
---
Men's Square Cut Shorts

Love them on my husband 09/19/2018
By M Green

Love them. Wish you had more colors and unknown. Loves showing off my husband. And he rocks them
---

Palm Desert, CA USA 92211
(800) 757-2550
Brigitewear International wants you to be satisfied with your selection. Should there be any defect in quality or workmanship, if your size is incorrect, or if you just do not care for the style, your swimwear is exchangeable with original tags & hygiene strip within 30 days of receipt. See our Policies page for full details on exchanges/refunds.