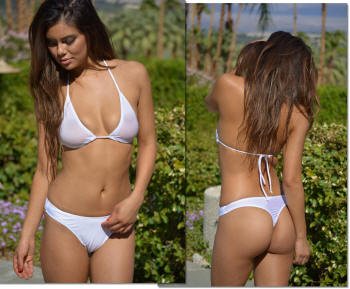 The Cannes thong bikini in White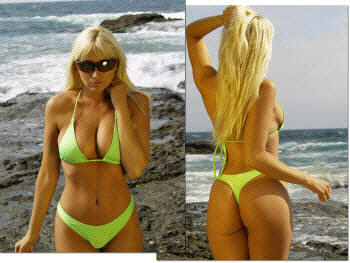 The Cannes thong bikini (above) in Neon Lime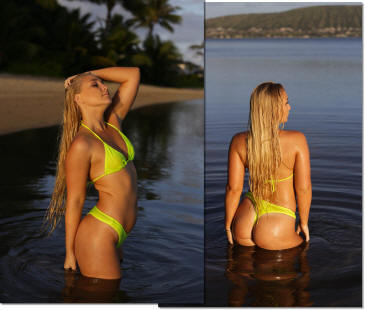 Above, Sami in a Neon Yellow Cannes Thong Bikini with Sheer When Wet Top. Below, Tashia lounging in a Neon Yellow Rio bottom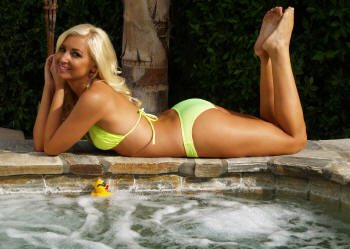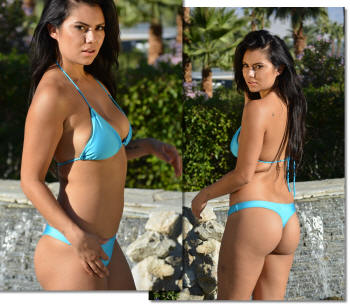 The Cannes thong bikini swimsuit above in Turquoise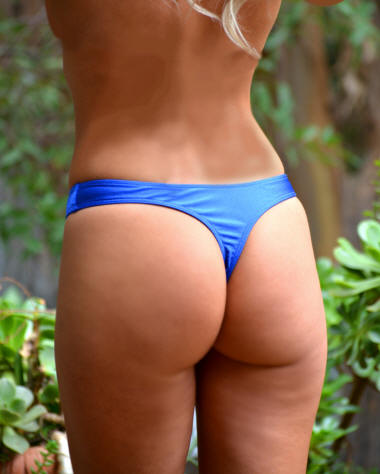 Royal Blue above
Feeling really adventurous? Order bottom only
Neon Line Cannes thong swimsuit bottom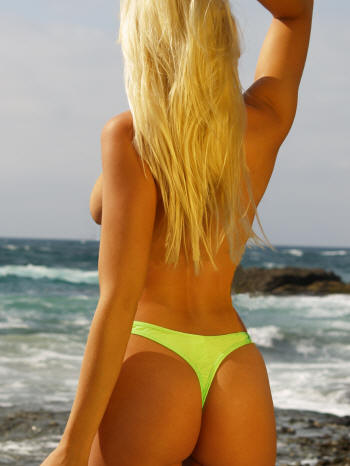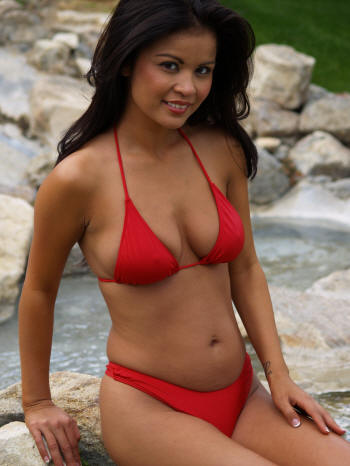 Delicious Red (above), a perennial favorite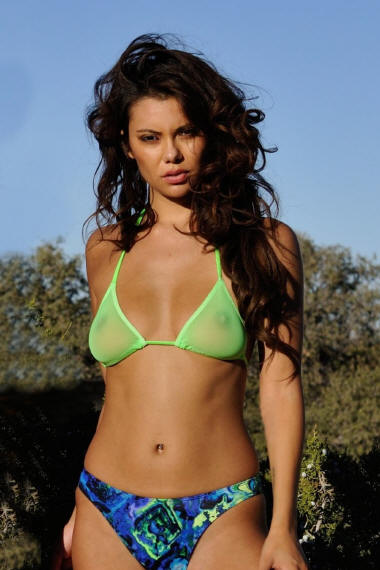 Sheer Mesh Cannes Top, above shown with Desert Trip Thong bikini bottom
Cannes Thong Bikini & Rio Bottom Swimsuits

A must have classic Rio or thong bikini swimsuit. Cannes by Brigite exclusively for Brigitewear™
There is nothing sexier than the tan you get when wearing a thong. This will surely become one of your favorite bathing suits. Add a sarong cover-up and have an outfit for day, and evening wear! Now you may order the bottom only for a great topless suit at a terrific price!
Rio Bottoms, Sheer Tops also available in select colors, sizes 2-22
from $31.95
In stock! Order now!
---
---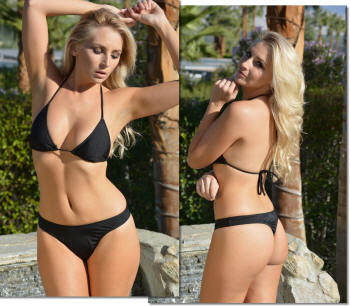 Luscious Black Cannes Top and Thong bikini bottom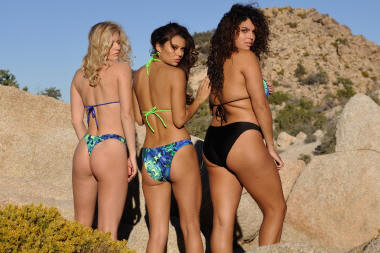 Above, Cannes Thong and Rio in Desert Trip and Black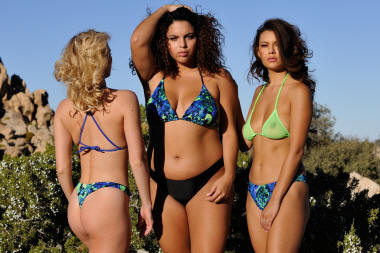 Cannes thong bikini bottom with (L-R) Keyhole top, Cannes Lined top in Desert Trip and Sheer Mesh Cannes top in Neon Lime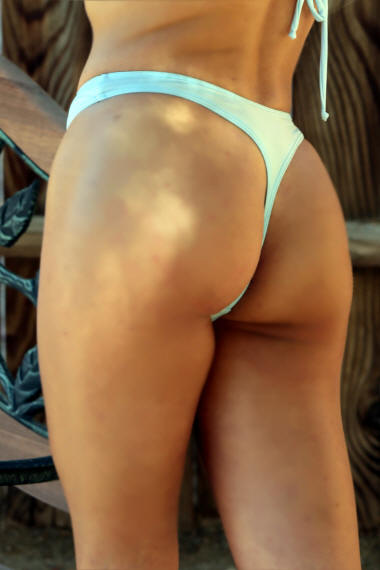 Cannes thong bottom in Baby Blue (available with Sheer Cannes Top only)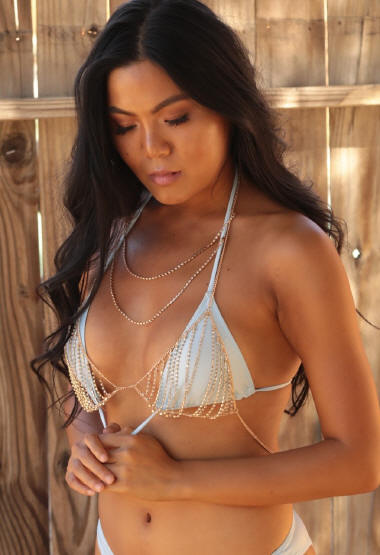 Jeweled Chain Bikini Top (above & below) $32.50
(Sizing: Under bust width 34", fits to cup size DD. Top tier chain may need to be removed to better fit.)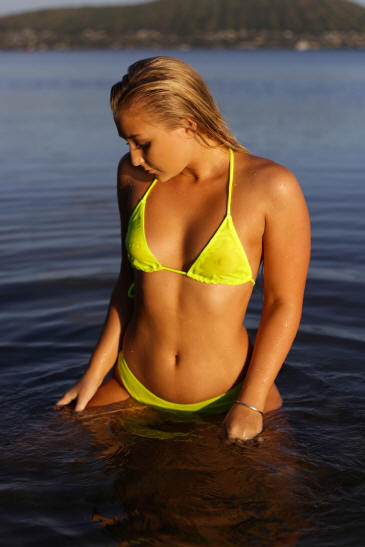 Select colors available with Sheer When Wet Tops, Sheer Cannes in Neon Yellow above $34
Cannes Bikini Swimsuit - Reviews
Average Rating:

---
Cannes thong or bikini swimsuit

Cannes Thong 07/25/2020
By E.T. Bitner

Fits great, quality material. Matched it with a top and looks fantastic and my husband loves it!
---
Cannes thong or bikini swimsuit

Nice bottom 09/16/2019
By Old Dad

Great fitting Cannes bottom. Fits wife very nice. Goes well with the sheer top we purchased as well.
---
Cannes thong or bikini swimsuit

Love these! 09/03/2019
By Holly Johnson

These fit perfect and are true to size.
---
Cannes thong or bikini swimsuit

Cannes bikini 09/11/2018
By Paul

I bought the Cannes thong for my gf in neon lime to wear with her neon lime sheer t. She wore when we went to the Caribbean and she got many great comments from both men and women. Being so sheer especially when wet drew many people looking which she thoroughly enjoyed. Great quality!!!!!
---
Cannes Thong Bikini or Rio Bottom Swimsuit

Great suit! 4/27/2018
By Sunkist

The quality of this suit it higher than I anticipated. It fit well and I love the color. I was looking for a bikini bottom that was high enough in front to cover a scar, but a thong back. This suit is perfect
---
Cannes thong or bikini swimsuit

Great Suit 04/08/2016
By Rick

If I didn't buy the suits, my wife wouldn't wear thong or sheer tops. I have purchased numerous suits including one and two pieces from Brigitewear after trying other sites. She loves them all. The quality is excellent, they fit perfectly and the prices are reasonable. Brigitewear is her favorite. We're not young, she has had children, and she really likes the coverage of the Cannes thong bottoms. The tops couldn't fit more nicely.
---
Cannes thong or bikini swimsuit

G Nice 11/04/2013
By Gary Box

Just as usual from this company - perfect!
---
Cannes thong or bikini swimsuit

Cannes bikini 03/15/2014
By Danny

Very Nice bikini thinking of ordering 1 more a red one
---

Cannes 09/22/2013
By JJ4
Nice. Might buy one more. Wish bottom came as unlined string
---

Cannes thong 08/2/2013
By Brenda Josey
Very pleased with this purchase. Just what I wanted.
---

perfect 11/5/2013
By ramona claudia smith
I was surprised with the quality of this thong. Very nice color and material, also the size was perfect. Thank you

Palm Desert, CA USA 92211
(800) 757-2550
Brigitewear International wants you to be satisfied with your selection. Should there be any defect in quality or workmanship, if your size is incorrect, or if you just do not care for the style, your swimwear is exchangeable with original tags & hygiene strip within 30 days of receipt. See our Policies page for full details on exchanges/refunds.