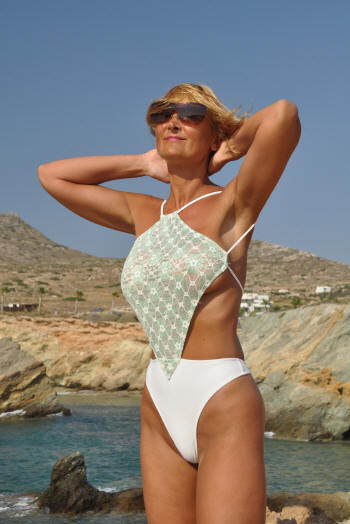 The Sage/Lace top is "peek a boo" sheer. Adjustable strapping accommodates more or less coverage, whichever is preferred
The Sage/Lace thong becomes more sheer when wet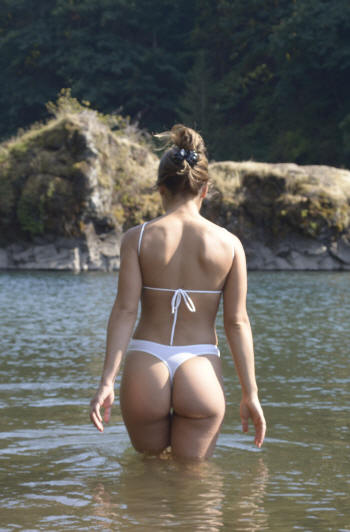 The thong bottom (above) or Rio (below left and right)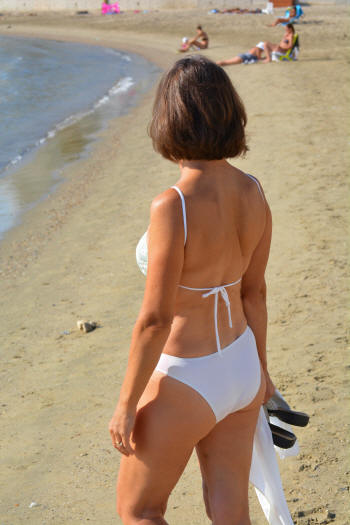 Rio bottom (above)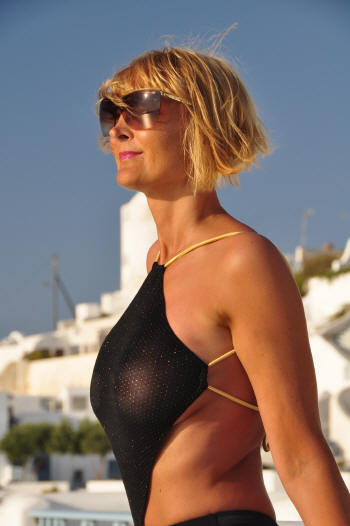 The Black/Gold top with its gold sparkles is tantalizingly sheer in the direct sun light, while the Sage/Lace fabric creates a suggestive look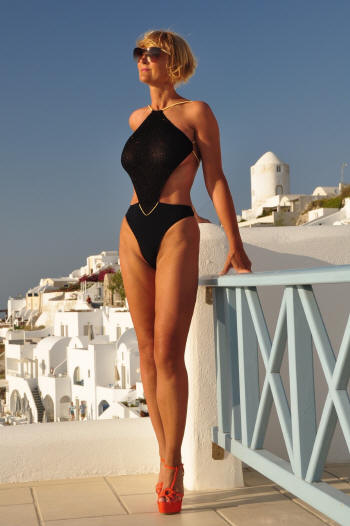 The top of the black Diamond has incredible stretch for a comfortable fit and glitters in the light with gold sparkles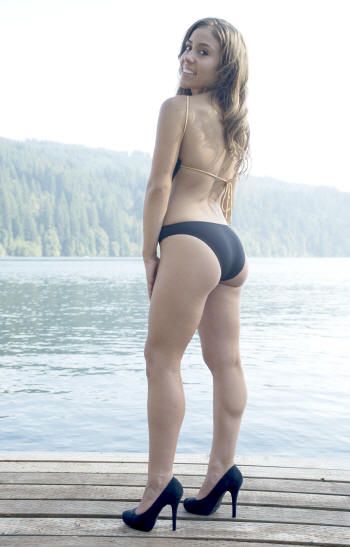 Diamond One Piece
Thong or Rio Swimsuit
This elegant bathing suit is sure to be one of your favorites

The unlined top is seductively subtly sheer, while the front "diamond" cut is flattering to all figures. The top of the high cut neck is a casing that allows the strapping to be adjusted. High cut legs create a stunning, slenderizing, athletic "long leg" look.
Available in thong or Rio bottom with matching or coordinating Sarong in sizes 2-16
Available in Black/Gold or Sage/Lace
(many sizes sold out)
Sold Out
Check Out Similar Sheer One Piece Swimsuits here
---
---
Free Shipping on orders OVER $100 US Only
---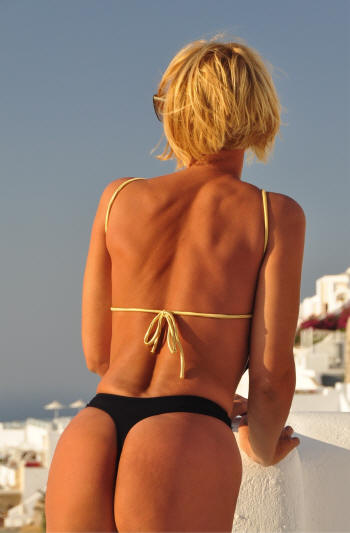 The thong bottom is high cut and very flattering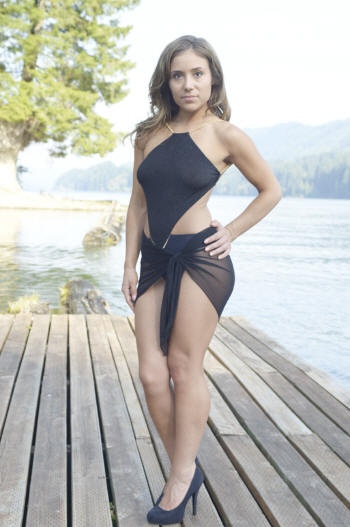 Carmen wearing a Black/Gold Diamond Rio with a Sheer Black Sarong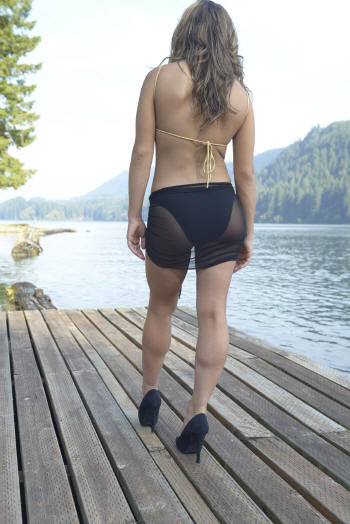 Sheer Black Sarong (above), matching Ivory Sarong below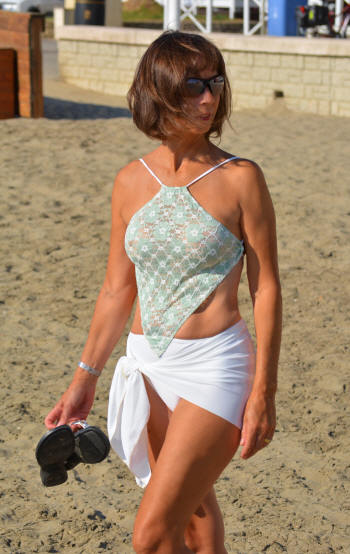 Brigite on Mediterranean beach in Grau de Roi, France donning the Sage/Lace Diamond Rio suit with coordinating Ivory Sarong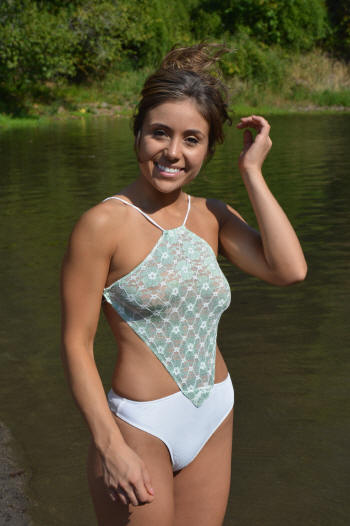 Fantastically flattering enhancing design
---

Our Sheer T Shirts make a great addition

Don't forget a thong for the man!
Diamond Bathing Suit - Reviews
Average rating:

---
Diamond sheer one piece swimsuit

Perfect for resort 12/31/2015
By Dave

My wife really prefers bikinis, but since I do all of the buying, I get to do all of the online shopping. I have a thing about one piece suits. Skimpy one piece suits. Skimpy thong back one piece suits. And if that skimpy one piece thong suit should also be sheer, then.....excuse me...I need a minute to compose myself. This suit is perfect for resort wear. Imagine that you're at a place with lots of strangers. Most are in department store swimsuits. Out comes your wife from the lobby wearing a one piece. A striking one piece, but still, a one piece. The people she passes turn around for a better look, but the people she's approaching haven't a clue. Until they get close enough to notice that the top portion is sheer. Sorta sheer dry and pretty sheer wet. No one is going to say anything, but they are all looking. And when it's time to leave and they then get to see that the suit is a killer thong, hey, we made their vacation better.

Palm Desert, CA USA 92211
(800) 757-2550
Brigitewear International wants you to be satisfied with your selection. Should there be any defect in quality or workmanship, if your size is incorrect, or if you just do not care for the style, your swimwear is exchangeable with original tags & hygiene strip within 30 days of receipt. See our Policies page for full details on exchanges/refunds.