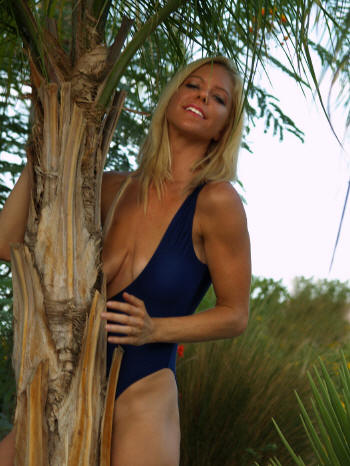 Mono - Brigitewear takes Topless Swimwear to a new level with this stunning, continental creation
(click any photo for larger views)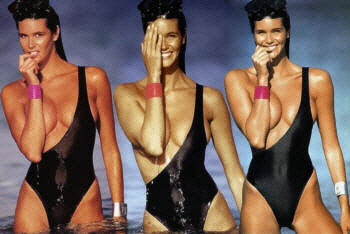 Mono, patterned after Elle MacPherson's topless bathing suit in the Sport's Illustrated Swimsuit Edition (above). Become a Super Model yourself with this stunning avante garde topless swimsuit.

High cut sides lengthen your legs giving you that fit trim appearance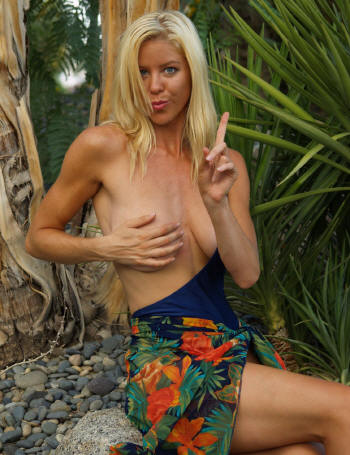 (click for larger view)
This stunning topless one piece is sure to make you a standout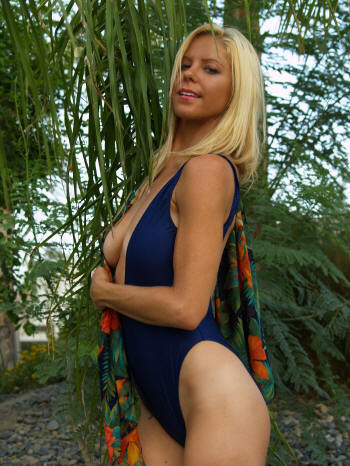 The Rio bottom provides just the right amount of coverage to the rear
Mono Rio Bottom Topless One Piece Swimsuit

Stunning, Sensuous, Sexy, Seductive
Mono - Inspired by the topless swimsuit modeled by Elle MacPherson in the Sports Illustrated Swimsuit Edition, Brigite adds her own touch and updating creating a classic, sexy one piece topless swimsuit for today's modern woman. For beach, pool, spa or in private, this women's topless swimwear is sure to be a hit. Mono - (One), not the loneliest number anymore!
Available in Navy Blue
Soldout
---
Free Shipping on orders over $75 US ($100 non US)
---
Topless Swimsuits by Brigitewear, the forefront of fashion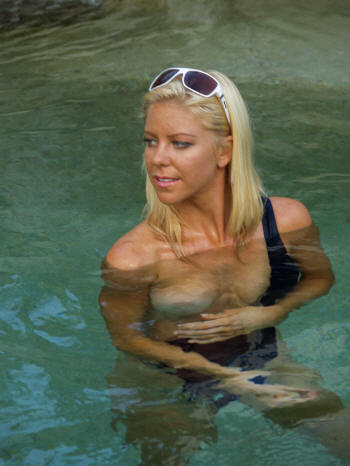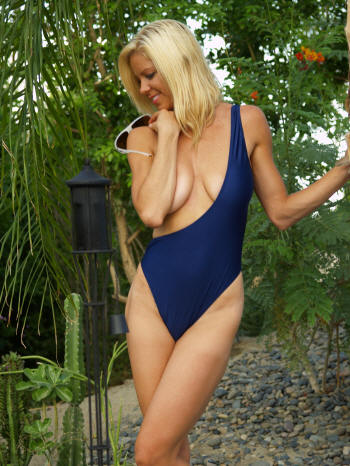 ---

Don't forget a thong for the man!
Mono Topless Swimsuit - Reviews
Average rating:

---

Mono topless 11/27/2016
By Masae Koyama
Good buy the truth, very comfortable and good price in liquidation, I take it in the winter holidays in the Canary Islands, is ideal also for men, along with other models that I have been buying I am very satisfied with the quality, shipping and Ease of payment congratulations
---

Mono topless swimsuit 01/15/2014
By Cindi
This is really much sexier than I'd hoped. Really a classy, sexy design and the quality of the workmanship is superb. Can't say enough good about it. My husband is speechless!
---

Mono Topless Swimsuit 2/27/2015
By Sandy
We had fallen in love with a suit very similar to this for a whole lot more money and so were delighted to find this one. It is of good quality and material, but this one cuts very close to the remaining side (as you can see in the picture) and in our opinion, that aetracts a bit from the mystique. Other than that, very happy with the product and very happy with the service

Palm Desert, CA USA 92211
(800) 757-2550
Brigitewear International wants you to be satisfied with your selection. Should there be any defect in quality or workmanship, if your size is incorrect, or if you just do not care for the style, your swimwear is exchangeable with original tags & hygiene strip within 30 days of receipt. See our Policies page for full details on exchanges/refunds.