I purchased the red scoop. It fit perfectly and was true to size. It was completely opaque when dry. I did receive a lot of attention when i first went into the pool. I was nervous at first, but then just became comfortable. When i lose 15 lbs, i definitely want to purchase the white or pink suit which present a longer appearance and a little sexier.
Sheer 2Scoops One Piece Swimsuit

Perfect 06/25/2018
By Eric Marvel

Fit is amazing and looks better in person. Highly recommend.
---
Sheer 2Scoops One Piece Swimwear
- Long Torso

Outstanding suit 05/22/2017
By Tim McGrew

My wife loves this suit she says that it is very comfortable and the fit is perfect she six foot tall so the torso is a blessing not to mention the fabric is so soft and fits like a glove and when wet lets her embrace her wild & sexy side very happy thanks Tim.
Sheer 2Scoops One Piece

Love it! 05/10/2017
By Marie

I am 5'10" with a 36D bust. I bought it to surprise my husband on our Florida trip. I did remove the crotch lining. The suit is very comfortable and fit perfect. Hubby liked the form fitting both above and below the waist. I was a little nervous about removing the lining when a small group of guys set up their beach towels within view. They were polite but clearly enjoyed my suit. As I felt comfortable I decided to go for a swim. It did not take long for Hubby and my new friends to see how see through the suit becomes. I did spend the rest of the afternoon teasing and I loved it. I highly recommend this suit and if you are feeling daring, order without the lining but remember when it is wet there is absolutely nothing left to the imagination. Have fun
Sheer 2Scoops One Piece Swimwear

Love this suit 09/05/2016
By Lisa

This is my third one! I love the looks of appreciation I get from my husband when I walk out of the ocean looking totally nude in the white see through. Then, magically within a few moments it's totally opaque again. Major turn on. Great quality suit, too. My advice is to order without the crotch lining, and also to order down a size. They run a little large.
---
Sheer 2Scoops One Piece Swimwear

It was a long shot 07/05/2016
By M French

It really was a long shot. My significant other loves to float in our pool. She always has one just a bit sexier than the others, just to get some sun. Well, going into this summers prime floating/sunning season she was without a sexy suit. I bought the Jade sheer2scoops for her, hoping it would pass muster. And to my shock and surprise. She loves it!!! And you know what? I love just staring at her wearing it. I feel like I'm staring at the girls at the beach when I was 15 again. Thanks Brigitewear!!!!!!!
---

Sexy and Hot 07/12/2015
By Mike B
: Bought this for the wife to wear at the beach this year and it was a hit! A little risky at a public beach when it's wet, but with a little planning you can get away with it...lol. The guys loved it -- some of the more 'prudent' ladies seemed a little jealous, but hell, it was for the guys anyway! They were only jealous because their husbands didn't buy them something that looks this good!
---

So Hot 06/14/2015
By Mike
The other men, and most women, at the beach love it when my wife wears this. Everyone waits for her to come out of the water, and I can't keep my hands off her.
---

swimsuit 1/12/2014
By Chris Cuykens
nice suit perfect transaction
---

new white suit 12/22/2013
By Dusty
This suit looks great on my my wife. Appears to be well made. Will get my wife another one next spring.
---

Great and sexy products 10/01/2013
By Lawrence Bahm
Looks very sexy on my wife. Love it just bought a shirt for her too
---

Vice President Promotions 11/26/2013
By Kimberly
This style great for Latina hips! Their customer service is absolutely wonderful as well!
---

basic black 11/20/2013
By Lorraine Butler
im a short zaftig (full bust, hips, and ass) time of girl and i dont swim n needed a flattering swimsuit 4 my first trip ever my bf 2 las vegas next wk...i looked EVERYWHERE online n went n2 SEVERAL local department stores (seriously overpriced) n places like target, walmart, n couldnt find anything i would b comfortable in or not look like a walking couch cover from the 40s or 50s era. after going 2 jcpenneys n just trying on several suits 4 style/size( they didnt have what i liked in stock)...so, i went back 2 this website n decided on a basic black 2 scoops one piece sz 18. it was beautiful!! this one n particular, the material was soft n comfortable n i could have easily fit n2 a 16. i dont feel like shamu, lol, and it covered all my trouble areas!! the delivery was also fast. i received my swimsuit the following wk (literally 2-3 days) after ordering it. very pleased n happy w my overall experience...i will DEFINITELY be buying from this store again!!!
---
Sheer 2Scoops One Piece

Very Sexy 06/15/2014
By Lisa

When they say see through when wet they mean it! What a turn on! My husband loved it! So did every other guy on the beach. I had a woman ask me where I got it, she wanted one too. And totally opaque when dry. This is my second one, and my advice is to order a size smaller than you think. They run large. Also order without the crotch lining, which looks awkward when everything else is sheer. Excellent fast service! I will buy all my suits here! I love this! I love the attention when I walk out of the water. Every eye is on me. I find these run large. Go small if between sizes. Be ready to be ogled! This is my third suit
---
Sheer 2Scoops One Piece

Wow 09/24/2014
By Adam Phillips

I bought the white sheer 1 piece for my wife. She looks sensational! Great fit, lovely material and perfectly see through when wet but only slightly when dry (such a tease). LOVE IT!
---
Sheer 2Scoops One Piece

Wonderful suit 05/25/2016
By Joseph

This suit was for my wife, she's not the exhibitionist that I am but, she absolutely loved this suit. The color, fit and modest "sheerness" of it really appealed to her. When it's dry, it's quite opaque and relatively modest. When it's wet, well, that may be a different experience! It's a great looking suit, the lines are very sexy but still has acceptable coverage so as not to upset the neighbors.
---
Sheer 2Scoops One Piece

Fabuloso 12/17/2014
By Favio

Este traje en el tamaņo correcto se quedo perfecto en mi esposa y ella lo encanto.
---
Sheer 2Scoops One Piece

2Scoops suit 12/18/2014
By Nancy Stricland

The red color is very vibrant and is a true red. I have a long torso, so I had to send it back for a larger size. I am anxious to get the new suit and try it out. I hope it works.
---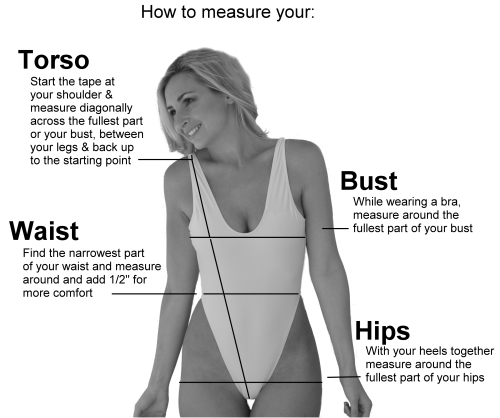 Note: Torso is measured all the way around, down front and up the back to start point
ORDER SIZE
XS/P
S
M
L
XL
1X
2X
BUST
31/33
33/34
34/36
36/38
38/40
40/42
42+
AA/A
A/B
B/C
C
D
DD
DDD
WAIST
23/24
25/27
28/29
30/31
32/34
35/36
37/38
HIPS
31/33
33/35
35/37
37/39
39/41
41/43
43/46
TORSO NORMAL

54/55

56/57

58/59

60/61

62/63

64/65

66/67

LONG TORSO

55/56

57/58

59/60

61/62

63/64

65/66

67/68