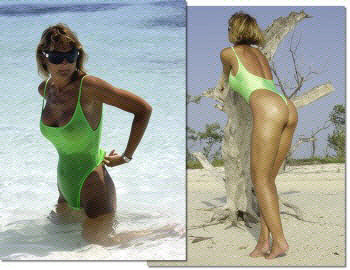 The St. Tropez thong swimsuit will give you a fit athletic appearance and the longest looking legs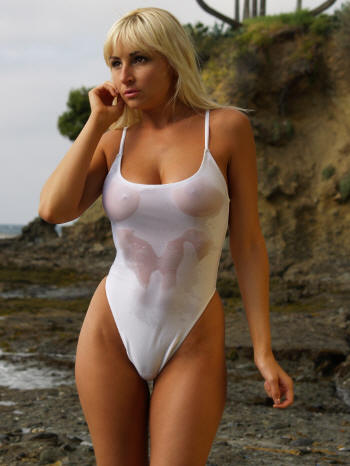 Provocatively sheer when wet (above), and (below) normal when dry!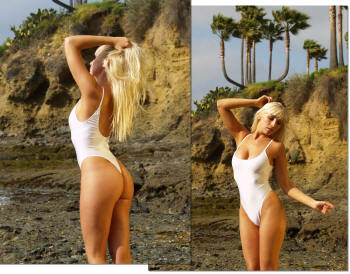 The St. Tropez thong one piece swimsuit in Black, below, very sexy!
Sexy high cut lengthens legs and makes this a truly unique thong one piece swimsuit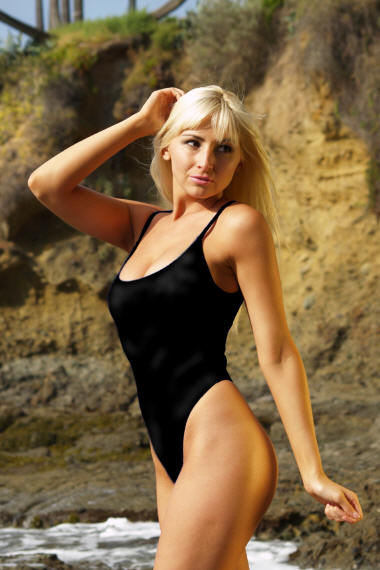 Black, always in style, always sexy!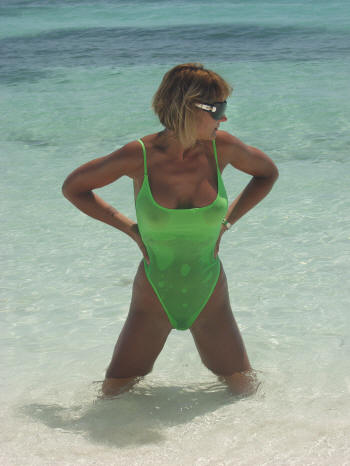 The sexy St Tropez thong in Neon Lime shown wet above, dry below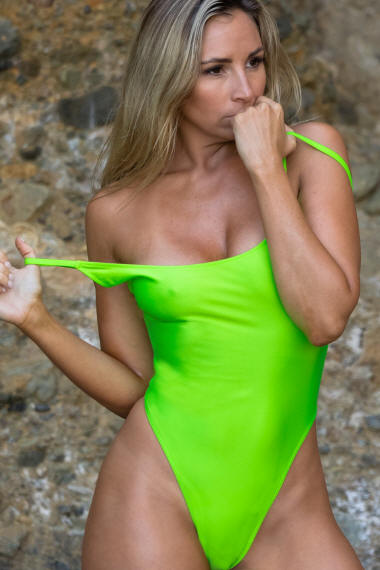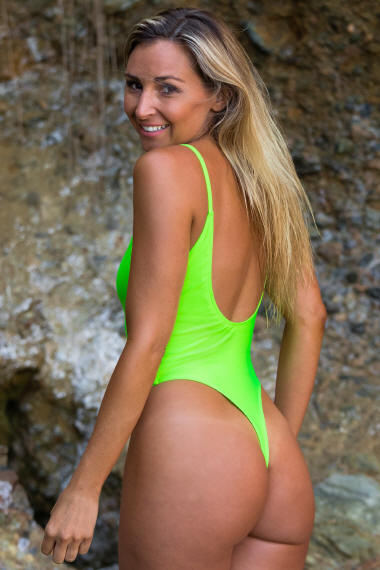 St Tropez one piece thong swimsuit

This is absolutely the sexiest sheer one piece thong swimsuit on the market! Just a hint of sheerness when dry, but more sheer when wet. The unlined top leaves less to the imagination when you exit the water (most notable in the lighter colors)! The cut on this thong swim suit will flatter any figure. The extremely high cut legs and thong back make the St. Tropez One Piece Thong swimsuit the most exciting one piece on the beach or by the pool. Flattering color selection, great style - for that sophisticated athletic look! Sizes 2-22.
$59.95 In stock! Order now!
Sheerness rating scale "SW"
(some size/colors sold out)
---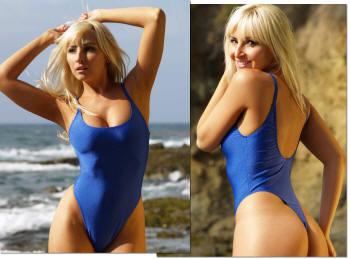 The St Tropez in Royal Blue, simply stunning!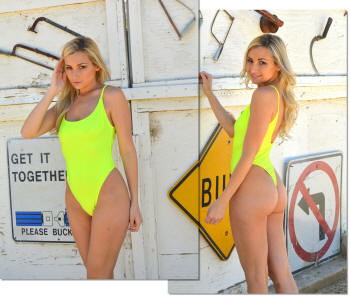 The St Tropez thong one piece swimsuit in Neon Yellow, dry above, wet and sheer below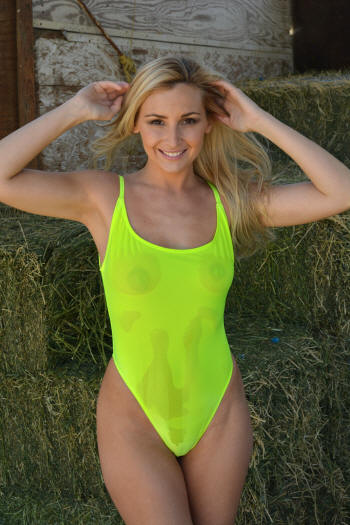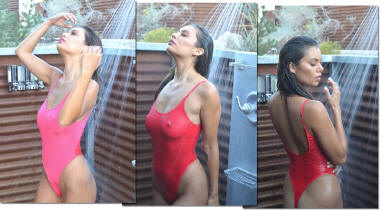 Lipstick St Tropez notice transition from dry to wet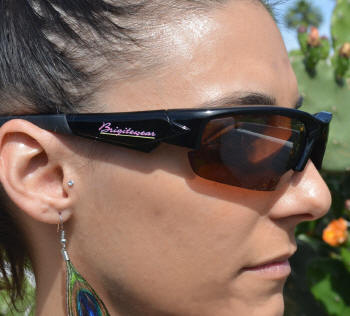 Brigitewear HD sunglasses are the perfect combination of high tech fashion, design and performance. Available in Black and White $24.95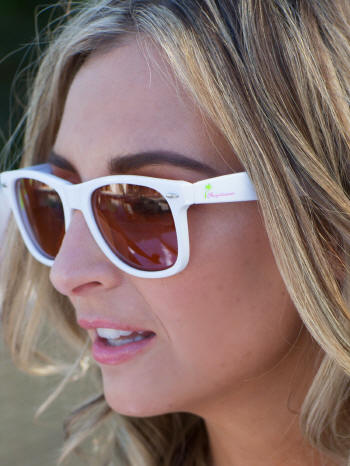 Brigitewear Retro Sport Sunglasses in Black or White $22.95
---

Don't forget a thong or speedo for the man!
---

Our Sheer T Shirts make a great addition
St. Tropez One Piece Thong Swimsuit - Reviews
Average Review Rating

---

Sexy 07/09/2019
By Angela Panzica

Look is super sexy and fits perfectly! Haven't gotten it wet yet, but have no doubt it will look stunning.
---
St Tropez One Piece Thong Swimsuit

Excellent 05/09/2017
By James Sullivan

Bought this for my wife to wear on our upcoming trip to Orient Beach. She tried it on and jumped in the shower. To my surprise she said she wished it was sheerer than what it is. I think she likes it too
---
St Tropez One Piece Thong Swimsuit

Green St Tropez 01/05/2017
By Scott

This model has the most amazing body I've seen in a thong. wish i could tell her myself!!
---
St Tropez One Piece Thong Swimsuit

A total turn on 09/15/2016
By Jeff Hopper

The quality of both suits are spot on. They not only fit great but look totally awesome wet or dry. Bought them as a surprise for my wife, sizing was very accurate. Delivery was quicker than I expected. All in all great service, great quality, and a look to die for.
---
St Tropez One Piece Thong Swimsuit

Not my first and it won't be my last 10/05/2015
By Kelly

This is not my first purchase from Brigitewear. They use the best material, great seamstress and the best designs. Don't be shy buy on line today.
---
St Tropez one piece thong swimsuit

Loved them 2/21/2016
By David Burris

Bought these for Mexican cruise.....they looked fabulous!!! Beautiful colors. Bought up one size for bikini and normal size for one piece. Will definitely order again!
---
St Tropez one piece thong swimsuit

Sheer one piece swimsuit 12/05/2013
By Barry Samuelson

Hot, this is so sexy and the service from the company was as good as any i've ever had, highly recommend.
---
St Tropez one piece thong swimsuit

Très satisfaite 01/06/2015
By Marie-Ange

Très joli maillot, sexy... juste ce qu'il faut, agréable à porter. Produit conforme à la description, livraison rapide jusqu'en France (7 jours).
---
St Tropez one piece thong swimsuit

st tropez 01/19/2015
By Fabio Levon

Quedo lindo mucho caliente el traje en mi esposa.
---
St Tropez one piece thong swimsuit

Oops 07/27/2015
By Henry

Great bathing suit, I bought this for my wife. We went to a pretty secluded beach we know of where not many people pass by but within an hours time we were surrounded by men that had been passing by. The suit is marvelous I enjoyed it very much but if you have pendulous breasts like my wife it's very hard to keep them under the two straps but I and about 15 guys on the beach enjoyed her efforts to keep them strapped down to no avail.
---
St Tropez one piece thong swimsuit

Really fantastic 07/21/2015
By Happy husband

Really SEXY. My wife is really hot with this swimwear. It requires great attention to use in public, but if you want....

Palm Desert, CA USA 92211
(800) 757-2550
---
* "Special Order" items are are custom made & subject to specific exchange/refund conditions to view those click here
Brigitewear International wants you to be satisfied with your selection. Should there be any defect in quality or workmanship, if your size is incorrect, or if you just do not care for the style, your swimwear is exchangeable with original tags & hygiene strip within 30 days of receipt. See our Policies page for full details on exchanges/refunds.